ARC Review: 'A Moment of Madness' by @brooklyn__skye
I received a complimentary copy of the book from the Netgalley, publisher in exchange for an honest review. This does not affect my opinion of the book or the content of my review.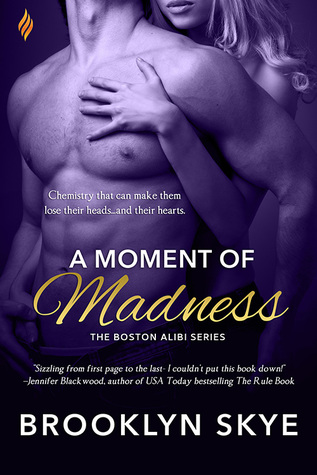 A Moment of Madness
by Brooklyn Skye
Series: Boston Alibi #2
Published by Entangled Publishing LLC on March 20th 2017
Genres: Contemporary Romance
Format: eArc
Source: Netgalley, publisher
Amazon Kindle | Amazon Paperback
Goodreads


Sailor Carlson comes back to Boston to make amends with her dad, only to find he passed away, and his bar, the Alibi, now belongs to a bearded, grumpy hottie. Mr. Hottie liked her enough for a night of nameless sex on the kitchen counter, but he wants nothing to do with her now he knows who she is.
Ryan Edwards has been running the Alibi for seven years. Being in a bar night after night means he's no stranger to one-night stands. But when the quirky, beautiful blonde he spent a hot night with shows up at his bar claiming it used to belong to her father, his guard goes right up.
Ryan's desperate for a waitress, and Sailor wants a chance to work in the place that meant so much to her dad. If only the tenuous trust they establish were as strong as the pesky attraction simmering between them.
My Review
Brooklyn Skye had sucked me into the story at the first chapter because of the main female character Sailor Carlson and her eccentric personality. The first chapter has Sailor on a wild goose chase with a plant to find her cousin at a bar. She ends up meeting a sexy bearded man who is with her cousin who she thought her cousin needed saving from. Well, let's just say the sexy bearded man needed saving. I was literally laughing at all the craziness of Sailor, her cousin Marissa, and the sexy bearded man who's name is Ryan Edwards.
Sailor is a girl that has cleaned up her act. She's back in her hometown to try to get back her father's bar. She knows it's not going to be easy, especially since she disowned her father and now he is no longer here. She feels terrible for what she did and now she's trying everything to make amends with herself on what she did to her father.
She was by far my favorite part of A Moment of Madness. I couldn't get enough of Sailor. Her commentary in the story was awesome. There were scenes between her and Ryan that were funny because of what she was thinking in her head and even out loud. The best ones were when she and Ryan were intimate together. Ryan had no idea what he was getting into.
Ryan though was kind of hot and cold to me. I liked him sometimes and other times, I didn't like his personality and how he treated Sailor.  He didn't trust Sailor and I could see why he didn't trust her, but he took it too far. I liked him in the first book, when he was introduced, but getting to know him in his own book, I wanted to smack him a couple of times for Sailor, especially towards the end.
I really enjoyed the detailed scenes between the characters. Brooklyn had me constantly wanting to find out what would happen next to the characters. The storyline was full of drama between Sailor and Ryan and their own past stories. There was also the bar drama too in the story that was intense. Sailor knew how to handle herself though in the story.
I give this book 4 stars and highly recommend it to Contemporary Romance readers out there. I'm glad that Brooklyn wrote Ryan's story and hope to read more in the Boston Alibi series soon. 🙂


I guess I should type a bio here. I'm FranJessca or Fran for short. I'm the owner of Book Lovin' Mamas and main Reviewer. I've been reviewing books since I got out of the Navy in 2011. Now 8 years later, I'm still reviewing, but this time with my youngest sidekick.
When I'm not reading and reviewing, you can find me at my day job during the week and on the weekend taking care of our little farm.

Latest posts by FranJessca (see all)