ARC Review: 'Twilight Hunter' by Kait Ballenger
September 4, 2013
I received a complimentary copy of the book from the Netgalley in exchange for an honest review. This does not affect my opinion of the book or the content of my review.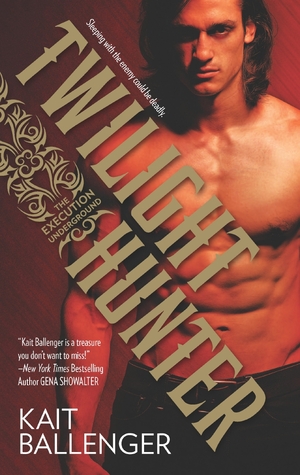 Twilight Hunter
by
Kait Ballenger
Series:
Execution Underground #1
Published by
HQN Books
on August 27, 2013
Genres:
Paranormal Romance
Format:
eArc
Source:
Netgalley
Goodreads
Purchase at
Amazon
|
Barnes & Noble

Hunters of the supernatural, the Execution Underground are an elite group tasked with protecting humanity...but what happens when danger collides with desire?
Jace McCannon has one loyalty: the Execution Underground. Despite his mixed blood, his hatred for the werewolves he hunts is legendary. But in his search for a sadistic killer, Jace finds himself face to face with a stunningly seductive packmaster…and longing for a night with his mortal enemy.
Nothing can stop Frankie Amato from defending her kind—or catching the rogue responsible for killing women in her territory. For that, this alpha female needs Jace's skills more than she wants to admit. But as their investigation exposes evil truths, need burns into a passion that dare not be fulfilled. For to do so will have deadly consequences for them both…
---
I have been anxiously waiting to read Twilight Hunter by Kait Ballenger, and I knew I would not be disappointed at all because the minute I read the first page…I was captured into the Execution Underground world. I had a hard time putting down this book. My poor hubby and two girls were neglected for a day and a half because of reading Twilight Hunter. (I may have also snapped at the hubby when he tried to talk to me…he's not talking right now because he's still scared of me…LOL)
Twilight Hunter is with Jace McCannon and Frankie Amato. Jace is a supernatural hunter, but the kicker is he's also supernatural, and no one at the E.U. knows this, but David. He does not like his kind though since what his father did to his mother when he was younger. He also was not the greatest Dad to him. He is trying to figure out, who is killing the young girls around Rochester and the E.U. keeps jumping on his back because they think he is not doing his job…specifically the leader of their division, Damon.
When Jace is out investigating one of the killings, he happens to run across a werewolf but she's not just any werewolf, she's the pack master. Frankie Amato is out trying to figure out, who is killing the girls also because she needs to find out if it is a rogue. It's her duty as pack master to find out what is going on. Although, she has reasons on that day on why she is out by herself and not with anyone else. She never thought she would run into Jace her sworn enemy. He ends up capturing her, but Frankie gives him an alias, so he has no idea, who she is.
Jace and Frankie end up having to fight their feelings for each other, but Frankie thinks it because it's her mating cycle that is making her act strange towards him. The truth of what he is will come out in Twilight Hunter, and the villain in this story has a hidden agenda on why he keeps targeting certain girls. He also has his eyes on someone else but no spoilers from me on this department.
Twilight Hunter has a lot of action, suspense, and romance to the story and is a longer book compared to Shadow Hunter. We get some of Damon (who happens to be a jerk in this book), David, Shane, Trent, and Ash is mentioned as well in Twilight Hunter. Jace is horrible at first because he is a just tough guy and he has his reasons to be the way he is. I feel sorry for what he went through when he was younger with father and mother. You could tell, he loved his mother very much and only wanted to protect her. He had a grudge against his father and did not want to be anything like him.
Frankie is a kick-butt female character. She stood up to her pack after she returned and even put Jace in his place. She also managed to stand up to the killer a couple of times. She seriously is one AWESOME character. She is going on my list of fave female characters.
I enjoyed the storyline to Twilight Hunter and how Kait kept me turning the pages. She even gave us a little bit of David and who he has feelings for in the story. I loved every bit of this book and cannot wait for the next Execution Underground book. I need me more of these sexy hunters.
I give this book 5 full moons and highly recommend it to paranormal romance readers out there. If you enjoy Gena Showalter's LOTU series, you will need to read this series from Kait Ballenger. =)

This post contains affiliate links you can use to purchase the book. If you buy the book using that link, I will receive a small commission from the sale. It will help sponsor future giveaways but costs you nothing extra. You can read the full disclosure underneath the Privacy Policy.
---
---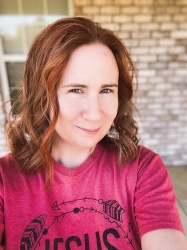 Latest posts by FranJessca
(see all)