Cover Reveal: 'Catching Sin' by J. Saman
Today we have the cover reveal for J. Saman's Catching Sin!
We are so excited about this gorgeous cover—check it out and be sure to pre-order your copy today!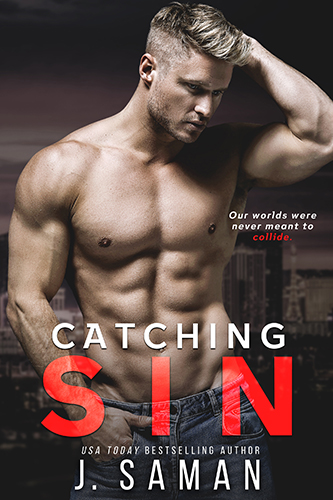 Catching Sin
(Las Vegas Sin #2)
Author: J. Saman
Publishing Date: July 15, 2019
Genre: Contemporary Romance, New Adult, Suspense

Maddox must be willing to risk his life if he wants to save mine.

I was under the devil's thumb with no end in sight.

A play thing. A toy. A treasure easily forgotten.

Until Maddox Sinclair stepped into my club and made me promises even my tattered heart couldn't refuse.

Sexy, arrogant, strong and brave, he fears no one and fights for everyone.

I should know better than to trust him. Half the time we want to rip each other's clothes off. The other half we're at each other's necks.

But my devil isn't easily thwarted.

He started this game with a master plan–one that makes me his ultimate pawn.

Deals have been made. Lives are at stake.

And when he finally comes for me, there is no escape.
Pre-Order at Universal| Amazon US| Amazon UK| Amazon CA| Amazon AU

No touching. No flirting. No taking her clothes off and dancing for me—though that's still at the top of my fantasy chart.
I wish I could say that now that she's wearing professional clothing and is out of club makeup, she's become ugly or unappealing. That now that we're less adversarial and more professionally friendly, she's become boring. She's none of those things. It's all just added layers I'm dying to peel back and explore.
Then she decided to wear this fucking dress. I swear, she did it on purpose just to mess with me. This girl is a punch to the gut. A visceral reaction. Someone you feel and see. It's what made me watch her that first night at the club. It's what had me staring at her as I left and made me approach her in the supermarket. It's what had me mindlessly letting her dance and grind against me when I knew better. Even now, with her as my employee and Conti silently lurking, hidden in the shadows, I can't find it in me to regret it.
Who are you, Isabel? Are you lost and in need of finding? Or are you the wolf, masquerading as a sheep?
"We're going to a meeting," is my only reply as I type on my phone.
Her eyes are trained straight ahead, as if she's afraid to so much as glance out the window. She lets out a nervous giggle. She doesn't laugh very often, at least not genuinely. This odd sound coming from her lips is no exception. "Oh. So you're finally trusting me with those?"
Not even a little, but I didn't want her hanging around the office so douchey McMorgan could get his slimy, nepotistic, intern rich-boy hands on her. Morgan Fair Senior has been with Turner Hotels forever, long before Jake's dad died and left him the company. He's not a bad guy, all things considered. He really runs the operations for the company, even though my title is now COO. I hate that side of things, which is why I think Jake promoted me. Just to piss me off.
I like technology. I like security. I like surveillance. And I most definitely like the dirtiness that comes with running all that for hotels and casinos. I think that's why Morgan Fair Senior and I still get along as well as we do. But his kid can suck it. Especially if he's trying to make babies with my assistant.
"We'll see how it goes," I tell her, my eyes still locked on my phone. "Since we're talking about it, did you dance for Morgan Fair Junior Dick when he came into the club?"
Isabel shifts away from me, looking out the window, but I swear I catch a hint of a smirk before she does. "Would it bother you if I said yes?"
Like a motherfucker.
"Why would it bother me?"
"Why did you ask?"
Because I'm insanely jealous. Duh.
I shrug indifferently as I finish up the email I'm not really paying attention to, then tuck my phone back in my pocket. "Just wondering if I'm going to have to kill him and ruin my relationship with his father, is all. It's not good for business to have your interns see your employees naked."
"You saw me naked."
"Mostly naked," I correct with a raised eyebrow. "And I'm not an intern. I'm the boss."
She makes some kind of snorting sound, crossing her legs at the knee and shifting once more in her seat. Every freaking time she does that, I'm assaulted with a blast of her scent. It's sweet and floral and spicy and so goddamn good, my stupid dick perks up with every inhale. Not only that, the insanely short hem of her dress hikes up as if to say, yes, my legs are delicious. Would you like a bite of my inner thigh?
"That's worse, you realize."
"Probably."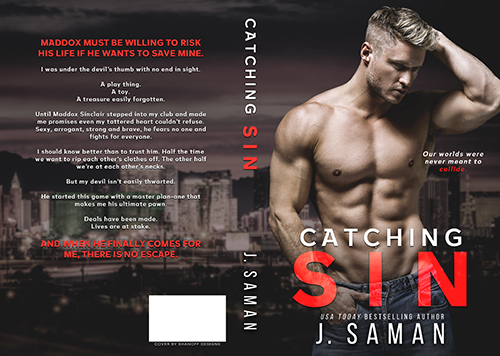 Latest posts by FranJessca
(see all)