Cover Reveal: 'FROM FLAME AND ASH' by Carrie Ann Ryan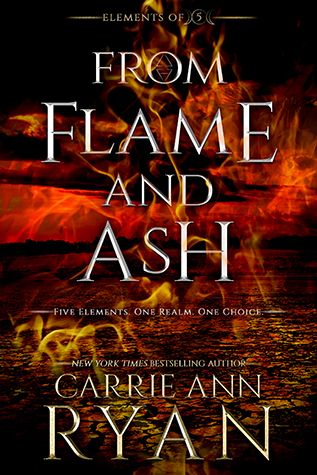 FROM FLAME AND ASH
(Elements of Five #2)
Author: Carrie Ann Ryan
Publishing Date: November 19, 2019
Genre: Young Adult Fantasy

NYT Bestselling Author Carrie Ann Ryan continues Lyric's epic journey in this spellbinding sequel to From Breath and Ruin.

Lyric lost her past, her friends, and even her connections to both worlds when she found out about the Maison realm and her calling. But now she must put that aside and travel back to the Maison realm to continue her training as the Spirit Priestess. Only her journey isn't to Rhodes and those she fought alongside before. This time, Easton and the other Obscurité warriors will stand by her side as she tries to unlock her final three elements.

However, just as she starts to learn more about what she's been prophesied to do, a Seer's wish and the calling of the Lumière kingdom calls her forth, thrusting Lyric into another journey where she must trust those on both sides of the age-old war to survive…and keep those she loves safe.

I guess I should type a bio here. I'm FranJessca or Fran for short. I'm the owner of Book Lovin' Mamas and main Reviewer. I've been reviewing books since I got out of the Navy in 2011. Now 8 years later, I'm still reviewing, but this time with my youngest sidekick.
When I'm not reading and reviewing, you can find me at my day job during the week and on the weekend taking care of our little farm.

Latest posts by FranJessca (see all)