Get to Know – Book Lovin' Mamas (1)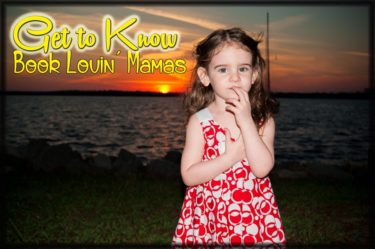 New kind of post on Book Lovin' Mamas. 
Getting to know the blog owners behind Book Lovin' Mamas.
(Picture above was taken by the blog owner: FranJessca (© 2014 Loved for a Lifetime Photography)
How about….
Books that got me addicted to reading (from kid to adult)
1. Shiloh by Phyllis Reynolds Naylor
2. The Beach by R.L. Stine
2. The Midnight Club by Christopher Pike
3. Silent Stalker by Richie Tankersley Cusick
4. My Brother Sam is Dead by James Lincoln Collier, Christopher Collier
5. Jurassic Park by Michael Crichton
6. The Mummy by Anne Rice
7. Interview with the Vampire by Anne Rice
8. Twilight Saga by Stephenie Meyer
9. Lords of the Underworld series by Gena Showalter
10. Black Dagger Brotherhood series by J.R. Ward
(I have way more that I could add, but these are the ones that are dear to my heart)
---
As you can see there is a range of different genres when I was younger. I wasn't picky at all. These books are what made me obsessed with reading. The last three mentioned are what brought my reading back, when I was in the Navy.
Shiloh was the first chapter book I enjoyed as a kid and this is when I wanted to read more, but nothing that made me want to binge read. (Lil' Sidekick read Shiloh last year and enjoyed it.)
My first real book binge started at the age of 10, when I got a hold of The Beach by R.L. Stine at one of the Scholastic Book Fairs. After The Beach, I wanted to dive into everything that R.L. Stine had ever written. I didn't get into the Goosebumps books, but I dived right into the Fear Street books. In fact, I have a collection of the older ones in my bedroom on my smaller bookcase. These books are the reason why reading took over my life as a kid.
My Brother Sam is Dead I read in 7th grade for my History class, and it got me interested in other genres afterI read it. I actually read similar books in the same genre in my 7th grade History class. I can't remember every book I read, but let's just say thanks to my History teacher I loved reading books just like My Brother Sam is Dead. Warning: My Brother Sam is Dead is a tearjerker. I was 12 when I read it, and I was crying in class while reading it.
My first real adult book in my teens was Jurassic Park and Lost World. I saw the movies at the movie theater and decided to read the books because I was told the books were way better. I have to agree I preferred the books due to Michael Crichton's writing style, but I also enjoyed the movies too.
The first book that got me addicted to the fantasy/paranormal world was The Mummy by Anne Rice. I actually should not have read this book at 13 years old, but my mom and dad wouldn't stop me from reading anything. This book will forever be a favorite of mine and I think I may have read it 5 times in one year. After I read The Mummy, I read the Interview with the Vampire. Thanks to Buffy, the Vampire Slayer (the movie and the tv show), I became addicted to anything with Vampires in it.  (Maybe a little too addicted since vampires are my favorite to read in books still and I'm in my thirties now)
I took a hiatus once I joined the Navy though from reading. I regret taking a break because books definitely helped me escape from reality. I needed it, when I was in the Navy. Thank goodness late 2008 changed everything for me. My love of reading came back due to one book I saw at the Norfolk airport. I remember seeing the preview for the movie and decided I needed to read the books before seeing the movie. One day turned into one week and I had finished ALL four books in the Twilight Saga. I haven't looked back since then. I have been reading like a mad woman since 2008.
After I read a few more series in the Young Adult genre, I ended up reading Gena Showalter's LOTU series thanks to a friend suggesting them. Originally I started in the Paranormal Romance genre in 2009 and now 6 years later, I pretty much read all sub-genres in the romance category. I still read Young Adult, but I also read everything else too. It all depends on what mood I'm in.
---
Will I ever stop reading? Never. My husband says I'm obsessed with reading. Don't ask me what is going on in the news because I would rather catch up on my favorite characters then to hear about the bad things happening in the world.
My love of reading as now spread to Lil' Sidekick who reads like crazy at school and at home. My youngest daughter loves to be read to and she's now showing an interest to want to learn how to read. We each have our own personal library and hubs says it's getting out of control.
What were some books that changed your love for reading?

Latest posts by FranJessca
(see all)