Guest Post: 'A Moment of Madness' by @brooklyn__skye

5 Reasons Why Authors Have the BEST Job ever
Books! Books! And more books! As an author, our job is surrounded by books. Reading for research, reading for market study, reading fellow authors' books to give cover quotes, and reading for pleasure. It's definitely my favorite part of the job.
Connecting with Readers! Whether online or at events, I absolutely love meeting people who have read and loved my books. It's an instant connection that often have turned into long-lasting friendships.
My team! I have been so blessed to have such an amazing team to work with over the years. From my publicist to my beta readers to editor and publisher…my experience in this industry would not have been possible without this fantastic group of people.
Bookish Events! Traveling to new places and meeting with readers face to face is another perk to this job. I think my favorite place so far that I have been to is Las Vegas. (Who doesn't love Las Vegas?)
The Writing Process! Okay, maybe this is my favorite part of the job. It's grueling. It's creative. It's sometimes really frustrating. But it's also very rewarding when all of that hard work comes to fruition in the form of a book that I can hold in my hands.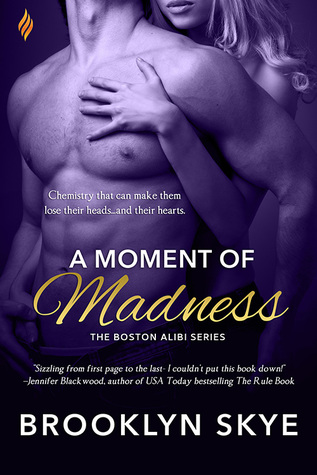 A Moment of Madness
(Boston Alibi #2)
Author: Brooklyn Skye
Publishing Date: March 20, 2017
Publisher: Entangled Publishing
Genre: Contemporary Romance

Sailor Carlson comes back to Boston to make amends with her dad, only to find he passed away, and his bar, the Alibi, now belongs to a bearded, grumpy hottie. Mr. Hottie liked her enough for a night of nameless sex on the kitchen counter, but he wants nothing to do with her now he knows who she is.

Ryan Edwards has been running the Alibi for seven years. Being in a bar night after night means he's no stranger to one-night stands. But when the quirky, beautiful blonde he spent a hot night with shows up at his bar claiming it used to belong to her father, his guard goes right up.

Ryan's desperate for a waitress, and Sailor wants a chance to work in the place that meant so much to her dad. If only the tenuous trust they establish were as strong as the pesky attraction simmering between them.

Latest posts by FranJessca
(see all)