Guest Post: 'Flash of Fury' by @LeaGriffith + #Giveaway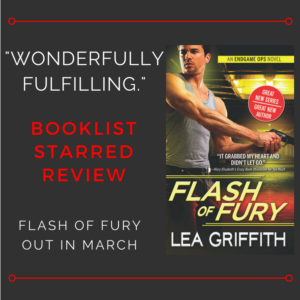 A Day in the Life of Lea Griffith
I will admit to some trepidation when I saw the topic for my blog stop with BLM. I thought, "Really, people want to know what my day is like?" This opened a whole cornucopia of other thoughts—does anyone really want to know what I eat? If I shave every day? Do they care that when I sneeze I have to cross my legs? Because I sneeze A LOT. I've got bad allergies.
It's a tough question. One I worried about for a few days. I sat on the couch last night and it hit me! Just tell them what your day looks like—start at the beginning and move through to the end. And yeah, I can't do it. You'll stop after the first entry it'll be so boring. So instead I'm going to give you a day, we'll say yesterday, in the life of LEA GRIFFITH. Much different than Lea Griffith. Trust me. You ready? Let's do this…
Woke up to sunshine and seventy degree temps! Birds were chirping, the fur baby magically let herself out for the morning, and my three teenage daughters didn't argue once even as they shared a bathroom and got ready for school. Life was basically AWESOME!
The cabana pool boy slash gardener slash majordomo ground the finest Columbian beans and brewed the tastiest cup of coffee in HISTORY and brought it steaming to my bedside. He also cooked crispy bacon and light and fluffy French toast topped with strawberries and original Vermont maple syrup. I ate, because DUH, and gained not an ounce. Thoughts of the hard work headed my way melted away the fat before it hit my hips or boobs. Life was basically GLORIOUS!
Raul (he's got a name now), the cabana/pool boy slash gardener slash majordomo ran me a steamy bath and put the bath salts I obtained in Italy last year into the water. I sank gratefully into the fragrant water and soaked for an hour without being interrupted once. Life was basically AMAZING!
I dried off, dressed in my Stella McCartney silk-organza mini dress and my six-inch Louboutin heels and headed to my Audi A7 where I proceeded to slide onto the luxurious heated leather seats. I drove to work listening to Pavarotti's Nessun Dorma. No one pulled out in front of me and I made it in to the first office I manage at exactly 7:55. Early and invigorated. Life was basically ON POINT!
There were no issues at work—everybody loved their job yesterday and no one complained. Patients arrived on time and providers didn't complain once about being behind or the medical records system I implemented two months ago. Every one was on time and when five o'clock rolled around—BOOM! We all left on time with nothing hanging over us for the next day. Life was basically BEAUTIFUL!
I drove home—did I mention my Audi A7 earlier? Thought so. Drive home was uneventful and filled once again with Pavarotti, leather seats, and a vehicle that actually responds when I hit the gas. Life was basically WOOT WOOT!
Dinner was waiting on me, courtesy of Raul (I forgot to mention he's a world-renowned chef too), and my family joined me for a little "together" time in which we discussed our awesome day and how we all accomplished everything we set out to do. Our steak and lobster tails were par excellence. Life was basically DELICIOUS!
The fur baby cared for herself all day long. She tore none of her toys up and didn't chew my coffee table at all. She fed herself, let herself out, and didn't rub her slobber all over my sweats—oh wait, I didn't wear sweats yesterday—I mean, my um, Ann Taylor lounging pants. Life was basically INCREDIBLE!
I sat down on my leather chaise lounge and allowed Raul to rub my feet with scented oil from Louis Vuitton. He then departed, my husband kissed me goodnight, my girls did the same and then I was alone with my laptop, Bose headphones, my current playlist. I made it with the words and the words responded beautifully. I completed an entire novel in just under three hours, no typos, completely editor-ready. And then I went to bed. Life was basically UNBELIEVABLE!!
Literally, it was unbelievable.
So there you have it, folks! A day in the life of Lea Griffith, uh, LEA GRIFFITH. (Disclaimer: No pool boys slash gardeners slash majordomo's were hurt during the writing of this. Oh, and Lea doesn't have a pool. Or an Audi. And her pitbull, Remi, would never deign to let herself out. She's got her human for that.)
🙂
What's your day looking like? Let me help you make it better with Kingston McNally and Allison Redding of Flash of Fury, Endgame Ops book 1. It's got everything you need to keep you on the edge of your seat—action, romance, and suspense. Who needs an Audi or a pool boy when King McNally in on tap? Check it out when you get a chance, yeah?
Have a fabulous day, peeps. Thank you Book Lovin' Mamas for letting me hang out and spend some time fantasizing with you! Love and hugs!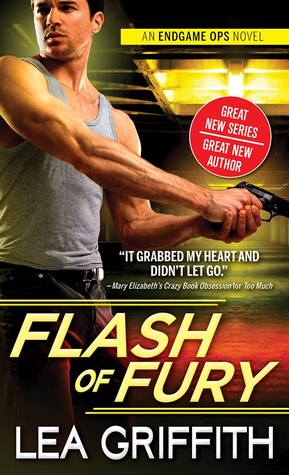 Flash of Fury
(Endgame Ops #1)
Author: Lea Griffith
Publishing Date: March 7, 2017
Publisher: Sourcebooks
Genre: Romantic Suspense

Their spark is immediate

Kingston McNally lost men when someone betrayed his team, and now he's out for retribution. His quest for the enemy's courier leads him to Cameroon and Allie Redding, a petite Peace Corps volunteer as stubborn as she is brave. Their attraction is immediate, but Allie has secrets of her own…and she's not giving them up easily.

But their secrets could burn them both

Allie's life has been spent hiding in plain sight, but she's had enough of her cloak-and-dagger existence. On her way home, her plane is hijacked—and King saves her life. But that doesn't mean she owes him anything…even if he is the most damnably sexy man she's ever laid eyes on. He's got black ops and secrets written all over him, and trust is a two-way street.
Purchase at Amazon | Barnes & Noble | Books-a-Million | Chapters | iBooks | IndieBound

One lucky winner will receive a paperback copy Flash of Fury from the Publisher.
Giveaway is OPEN to ONLY U.S. Residents
Winner will be announced on 3/15/17
a Rafflecopter giveaway

I guess I should type a bio here. I'm FranJessca or Fran for short. I'm the owner of Book Lovin' Mamas and main Reviewer. I've been reviewing books since I got out of the Navy in 2011. Now 7 years later, I'm still reviewing, but this time with my oldest daughter aka Lil' Sidekick.
When I'm not reading and reviewing, you can find me at my day job during the week and on the weekend taking care of our little farm.

Latest posts by FranJessca (see all)