Guest Post: 'Garden of Thorns' by Amber Mitchell

A Day in the Life of…Amber Mitchell
I wish I could lie and tell you my life is glamorous. Because, honestly, it sounds pretty cool when you tell someone you write and run your own business full time (okay, so it sounds cool to SOME people, others just look at you like you're lazy). But while my typical day isn't too exciting, the one I decided to chronicle was. When I knew I was going to write this article, I took a journal with me for this busy day and jotted down what I was doing!
8:30 AM: My four cats wake me up because it's time for breakfast. Roll over and ignore cats.
8:32: Push cat's paws of death off of my gut.
9:20: Finally give in to cat's "gentle" reminders that they need to eat. Turn off alarm 10 minutes early.
9:50: After getting dressed and feeding the cats, I check my emails. Respond to two blogging opportunities, read my responses, rewrite them, and hit send.
10:03: Gather my flyers for my upcoming book launch party, my book and book swag.
10:05: Head to the car and drive 30 minutes to the nearest city with a bookstore (I know, I live in a city with no bookstore, but in my defense, it's a small town AND the bookstore I went to is an indie!).
10:35: Stop by my old high school, hand over a few flyers for the event, trip over my words and get back in the car.
11:00: Check emails from phone and scroll through Twitter. Respond to a few tweets. Check Goodreads.
11:30: Head into local bookstore for a meeting about book launch party. Meet all the employees who are just lovely, stand with my mouth open because I used to shop there as a kid and always dreamed that one day I might be holding my own book in there. Meet with the woman responsible for helping me plan my book launch and go over details.
11:45: An employee brings in pizza that I can smell from the top floor of the bookstore, realize how hungry I am because that pizza smells GOOD (and I don't like pizza).
12:15: Before leaving the bookstore, I pick up two books (Thief of Lies by Brenda Drake and Frostblood by Elly Blake). I look at the ten others calling for me to take them home longingly and turn away before I give into this wayward desire. When I get in my car, I gleefully stick my book in bag with the ones I purchased and giggle. Then, it's time to grab some Moe's nachos for lunch and talk to a friend over Facebook chat so I don't look so lonely eating by myself.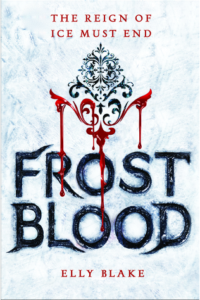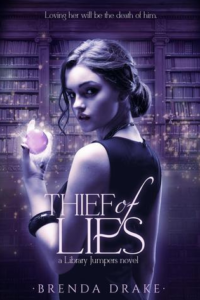 1:24: After lunch, I make my way to the other local high school, meet the librarian briefly and ask her to put up some flyers for the book launch.
1:45: Head over to a local Pokemon catching spot and play Pokemon Go for a little bit to kill time.
2:15-2:34: Arrive at a local radio station for a radio interview. This would freak me out except my stepmother-in-law conducts it so it goes smoothly. It also helps that I got to make the questions so I could rehearse it the night before. Radio interview is completed with only one take and no coughing (I was getting over a pretty bad cold). Head home.
3:16: Get home, greeted by cats. They look at me like I forgot to feed them. I did not.
3:20-4:30: Writing time. I get in my word goal and knock out a blog post. Fight the urge to crawl back in bed.
5:00-10:00: Go to dinner with hubby and friends, grab a few drinks, and see the movie Logan. Enjoy Logan even though I secretly wish it was Before I Fall. Super happy to have seen the Deadpool trailer before the movie though because Ryan Reynolds.
10:45: Arrive home, cats greet hubby and I like we haven't fed them. This time, they are correct.
So that's it really! Like I said, this was pretty busy day and I selected it because I knew it would be. The cool thing about being a writer is that on a typical day, we don't even have to get out of our pajamas. Most days, it's just me, my cats and my laptop from the time I get up to the time my husband gets home.
With the release of my debut, my day has gotten busier so I have to manage my time better so that I can get to social media, blogging, emails, etc. But the most important thing I'm fighting to remember with everything else going on is craving out time to write. Otherwise, all the other stuff is meaningless.
Thanks so much for having me on your blog today!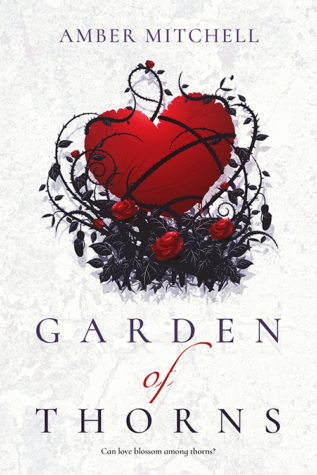 Garden of Thorns
Author: Amber Mitchell
Publishing Date: March 6, 2017
Publisher: Entangled Teen
Genre: YA Fantasy

After seven grueling years of captivity in the Garden—a burlesque troupe of slave girls—sixteen-year-old Rose finds an opportunity to escape during a performance for the emperor. But the hostage she randomly chose from the crowd to aid her isn't one of the emperor's men—not anymore. He's the former heir to the throne, who is now leading a rebellion against it.

Rayce is a wanted man and dangerously charismatic, the worst person for Rose to get involved with, no matter what his smile promises. But he assumes Rose's attempt to take him hostage is part of a plot to crush the rebellion, so he takes her as his hostage. Now Rose must prove where her loyalties lie, and she offers Rayce a deal—if he helps her rescue the other girls, she'll tell him all the Garden's secrets.

Except the one secret she's kept for seven years that she'll take to her grave if she must.

I guess I should type a bio here. I'm FranJessca or Fran for short. I'm the owner of Book Lovin' Mamas and main Reviewer. I've been reviewing books since I got out of the Navy in 2011. Now 7 years later, I'm still reviewing, but this time with my oldest daughter aka Lil' Sidekick.
When I'm not reading and reviewing, you can find me at my day job during the week and on the weekend taking care of our little farm.

Latest posts by FranJessca (see all)