Guest Post + #Giveaway: 'Under Her Skin' by Adriana Anders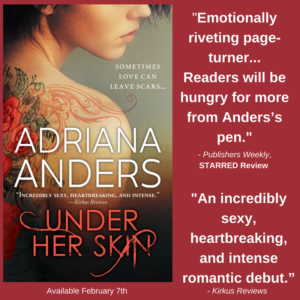 Top 5 Reasons Why Readers Should Definitely Read Under Her Skin by Adriana Anders
Ivan, Under Her Skin's reclusive blacksmith hero, is one of my favorite heroes ever. He's blacksmith with a heart of gold. Oh, and he's face-clawingly hot.
The intimate scenes are ridiculously hot. Take a big, rough ex-con and a woman who can't stand the sight of her own body and what develops is sweet, sexy, and completely unexpected.
Under Her Skin is an empowering read. For women and men who've gone through tough times, it's a story full of hope and the possibility of new beginnings.
Under Her Skin has got all the feels—it's emotional, dark, funny, and sexy, with a well deserved happily ever after.
You'll get to meet Pépé, the baby skunk, and Ivan's vast menagerie of strays. They're based on real animals and I love them. <3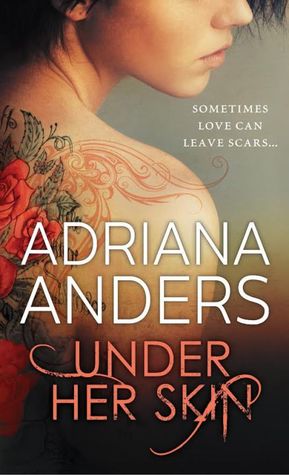 Under Her Skin
(Blank Canvas #1)
Author: Adriana Anders
Publishing Date: February 7, 2017
Publisher: Sourcebooks
Genre: Contemporary Romance

Battered by a life determined to tear him down

This quiet ex-con's scarred hands may be the gentlest touch she'll ever know.

…if only life were a fairy tale where Beauty was allowed to keep her Beast

Ivan thought the world was through giving him second chances. Who'd want a rough ex-con with a savior complex and a bad habit of bringing home helpless strays? Everyone in Blackwood, Virginia knew he wasn't good enough for the fine things in life; they knew he was too damaged to save. He just needed to keep his head down, work himself to the bone, and pretend he was content with the lot he was given.

Until she came into his life. Until she changed everything.

Until he realized he would do anything, fight anyone, tear the world apart if it meant saving her.

a Rafflecopter giveaway

I guess I should type a bio here. I'm FranJessca or Fran for short. I'm the owner of Book Lovin' Mamas and main Reviewer. I've been reviewing books since I got out of the Navy in 2011. Now 7 years later, I'm still reviewing, but this time with my oldest daughter aka Lil' Sidekick.
When I'm not reading and reviewing, you can find me at my day job during the week and on the weekend taking care of our little farm.

Latest posts by FranJessca (see all)