Guest Post: 'Private Reserve' by Cathryn Fox + #Giveaway

A day in the life of Cathryn Fox
Well, I'd like to say I wake up to butterflies and rainbows, slide into my silk robe and feather heeled slippers and sip on a mimosa made by my handsome, loin-cloth wearing butler, as I make my way to my desk, where the words will flow freely from my brain. But that would be the opposite of my life. LOL
The reality is I wake up, shuffle zombie-like to the coffee maker in my pajamas, and stare at it with murderous eyes until it finally beeps. I pour a cup, shuffle to my office to check emails, and when I'm finally awake enough, I head downstairs and get on the recumbent bike for 30 minutes. I hate biking, I really do, but the best part is I get to read for thirty precious, undisturbed minutes! Believe it or not, finding time to read is hard for me.
After that, I shower, make a shake, and plunk myself down at my desk. I set word goals so until I reach those goals, it's no play time for me. When I start a new book, I usually set 1000 words a day for the first week (beginnings are hard for me) The second week I go up to 2000 words a day and the next week, and until the book is done, I do 3000 words. After writing, it's time to make dinner. My kids are grown and gone so it's only hubby and me at home, which makes meal prep much simpler.
After dinner, I usually meet up with my sister. In the winter (I live in Nova Scotia) we go for tea, and in the summer we walk the waterfront. After that I usually meet up with hubby and hang out with him for a few hours before bedtime. Exciting right? Maybe not so exciting, but I'm happy and wouldn't change my life/routine for the world!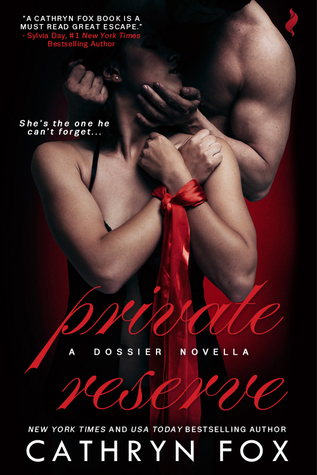 Private Reserve
(Dossier #1)
Author: Cathryn Fox
Publishing Date: March 6, 2017
Publisher: Entangled Publishing, LLC
Genre: Contemporary Erotic Romance

Olivia was the best thing that ever happened to me. But she's a good girl, and I have a side that is far too dark for a minister's daughter. When she started talking about plans after graduation, the only thing I could do was run back to Italy—to protect her from me. But she's back in my life, and I need a wife before I can take full ownership of our failing vineyard and hotel. Only problem is, I want her again. No way can I put my hands on her. One kiss, one taste, could unleash the side of me that would only scare her.
If she discovers my dark side, I don't know if she'll flee back to the states, or surrender to me. What she doesn't know is she already owns me, and if she leaves, I'll never be the same.

One lucky winner will win an ebook (Kindle version) of 'Private Reserve'.
Giveaway is sponsored by Book Lovin' Mamas.
Winner must be able to accept 'gift copy' from Amazon.
Winner will be announced on 3/20/17
a Rafflecopter giveaway

Latest posts by FranJessca
(see all)