Guest Post: 'Wanted and Wired" by @Vivien_Jackson + #Giveaway

Asking a girl like me to list three of her favorite science fiction books/movies/TV shows is like giving somebody a lollipop and then limiting them to only three licks. At least we can cut it down to just science fiction, so I'll carefully wrap up the fantasies—epic and urban and space—and tuck them aside (so, so many goodies, more on you another time).
So. Science fiction only. Gotcha.
Farscape. In the dark ages before bingewatching, I used to drive over to a friend's house to watch new episodes every week. We were entranced. We'd never seen a spaceship give birth before, and we'd certainly never seen a group of alien misfits quite like this one. It took me a while to get over the puppets and the strange flatulent king-in-exile, but what kept me watching were the badassery of Aeryn Sun, the leather trousers of John Crichton, and the complex development of the antagonists. I always wanted them to hurt, but I didn't always want them to lose. Thank you, powers of the universe, for The Peacekeeper Wars. We fans needed that.
Doctor Who. Classic Who is a fun romp and caters to my gadget love and sense of adventure, but the New Who excels at what all the best spec-fic tries to do: it explores characters. Specifically it explores the character of the Doctor, the lonely god, the Valeyard, the oncoming storm. Master of time and space, but at the core what he needs is to not be alone. So basically, he is all of us. My favorite episode is "The Doctor's Wife," written by Neil Gaiman, who is also something of a god, just the word-wielding kind.
The Left Hand of Darkness, by Ursula LeGuin. Okay, the beginning is hard to punch through, but once the actual story starts rolling, this book is impossible to dismiss. So much is going on, so many balls in the air, moving in concert—technology and interplanetary politics, evolution of social structures, philosophical seismic shifts, a desolate and unrelenting setting, and at the center of it all, two people. Just them. Doing that thing we all want to do more than anything else: forming a connection. Every time I read it, this book makes me feel at once tiny and part of something impossibly large.
No, no way that was three already! I haven't talked about Ender's Game or Frankenstein or Terminator 2 or Octavia Butler or Theodore Sturgeon or Dune or Star Trek or The Matrix or Battlestar Galactica or Stargate or William Gibson or The X-Files or The Expanse … oh hell. Spec-fic, I love all of you. Even your cheese and your bug-eyed aliens and your robot puppies. Maybe especially those.
---
Vivien Jackson writes stories with robots, grenades, pixies, and always, always down-home salacious kissery. She's an unrepentant fangirl of many fandoms and would love to discuss your favorite ships here or here or here.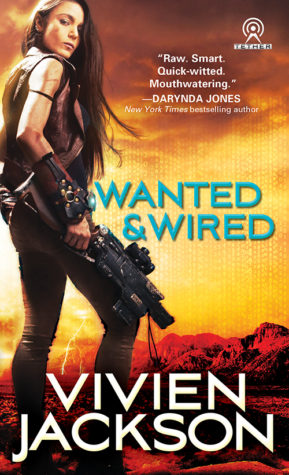 Wanted & Wired
(Tether #1)
Author: Vivien Jackson
Publishing Date: April 4, 2017
Publisher: Sourcebooks
Genre: Sci-Fi paranormal romance

A rip-roarin' new snarky, sexy sci-fi paranormal romance series with the perfect balance of humor, heat, and heart. Now that Texas has seceded and the world is spiraling into chaos, good guys come in unlikely packages and love ignites in the most inconvenient places…

Rogue scientist • technologically enhanced • deliciously attractive

Heron Farad should be dead. But technology has made him the man he is today. Now he heads a crew of uniquely skilled outsiders who fight to salvage what's left of humanity: art, artifacts, books, ideas—sometimes even people. People like Mari Vallejo.

Gun for hire • Texan rebel • always hits her mark

Mari has been lusting after her mysterious handler for months. But when a by-the-book hit goes horribly sideways, she and Heron land on the universal most wanted list. Someone set them up. Desperate and on the run, they must trust each other to survive, while hiding devastating secrets. As their explosive chemistry heats up, it's the perfect storm…
Purchase links found HERE

Sourcebooks is giving away a copy of Wanted & Wired to one lucky winner.
Giveaway is OPEN to U.S. Residents ONLY.
Winner will be announced on April 14, 2017
a Rafflecopter giveaway

I guess I should type a bio here. I'm FranJessca or Fran for short. I'm the owner of Book Lovin' Mamas and main Reviewer. I've been reviewing books since I got out of the Navy in 2011. Now 8 years later, I'm still reviewing, but this time with my youngest sidekick.
When I'm not reading and reviewing, you can find me at my day job during the week and on the weekend taking care of our little farm.

Latest posts by FranJessca (see all)