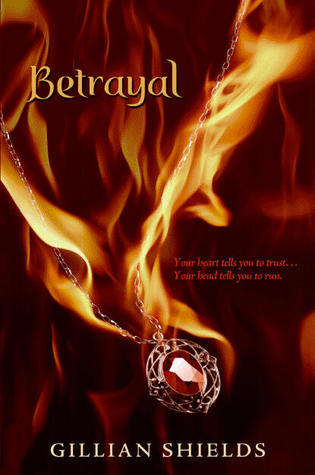 Betrayal
by Gillian Shields
Series: Immortal #2
Published by Katherine Tegen Books on August 3rd 2010
Pages: 359
Format: eBook
Source: Purchased
Amazon | B&N
Goodreads


There are the small betrayals: the unkind word, the petty lies. And there are the betrayals that break hearts, destroy worlds, and turn the strong sweet light of day into bitter dust.

When Evie Johnson started at Wyldcliffe Abbey School for Young Ladies, her life changed in ways she couldn't possibly have envisioned: the discovery of her link with Lady Agnes, her special bond with Helen and Sarah, and their sisterhood in the astonishing secrets of the Mystic Way. Above all, Evie's love for Sebastian has turned her world upside down.
Now Evie returns to Wyldcliffe for another term and more danger. Surrounded by enemies, she lives every day in fear that Sebastian will fall into the darkness of servitude to the Unconquered Lords. The Wyldcliffe coven is plotting to destroy Evie and use Sebastian to secure their own immortality. Evie and her sisters must master the power of the Talisman before it is too late. But could it be Sebastian himself who will ultimately betray Evie?
In this companion to Gillian Shields's dazzling Immortal, magic and sweeping romance cross the bounds of time to deliver heart-stopping emotion and suspense.
My Review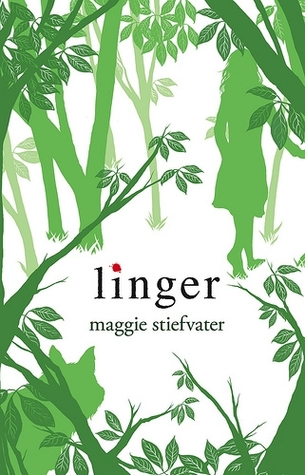 Linger
by Maggie Stiefvater
Published by Scholastic Press on July 13th 2010
Pages: 360
Format: Paperback
Source: Purchased
Amazon | B&N
Goodreads


the longing.
Once Grace and Sam have found each other, they know they must fight to stay together. For Sam, this means a reckoning with his werewolf past. For Grace, it means facing a future that is less and less certain.
the loss.
Into their world comes a new wolf named Cole, whose past is full of hurt and danger. He is wrestling with his own demons, embracing the life of a wolf while denying the ties of being a human.
the linger.
For Grace, Sam, and Cole, life a constant struggle between two forces--wolf and human--with love baring its two sides as well. It is harrowing and euphoric, freeing and entrapping, enticing and alarming. As their world falls apart, love is what lingers. But will it be enough?
My Review: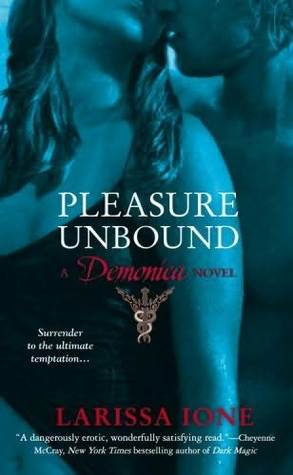 Pleasure Unbound
by Larissa Ione
Series: Demonica #1
Published by Forever on July 1st 2008
Genres: Paranormal Romance
Pages: 389
Format: Paperback
Source: Purchased
Amazon | B&N
Goodreads


In a place where ecstasy can cost you your life . . .
She's a demon-slayer who hungers for sensual pleasure-but fears it will always be denied her. Until Tayla Mancuso lands in a hospital run by demons in disguise, and the head doctor, Eidolon, makes her body burn with unslakable desire. But to prove her ultimate loyalty to her peers, she must betray the surgeon who saved her life.
Two lovers will dare to risk all.
Eidolon cannot resist this fiery, dangerous woman who fills him with both rage and passion. Not only is she his avowed enemy, but she could very well be the hunter who has been preying upon his people. Torn between his need for the truth and his quest to find his perfect mate before a horrific transformation claims him forever, Eidolon will dare the unthinkable-and let Tayla possess him, body and soul . . .
My Review: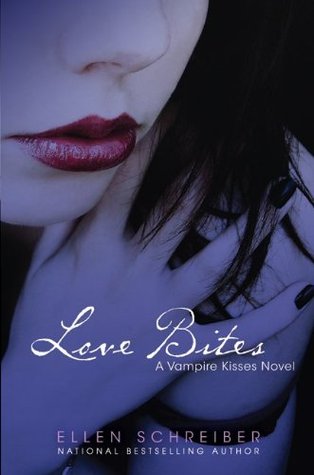 Love Bites
by Ellen Schreiber
Series: Vampire Kisses #7
Published by HarperCollins Canada / Other on May 18th 2010
Pages: 179
Format: Paperback
Source: Purchased
Amazon | B&N
Goodreads


As a mortal girl dating a vampire, Raven knows that love isn't always easy. Now that Alexander's parents have returned to Romania, Raven and her dreamy vampire boyfriend are happy to resume their cryptic romance.
But soon another visitor comes knocking: Sebastian, Alexander's best friend, arrives for a stay at the mansion. At first Raven is wary, then thrilled--this is the perfect chance to learn more about her darkly handsome boyfriend and his past. Raven has been wondering whether Alexander will ever bite her and make their love immortal, and Sebastian could be her guide to the love habits of Alexander and his kind. But when Sebastian falls for a particular Dullsvillian, will another mortal beat Raven to the bite?
With suspense, danger, and a fabulous vampire party, this seventh book in the bestselling Vampire Kisses series continues the exciting nocturnal romance of Raven and Alexander.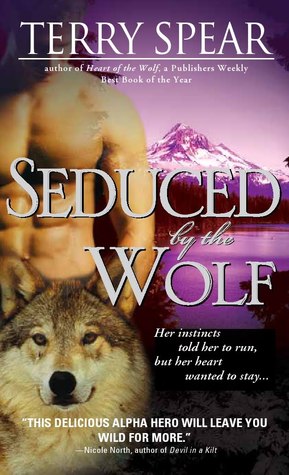 Seduced by the Wolf
by Terry Spear
Series: Heart of the Wolf #5
Published by Sourcebooks on August 1st 2010
Genres: Paranormal Romance
Pages: 416
Format: Paperback
Source: Purchased
Amazon | B&N
Goodreads


His first priority is to protect his pack Werewolf pack leader Leidolf Wildhaven has just taken over a demoralized pack. With rogue wolves on the loose causing havoc and the authorities from the zoo suddenly zeroing in on the local wolf population, the last thing he needs in his territory is a do-gooder female, no matter how beautiful and enticing she is...
She'll do anything to help wolvesBiologist Cassie Roux has dedicated her life to protecting wolves in the wild. On a desperate mission to help a she-wolf with newborn pups, the last thing Cassie needs right now is a nosy and entirely too attractive werewolf pack leader trying to track her down...
With rogue wolves and hunters threatening at every turn, Cassie and Leidolf may find their attraction the most dangerous force of all.
Heart of the Wolf Series: Heart of the Wolf (Book 1) To Tempt the Wolf (Book 2) Legend of the White Wolf (Book 3)Seduced by the Wolf (Book 4)
Praise for Terry Spear: "The vulpine couple's chemistry crackles off the page, but the real strength... lies in Spear's depiction of pack power dynamics as well as in the details of human-wolf interaction. Her wolf world feels at once palpable and even plausible.""-Publishers Weekly""Chilling suspense and sizzling romance... The dark, sexy alpha hero will capture you-body, mind, and soul.""-"Nicole North, author of "Devil in a Kilt""If action, romance, and suspense are what you are looking for in a story, then look no further."-Night Owl Romance
My Review
I received this book for free from the Author in exchange for an honest review. This does not affect my opinion of the book or the content of my review.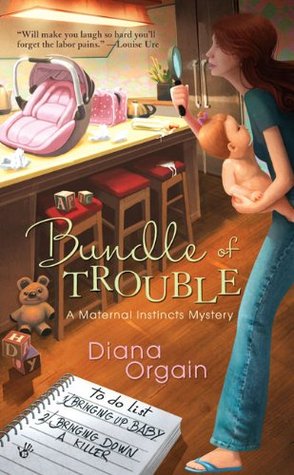 Bundle of Trouble
by Diana Orgain
Published by Berkley on August 4th 2009
Genres: Mystery
Pages: 296
Format: eBook
Amazon | B&N
Goodreads


First-time mom Kate Connelly is bringing up baby- and bringing down a killer.
Kate Connelly may have found the perfect work-from-home Mommy job: private investigator. After all, the hours are flexible, she can bring the baby along on stake-outs, and if you're going to be up all night anyway, you might as well solve some crimes. But when a body is pulled from San Francisco Bay that may be her brother-in-law, Kate must crack the case faster than you can say "diaper rash" in order to keep her family together.
My Review: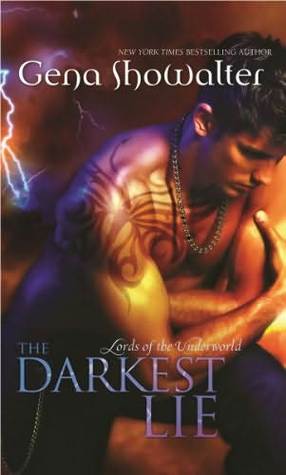 The Darkest Lie
by Gena Showalter
Series: Lords of the Underworld #6
Published by Mira on July 2nd 2010
Genres: Paranormal Romance
Pages: 442
Format: Paperback
Source: Purchased
Amazon
Goodreads


Forced to his knees in agony whenever he speaks the truth, Gideon can recognize any lie—until he captures Scarlet, a demon-possessed immortal who claims to be his long-lost wife. He doesn't remember the beautiful female, much less wedding — or bedding — her. But he wants to . . . almost as much as he wants her.

But Scarlet is keeper of Nightmares, too dangerous to roam free, and a future with her could mean ultimate ruin. Especially as Gideon's enemies draw closer . . . and the truth threatens to destroy all he's come to love . . .
My Review: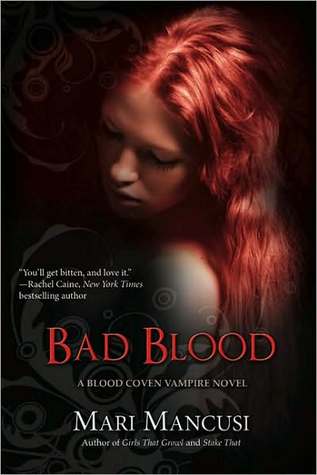 Bad Blood
by Mari Mancusi
Series: Blood Coven Vampire #4
Published by Berkley on January 5th 2010
Pages: 256
Format: eBook
Source: Purchased
Amazon | B&N
Goodreads


The newest Blood Coven novel-accompanied by edgy repackages of the rest of the series
Sunny McDonald is in the ultimate forbidden relationship. Her boyfriend Magnus is a vampire, and the leader of the Blood Coven. And when the Coven decides that Magnus needs a mate to be his co-ruler, Sunny's humanity puts her out of the running. The Coven's chosen candidate is Jane Johnson, a magna cum laude graduate of Oxford University who just happens to look like a vampiric supermodel.
Sunny is suspicious of a Rhodes Scholar who can't answer the most basic poli-sci questions, but Magnus brushes it off as petty jealousy. Still, when the Blood Coven goes to Las Vegas for a vampire convention, Sunny and her twin sister Rayne secretly tag along. And Sunny's not going home before she learns the truth about Jane. Because not everything stays in Vegas-especially bad blood.
My Review: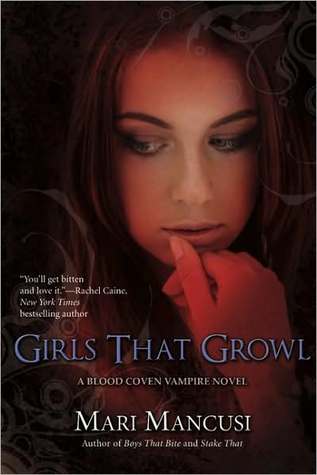 Girls That Growl
by Mari Mancusi
Series: Blood Coven Vampire #3
Published by Berkley on October 2nd 2007
Pages: 256
Format: eBook
Source: Purchased
Amazon | B&N
Goodreads


Rayne McDonald thought getting into the Blood Coven was the hard part. But now there's a new breed of trouble in town...and the former slayer and her vampire boyfriend may be the only ones who can stop it.
Now that she's an official vampire and full-fledged member of The Blood Coven, Rayne assumes her vampire slaying days are over. Sure, she doesn't have any vampire powers, thanks to a mutated blood virus, but she and Jareth can go out in the sun, which is a pretty good trade-off.
But just when Rayne's starting to enjoy her afterlife, she's contacted by Slayer Inc once again. It seems that a member of her high school's football team has disappeared—and the powers-that-be think the cheerleaders had something to do with it. Now Rayne has to infiltrate the squad before the cheerleaders have a chance to sink their teeth into someone else...
My Review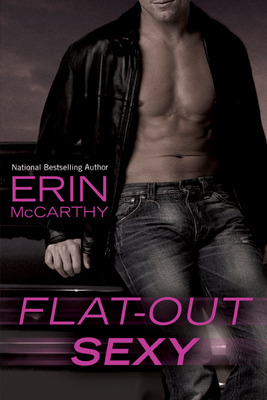 Flat-Out Sexy
by Erin McCarthy
Series: Fast Track #1
Published by Berkley on November 4th 2008
Genres: Contemporary Romance
Pages: 291
Format: Paperback
Source: Library
Amazon | B&N
Goodreads

Independent single mother Tamara Briggs wanted to find a new, sexy, no-strings-attached man--just not one as young as NASCAR driver Elec Monroe. But he sure does get her heart racing. And after she's tricked into a blind date with him, Tamara gives in to her passion. Things screech to a halt, though, when he asks to meet her children. Whatever happened to wham-bam-thank-you ma'am? Suddenly Tamara has to decide how much risk she's willing to take to experience the power of true love.
My Review