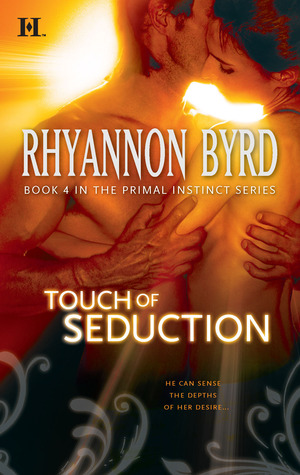 Touch of Seduction
by Rhyannon Byrd
Series: Primal Instinct #4
Published by HQN Books on April 1st 2010
Genres: Paranormal Romance
Pages: 368
Format: Paperback
Source: Purchased
Amazon | B&N
Goodreads


Sold into slavery as a child to a cruel taskmaster, tiger-shifter Aiden Shrader trusts no one. Not even his own kind. Yet as a member of the Watchmen—the organization of shape-shifters who keep watch over the ancient nonhuman races—Aiden is fiercely protective of the helpless. Never more so than when he's asked to guard a little girl with witches' blood—and her beautiful human aunt. A woman who arouses all of Aiden's primal urges…urges he must resist.
To small-town schoolteacher Olivia Harcourt, the massive tiger-shifter with the glowing amber eyes is as much a dark mystery as the enemy stalking her. Yet Aiden is her only hope of surviving. Until their intense passion unleashes her own inner tigress with a ferocity that will make the evil Casus rue the day they messed with her family…and will take Aiden by seductive surprise.
My Review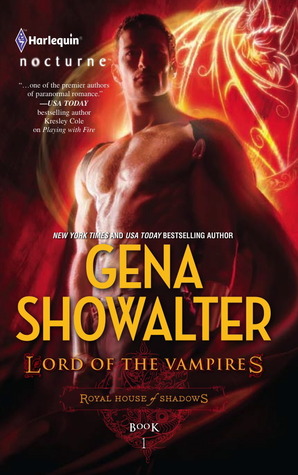 Lord of the Vampires
by Gena Showalter
Series: Royal House of Shadows #1
Published by Harlequin on August 23rd 2011
Genres: Paranormal Romance
Pages: 281
Format: eArc
Source: Netgalley
Amazon | B&N
Goodreads


Once upon a time…the Blood Sorcerer vanquished the kingdom of Elden. To save their children, the queen scattered them to safety and the king filled them with a need for vengeance. Only a magical timepiece connects the four royal heirs…and time is running out.
Nicolai the Vampire is renowned for his virility, but in a cruel twist of fate "The Dark Seducer" has become a sex slave in the kingdom of Delfina—stripped of his precious timepiece and his memory. All that remains is a primal need for freedom, revenge—and the only woman who can help him.
When the wanton vampire summons Jane Parker, she is helpless to obey. She's drawn to his dark sexuality and into his magical realm. But for this human, all is not a fairy tale. For saving Nicolai could mean losing the only man she's ever craved...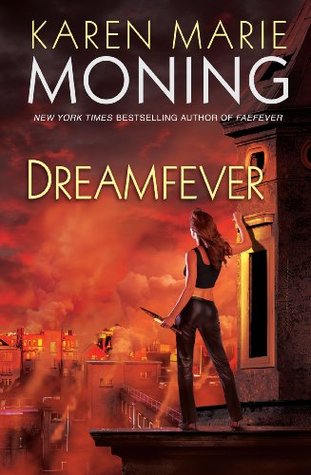 Dreamfever
by Karen Marie Moning
Series: Fever #4
Published by Delacorte Press on August 18th 2009
Genres: Urban Fantasy
Pages: 386
Format: Hardcover
Source: Library
Amazon | B&N
Goodreads


MacKayla Lane lies naked on the cold stone floor of a church, at the mercy of the erotic Fae master she once swore to kill. Far from home, unable to control her sexual hungers, MacKayla is now fully under the Lord Master's spell.…In New York Times bestselling author Karen Marie Moning's stunning new novel, the walls between human and Fae worlds have come crashing down. And as Mac fights for survival on Dublin's battle-scarred streets, she will embark on the darkest—and most erotically charged—adventure of her life.
He has stolen her past, but MacKayla will never allow her sister's murderer to take her future. Yet even the uniquely gifted sidhe-seer is no match for the Lord Master, who has unleashed an insatiable sexual craving that consumes Mac's every thought—and thrusts her into the seductive realm of two very dangerous men, both of whom she desires but dares not trust.
As the enigmatic Jericho Barrons and the sensual Fae prince V'lane vie for her body and soul, as cryptic entries from her sister's diary mysteriously appear and the power of the Dark Book weaves its annihilating path through the city, Mac's greatest enemy delivers a final challenge.…
It's an invitation Mac cannot refuse, one that sends her racing home to Georgia, where an even darker threat awaits. With her parents missing and the lives of her loved ones under siege, Mac is about to come face-to-face with a soul-shattering truth—about herself and her sister, about Jericho Barrons…and about the world she thought she knew.
My Review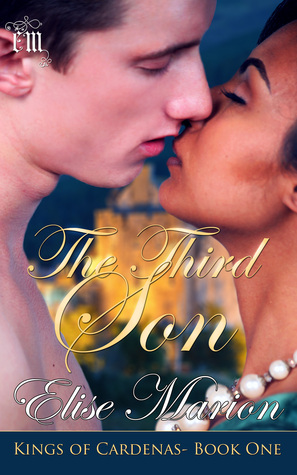 The Third Son
by Elise Marion
Series: Kings of Cardenas #1
Published by Createspace on November 18th 2011
Genres: Historical Romance
Pages: 234
Format: eArc
Amazon | B&N
Goodreads


Rake. Rogue. Scoundrel. Each of these words has been used to describe Damien Largess, youngest prince of Cardenas. But when he steps into a glittering ballroom on the night of his twenty-fifth birthday, the roguish young prince's life will be forever changed. Beautiful. Graceful. Sensual. When Esmeralda steps into king's ballroom to perform for the prince's twenty-fifth birthday, every eye in the room is upon her. One pair of eyes intrigues her most of all ... those of Prince Damien, seeming to stare straight through to her soul. The two know nothing can ever come of their love; he is a prince, and she a Gypsy dancer. Yet, neither can seem to resist the passion that sparks when they are together, or the unmistakable call of destiny forcing their lives onto the same path. However, love is not the only thing destiny has in store ... With a deadly plot against the royal family surrounding him in danger and intrigue, Damien will face a decision he never thought he would have to make. Will he step up to claim a responsibility that should never have fallen to the third son? Or will he abandon it to risk all for love?
My Review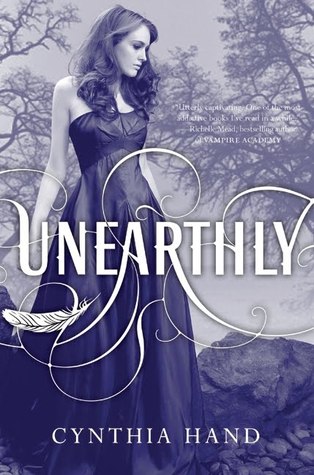 Unearthly
by Cynthia Hand
Series: Unearthly #1
Published by HarperTeen on January 4th 2011
Pages: 435
Format: Hardcover
Source: Library
Amazon | B&N
Goodreads


In the beginning, there's a boy standing in the trees...Clara Gardner has recently learned that she's part angel. Having angel blood run through her veins not only makes her smarter, stronger, and faster than humans (a word, she realizes, that no longer applies to her), but it means she has a purpose, something she was put on this earth to do. Figuring out what that is, though, isn't easy.
Her visions of a raging forest fire and an alluring stranger lead her to a new school in a new town. When she meets Christian, who turns out to be the boy of her dreams (literally), everything seems to fall into place and out of place at the same time. Because there's another guy, Tucker, who appeals to Clara's less angelic side.
As Clara tries to find her way in a world she no longer understands, she encounters unseen dangers and choices she never thought she'd have to make between honesty and deceit, love and duty, good and evil. When the fire from her vision finally ignites, will Clara be ready to face her destiny?
Unearthly is a moving tale of love and fate, and the struggle between following the rules and following your heart.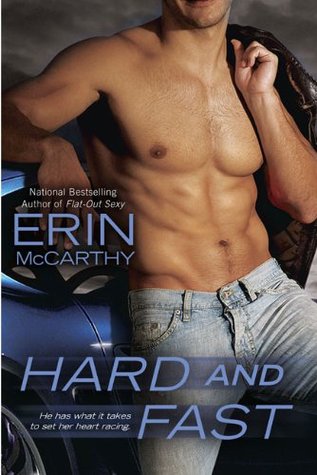 Hard and Fast
by Erin McCarthy
Series: Fast Track #2
Published by Berkley on May 5th 2009
Genres: Contemporary Romance
Pages: 304
Format: Paperback
Source: Library
Amazon | B&N
Goodreads


The sequel to Flat-Out Sexy, starring a bad boy race car driver hero who's met his match-from a hot USA Today bestselling author.
Grad student Imogen Wilson realizes she's hit on the perfect thesis for her sociology degree. If she follows the so-called "rules" on how to get a man, can she steer her way into the world and hearts of stock race car drivers, and establish their dating- and mating-patterns?
Although sexy and reckless racer Ty McCordle is the ideal test subject, Imogen knows that for the sake of science, she can't give in to her growing attraction for him. Yet he's the one who's chasing after her, and Imogen realizes that she actually wants to be caught. A southern gentleman like Ty will satisfy all her curiosity-and make all the risks worthwhile...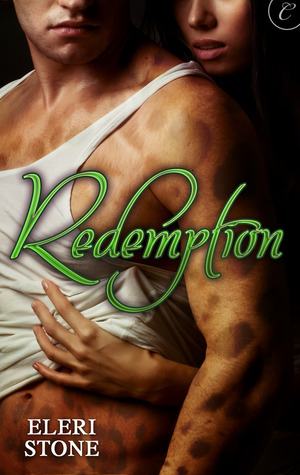 Redemption
by Eleri Stone
Series: Lost City Shifters #2
Published by Carina Press on September 1st 2011
Genres: Paranormal Romance
Format: eArc
Source: Netgalley
Amazon | B&N
Goodreads


My Review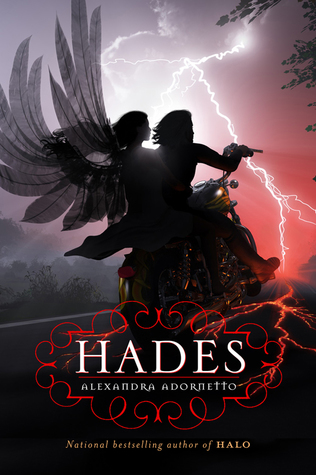 Hades
by Alexandra Adornetto
Published by Feiwel & Friends on August 30th 2011
Pages: 425
Format: Hardcover
Source: Library
Amazon | B&N
Goodreads


Heaven Help Her.
Bethany Church is an angel sent to Earth to keep dark forces at bay. Falling in love was never part of her mission, but the bond between Beth and her mortal boyfriend, Xavier Woods, is undeniably strong. But even Xavier's love, and the care of her archangel siblings, Gabriel and Ivy, can't keep Beth from being tricked into a motorcycle ride that ends up in Hell. There, the demon Jake Thorn bargains for Beth's release back to Earth. But what he asks of her will destroy her, and quite possibly, her loved ones, as well.
The story that Alexandra Adornetto built in her New York Times - bestselling debut, Halo, comes alive in action-packed and unexpected ways, as angels battle demons, and the power of love is put to the test.
My Review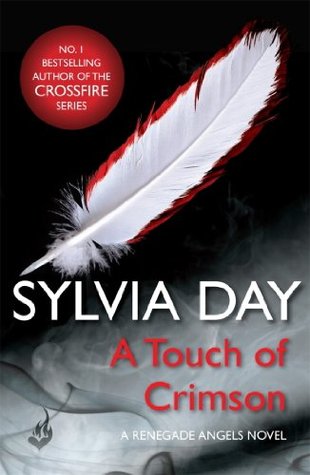 A Touch of Crimson
by Sylvia Day
Series: Renegade Angels #1
Published by Signet on October 4th 2011
Genres: Paranormal Romance
Pages: 344
Format: eArc
Source: Netgalley
Amazon | B&N
Goodreads


From the New York Times bestselling author of Bared to You...Adrian Mitchell is a powerful angel leading an elite Special Ops unit of Seraphim. His task is to punish the Fallen-angels who have become vampires-and command a restless pack of indentured lycans. But Adrian has suffered his own punishment for becoming involved with mortals- losing the woman he loves again and again. Now, after nearly two hundred years, he has found her-Shadoe-her soul once more inhabiting a new body, with no memory of him. And this time, he won't let her go.
My Review
WARNING: SPOILERS AHEAD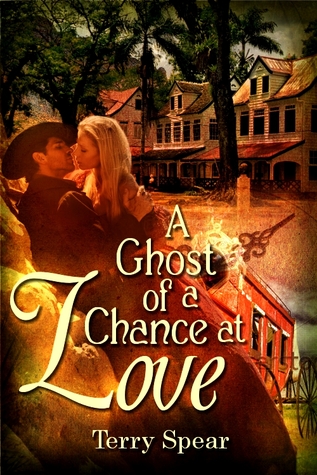 A Ghost of a Chance at Love
by Terry Spear
Published by LLC on September 1st 2011
Genres: Time Travel Romance
Pages: 374
Format: Paperback
Amazon | B&N
Goodreads


Lisa Welsh only wishes to leave a messy divorce behind for a couple of days stay in Salado, Texas but wakes to nightmares and a cowboy in her bed, and she has no earthly idea how he got there. But the situation gets worse when she learns she's now living in 19th Century Salado. Even more worrisome is the tall dark stranger, and everyone else in town believes she's some woman named Josephine Rogers who is supposed to be dead. Jack Stanton can't believe the clerk gave him an occupied room at the Shady Villa Inn, but worse, he was ready to ravage the woman in that bed-until he realized his mistake. Now the woman he thinks is Josephine claims to be some other woman-and though he could never abide by Josephine's fickle ways, this Lisa Welsh intrigues him like no other. Still, if she isn't Josephine, he figures he best help her find her way back to where she really belongs no matter how much he wants to keep her with him. Together, Lisa and Jack must solve the mysteries and face the troubles in their worlds or they will never be free to share the love that binds them across the ages.
My Review