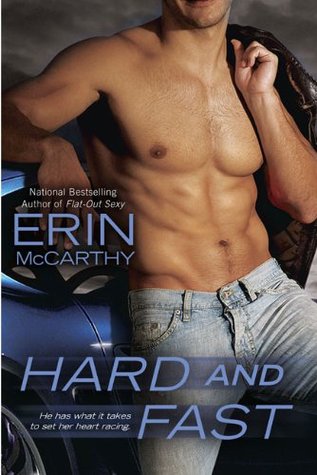 Hard and Fast
by Erin McCarthy
Series: Fast Track #2
Published by Berkley on May 5th 2009
Genres: Contemporary Romance
Pages: 304
Format: Paperback
Source: Library
Amazon | B&N
Goodreads


The sequel to Flat-Out Sexy, starring a bad boy race car driver hero who's met his match-from a hot USA Today bestselling author.
Grad student Imogen Wilson realizes she's hit on the perfect thesis for her sociology degree. If she follows the so-called "rules" on how to get a man, can she steer her way into the world and hearts of stock race car drivers, and establish their dating- and mating-patterns?
Although sexy and reckless racer Ty McCordle is the ideal test subject, Imogen knows that for the sake of science, she can't give in to her growing attraction for him. Yet he's the one who's chasing after her, and Imogen realizes that she actually wants to be caught. A southern gentleman like Ty will satisfy all her curiosity-and make all the risks worthwhile...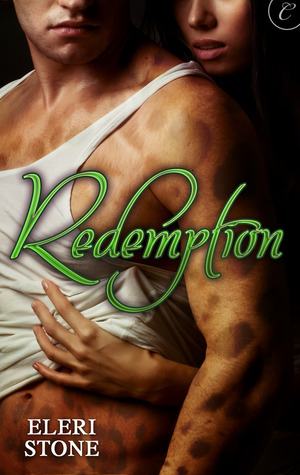 Redemption
by Eleri Stone
Series: Lost City Shifters #2
Published by Carina Press on September 1st 2011
Genres: Paranormal Romance
Format: eArc
Source: Netgalley
Amazon | B&N
Goodreads


My Review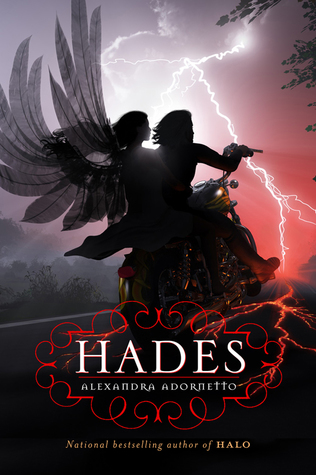 Hades
by Alexandra Adornetto
Published by Feiwel & Friends on August 30th 2011
Pages: 425
Format: Hardcover
Source: Library
Amazon | B&N
Goodreads


Heaven Help Her.
Bethany Church is an angel sent to Earth to keep dark forces at bay. Falling in love was never part of her mission, but the bond between Beth and her mortal boyfriend, Xavier Woods, is undeniably strong. But even Xavier's love, and the care of her archangel siblings, Gabriel and Ivy, can't keep Beth from being tricked into a motorcycle ride that ends up in Hell. There, the demon Jake Thorn bargains for Beth's release back to Earth. But what he asks of her will destroy her, and quite possibly, her loved ones, as well.
The story that Alexandra Adornetto built in her New York Times - bestselling debut, Halo, comes alive in action-packed and unexpected ways, as angels battle demons, and the power of love is put to the test.
My Review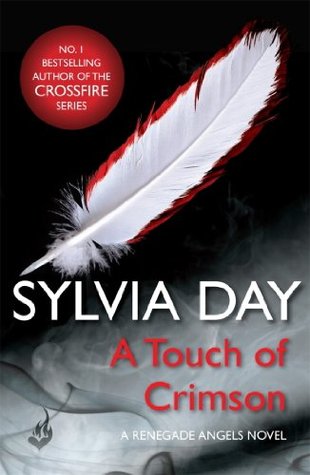 A Touch of Crimson
by Sylvia Day
Series: Renegade Angels #1
Published by Signet on October 4th 2011
Genres: Paranormal Romance
Pages: 344
Format: eArc
Source: Netgalley
Amazon | B&N
Goodreads


From the New York Times bestselling author of Bared to You...Adrian Mitchell is a powerful angel leading an elite Special Ops unit of Seraphim. His task is to punish the Fallen-angels who have become vampires-and command a restless pack of indentured lycans. But Adrian has suffered his own punishment for becoming involved with mortals- losing the woman he loves again and again. Now, after nearly two hundred years, he has found her-Shadoe-her soul once more inhabiting a new body, with no memory of him. And this time, he won't let her go.
My Review
WARNING: SPOILERS AHEAD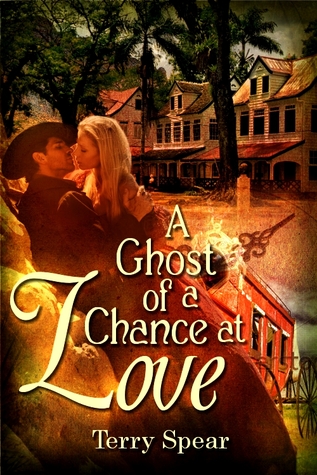 A Ghost of a Chance at Love
by Terry Spear
Published by LLC on September 1st 2011
Genres: Time Travel Romance
Pages: 374
Format: Paperback
Amazon | B&N
Goodreads


Lisa Welsh only wishes to leave a messy divorce behind for a couple of days stay in Salado, Texas but wakes to nightmares and a cowboy in her bed, and she has no earthly idea how he got there. But the situation gets worse when she learns she's now living in 19th Century Salado. Even more worrisome is the tall dark stranger, and everyone else in town believes she's some woman named Josephine Rogers who is supposed to be dead. Jack Stanton can't believe the clerk gave him an occupied room at the Shady Villa Inn, but worse, he was ready to ravage the woman in that bed-until he realized his mistake. Now the woman he thinks is Josephine claims to be some other woman-and though he could never abide by Josephine's fickle ways, this Lisa Welsh intrigues him like no other. Still, if she isn't Josephine, he figures he best help her find her way back to where she really belongs no matter how much he wants to keep her with him. Together, Lisa and Jack must solve the mysteries and face the troubles in their worlds or they will never be free to share the love that binds them across the ages.
My Review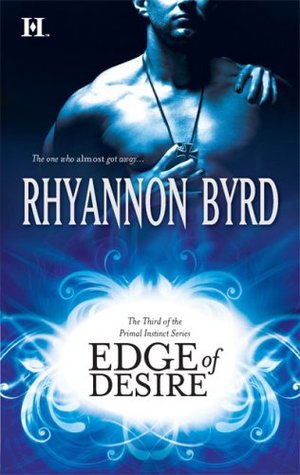 Edge of Desire
by Rhyannon Byrd
Series: Primal Instinct #3
Published by HQN Books on May 19th 2009
Genres: Paranormal Romance
Pages: 352
Format: Paperback
Source: Library
Amazon | B&N
Goodreads


Sheriff Riley Buchanan is a good man...but a man possessed. Plagued by vicious and uncontrollable impulses, he lives in fear of surrendering to real love. Even after years apart, he still craves one woman, Hope Summers, above all others, and will do anything to protect her from harm--even tempt fate.
Hope is a woman with her own secrets. For months she has eluded her abusive ex-husband, a ruthless creature who won't rest until Hope and her kind are destroyed. Hope's fantasies are still haunted by Riley, the one man who might help her, and the man whose searing touch she cannot forget. But surrendering to their long-denied passion could mean the destruction of everything they hold dear....
My Review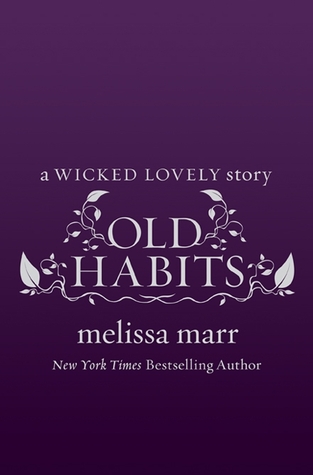 Old Habits
by Melissa Marr
Series: Wicked Lovely #2.6
Published by HarperCollins on January 11th 2011
Pages: 81
Format: eBook
Source: Purchased
Amazon | B&N
Goodreads


Melissa Marr returns to the ravishing world of Faerie with a story set between her bestselling novels Ink Exchange and Fragile Eternity.
Recently anointed king of the Dark Court, Niall struggles to forge a new relationship with his subjects—and with the former Dark King, Irial, his once-friend, once-enemy, and now possible-advisor.
My Review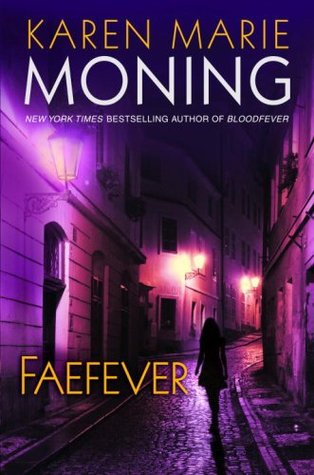 Faefever
by Karen Marie Moning
Series: Fever #3
Published by Delacorte Press on September 16th 2008
Genres: Urban Fantasy
Pages: 327
Format: Hardcover
Source: Library
Amazon | B&N
Goodreads


The New York Times bestselling author of Darkfever and Bloodfever returns to Dublin's Fae-infested shores in a bold, sensual new novel. Hurtling us into a realm of seduction and shadows, Karen Marie Moning tells the enthralling tale of a woman who explores the limits of her mysterious powers as she enters a world of ancient sorcery—and confronts an enemy more insidious than she could ever have imagined.
He calls me his Queen of the Night. I'd die for him. I'd kill for him, too. When MacKayla Lane receives a torn page from her dead sister's journal, she is stunned by Alina's desperate words. And now MacKayla knows that her sister's killer is close. But evil is closer. And suddenly the sidhe-seer is on the hunt: For answers. For revenge. And for an ancient book of dark magic so evil, it corrupts anyone who touches it.
Mac's quest for the Sinsar Dubh takes her into the mean, shape-shifting streets of Dublin, with a suspicious cop on her tail. Forced into a dangerous triangle of alliance with V'lane, an insatiable Fae prince of lethally erotic tastes, and Jericho Barrons, a man of primal desires and untold secrets, Mac is soon locked in a battle for her body, mind, and soul.
As All Hallows' Eve approaches and the city descends into chaos, as a shocking truth about the Dark Book is uncovered, not even Mac can prevent a deadly race of immortals from shattering the walls between worlds—with devastating consequences.…
My Review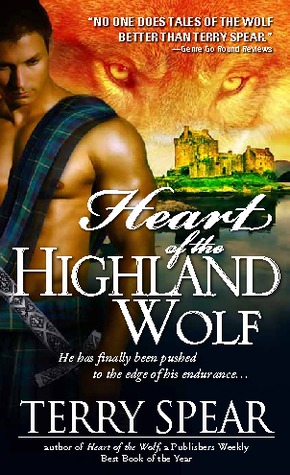 Heart of the Highland Wolf
by Terry Spear
Series: Heart of the Wolf #7
Published by Sourcebooks Casablanca on June 7th 2011
Genres: Paranormal Romance
Pages: 382
Format: Paperback
Source: Purchased
Amazon | B&N
Goodreads


Book 1 in Terry Spear's Highland Wolf Series
It's a matter of pride... Modern day werewolf laird Ian MacNeill reluctantly allows a film production company to use his castle, but he knows his secretive clan has a big problem when a beautiful red werewolf female who insists she's working on the film keeps showing up in the wrong places...and a matter of pleasure. Julia Wildthorn is not who she says she is-she's sneaking into Argent Castle to steal an ancient relic for her grandfather and to do research for her next werewolf romance novel. When she catches a glimpse of Ian, she realizes he's the perfect hero.
Highland Wolf Series: Heart of the Highland Wolf (Book 1)A Howl for a Highlander (Book 2)A Highland Werewolf Wedding (Book 3)Hero of a Highland Wolf (Book 4)A Highland Wolf Christmas (Book 5)
Praise for Legend of the White Wolf: "A thrilling, engaging, wonderful ride." -Seriously Reviewed"Romance, adventure, and a paranormal twist...If you like your werewolf stories with a bit of a bite, then pick this series up now." -Night Owl Romance (Reviewer Top Pick)
Praise for Seduced by the Wolf: "With just enough wolf detail and werewolf lore, this action-packed story crackles with mystery, adventure, violence, and passion." -Library Journal
My Review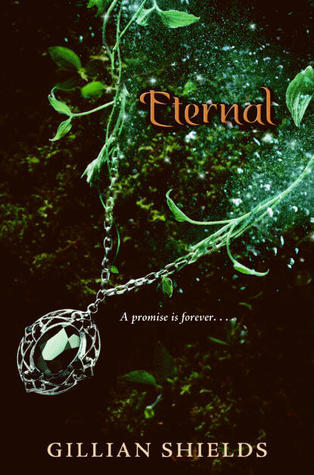 Eternal
by Gillian Shields
Series: Immortal #3
Published by Katherine Tegen Books on August 2nd 2011
Pages: 368
Format: Paperback
Source: Library
Amazon | B&N
Goodreads


This third book about the Mystic Sisterhood at Wyldcliffe Abbey School for Young Ladies is another romantic thriller with paranormal elements and deep mystery. This time our heroine is Sarah Fitzalan, the dependable, faithful friend to Evie and Helen, her sisters in the Mystic Way. But this term Sarah finds that their friendship is tested to the limits. Evie is turning her back on the Mystic Way after the sisterhood laid her beloved Sebastian's soul to rest; Helen is distracted; and a new girl, wild child Velvet Romaine, seems set on stirring up more trouble at Wyldcliffe. Sarah struggles to keep the sisterhood together as the threat of attack from the dark coven looms.
All Sarah has to keep her going is her connection with her earth powers and a promise she cannot break. Must she sacrifice herself for the sake of her friends and sisters? Will her sisters join her, or will help come from unexpected sources, like her Romany ancestors, and a love she'd only just dared hope for?