Review Blitz: 'If I Dream' by K.M. Scott
I received a complimentary copy of the book from the InkSlinger PR, Author in exchange for an honest review. This does not affect my opinion of the book or the content of my review.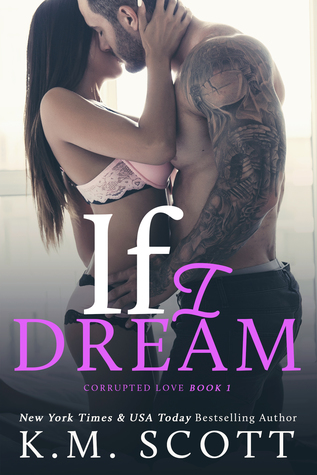 If I Dream (Corrupted Love #1)
by K.M. Scott
Series: Corrupted Love #1
Published by Copper Key Media LLC on January 24th 2017
Genres: Contemporary Romance
Pages: 350
Format: eBook
Source: InkSlinger PR, Author
Amazon Kindle | Amazon Paperback
Goodreads


If I dream, will you dare?

Ryder
All I wanted was my freedom. It's all I'd dreamed of from the first time I stood in the ring. Until I entered Robert Erickson's world. Until Serena. Cruelty and ugliness surrounded me, but she was beautiful and good. I wanted to protect her from her father's world, even though I knew being with her could mean the end of me.

Serena
I wanted for nothing as the daughter of one of the richest men in the world. But all my father's money couldn't buy what I truly craved. Until Ryder. I wanted all he was, all he brought out in me. All he made me desire.

Our love was forbidden by the one person who had the power to harm us. We dreamed of more than living in that world, though. We dreamed of having it all, but did we dare?
My Review
If I Dream is the first book in the Corrupted Love trilogy and I would describe it as a angsty dramatic book. Bring on Ryder who finds himself thrown in a world, where he has to fight to survive. He's never really had a true family. He ends up becoming apart of family though, as an adopted son of a wealthy man that wants him to fight in fights that he sets up.
In comes the drama of the story, especially when there are rules that Ryder must obey. Unfortunately, the female character of the story is one curious little bee. Serena is what I would consider a stubborn head-strong girl who is determined to find out more about Ryder. She will defy her father every time and her father can't stand it. What would you do though if a sexy guy came into your house that was built? You would either run for your life or be curious just like Serena, especially since she has been a prisoner in her own life for a while now.
I don't really care for the prison like sentencing that the father does in the story. I also don't like other certain things that he believes in and felt terrible for Serena. (not her sister so much in the story, especially with what she did to Serena in the beginning) The family is not a perfect family at all. I definitely believe someone needs to kick the dad into the twenty-first century because he believes in things that are long gone.
Then there's Serena and Ryder's relationship. I wouldn't consider it insta-love, but it blossomed into an infatuation since Serena really enjoyed getting to know Ryder. Then there's the issue of being separated and coming back together. They definitely had some rough ups and downs.
The sexual tension was off the charts though, when Ryder and Serena finally hooked up completely. When I mean hooked up, they did some crazy things that are could've caused them harm.
A couple of things I really enjoyed about If I Dream is how Ryder was always there for Serena. He tended to save her a couple of times in the story. Although, he didn't stand up to his father, he gave Serena several options to get away from it all. There was also Serena who changed a bit from the separation from her family. She grew up a bit and was determine to get away from it all. Although, she got thrown back in chaos and again I felt for the girl. She handled certain situations well, but not all. Poor girl needs to run away and stay away.
K.M. Scott knows how to write a story that will have your emotions a wreck. You'll go from high to low within a couple of minutes or even seconds because of what Ryder and Serena (especially Serena) go through in the story.
Just a warning though, the book gets violent at the end. It may make some readers uncomfortable with what happens. All I can say is, I really hope someone gets their butt handed to them in the next book because I really was upset on what happened. 🙁 I know it's fictional and all, but this incident definitely deserves to be revenged.
I give this book 3.5 stars and recommend it to readers of K.M. Scott and readers that enjoy a angsty, drama filled book.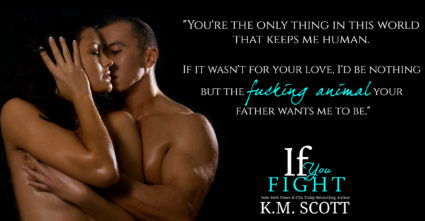 Pre-Order If You Fight by K.M. Scott

I guess I should type a bio here. I'm FranJessca or Fran for short. I'm the owner of Book Lovin' Mamas and main Reviewer. I've been reviewing books since I got out of the Navy in 2011. Now 8 years later, I'm still reviewing, but this time with my youngest sidekick.
When I'm not reading and reviewing, you can find me at my day job during the week and on the weekend taking care of our little farm.

Latest posts by FranJessca (see all)