Review: 'Deep Kiss of Winter' by Kresley Cole & Gena Showalter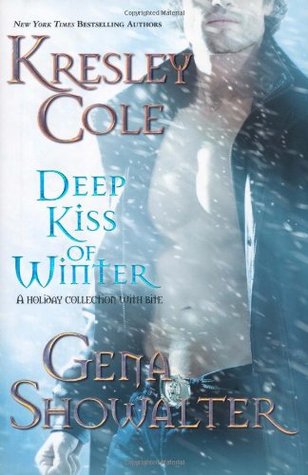 Deep Kiss of Winter
by
Kresley Cole
,
Gena Showalter
Series:
Immortals After Dark #8
,
Alien Huntress #3.5
Published by
Pocket Books
on October 13th 2009
Genres:
Paranormal Romance
Pages:
426
Format:
Hardcover
Source:
Purchased
Amazon Kindle
|
Amazon Paperback
Goodreads

Kresley Cole - Untouchable (Immortals After Dark #8)
#1 NEW YORK TIMES BESTSELLING AUTHOR KRESLEY COLE delivers a breathtaking tale of a brutal vampire soldier about to know love for the first time... and a Valkyrie aching for his touch.
Murdoch Wroth will stop at nothing to claim Daniela - the delicate Valkyrie who makes his heart beat for the first time in three hundred years. Yet the exquisite Danii is part ice fey, and her freezing skin can't be touched by anyone but her own kind without inflicting pain beyond measure. Can they conquer an agony of frustration and slake the overwhelming desire burning between them?
Gena Showalter - Tempt Me Eternally (Alien Huntress #4.5)
NEW YORK TIMES AND USA TODAY BESTSELLING AUTHOR GENA SHOWALTER puts a daring spin on a tale of huntress and hunted... and concocts a sensual chemistry that is positively explosive.
With only skin-to-skin contact, Aleaha Love can change her appearance, assume any identity. Now she's an AIR (Alien Investigation and Removal) agent on a mission to capture a group of otherworldly warriors. Only she is held captive when dangerously seductive Breean, a golden-skinned, iron-willed commander, threatens her new life - and for the first time, Aleaha wants only to be herself.
My Review:
(Originally Reviewed on Mrs. Papillion aka "The Book Worm")
 Let me say these two authors can sure make someone fall out of their seat or even bed with the books they write.
Untouchable by Kresley Cole
First let me say, Kresley Cole's story about Murdoch and Dani was VERY Interesting. Murdoch a Vampire who was changed back in the day and Dani, of course, knew about him beforehand. Dani is half-valkyrie and half ice fae. She cannot be touched by anyone otherwise her skin will burn, and it's truthfully painful. Murdoch will do anything to be able to touch Dani. They both are in love with each other, and they are trying to figure out why they are drawn to each other from the beginning of the book to the end. Of course, Crazy Nyx shows up in this book, but she's not very helpful at first to help Dani or Murdoch on their quest. Dani is trying to stay safe from the Ice Fae King who wants her dead and who killed her Mother. Murdoch is there to help her. This was a book of Love, betrayal, and courage for both Murdoch and Daniela. I recommend reading this story, but if you haven't read the whole series to Kresley Cole's Immortal After Dark, you need to read the first book..otherwise, you won't get the gist of what's going on in the series.
Tempted Me Eternally by Gena Showalter
Onto Gena's story in the book which entails Aleaha and Breean. Oh, Wow…these two are perfect together. Breean is a Golden-Skin Commander, and all he wanted for his people was a new home away from the Queen who had killed most of his people. Aleaha is posing as Macy, and she's an AIR agent. She believes no one knows she can shapeshift into other people until she meets Breean. He can see right through it and from the moment he meets her he is infatuated with her. Aleaha is holding back her feelings because she doesn't want to get to close to anyone. Breean kidnaps her and some of her fellow agents. She is all bent to saving her friends and getting away from Breean before she does something she might regret. By the end of the story, you realize why these two were meant to meet, and there are also several other twists regarding the AIR agents. I'm kind of disappointed that I didn't read this book first before Seduce the Darkness because Aleaha and Breean already show up as a couple in Seduce the Darkness and I was confused at first when I read this story about them…but it got me thinking on what happened in Seduce the Darkness.
Now all I can say is I wish Kresley Cole and Gena Showalter would get together and write a book together because both of them are AWESOME together. Thank you both for giving me my fix on Immortal After Dark Series and Alien Huntress Series fix. Can't wait to read your next books in the series real soon. =)


Latest posts by FranJessca
(see all)