Review: 'Mated to the Enemy's Daughter' by Selena Blake
October 7, 2022
I received a complimentary copy of the book from the author in exchange for an honest review. This does not affect my opinion of the book or the content of my review.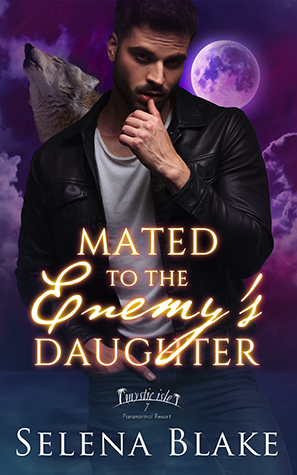 Mated to the Enemy's Daughter
by
Selena Blake
Series:
Mystic Isle Paranormal Resort #6
Published by
Self-Published
on October 4, 2022
Genres:
Paranormal Romance
Format:
eArc
Goodreads
Purchase at
Amazon
|
Barnes & Noble

When a fight between their packs sends Gabrielle Landrum to Alpha Garrett Kingsdale's doorstep begging for a truce, she half expects to be thrown out into the snow. She is the rival's daughter, after all.

Garrett's instinct is to not trust a word coming from the seductive beauty. But the more he listens and watches, the more he's drawn to her. Especially those lips. The next thing he knows, he's kissing her and he can't even blame mistletoe.

To keep her safe, he whisks her far away to work on a truce of their own.

Title was previously released as Fated Mate for Christmas in the Mistletoe and Mates anthology.
---
If you are looking for a quick paranormal romance, read with the fated mates' genre with spice, then look no further than Selena Blake's Mystic Isle Paranormal Resort series. It took me less than ninety minutes to read the sixth book, Mated to the Enemy's Daughter, in the series. I could have read it in an hour if it wasn't for other obligations, like feeding my family. Darn family! I <3 them, though, even when they interrupt my reading time. 
Storyline/My Thoughts: A little bit about the book without spoiling it since it is a short read. The FMC, Gabrielle Landrum, ends up on MMC Garett Kingdale's doorstep, asking for a truce. She knows her father's pack is nothing but trouble, and her father will not be happy that she is there begging for a truce from Garrett and his pack. Gabrielle is Garrett's enemy's daughter, and he doesn't trust her at first on the truce, especially when he just unalived two of her pack members along his property line. He suspects she's up to no good and is hesitant with her until he starts to feel something for the beautiful wolf shifter. Garrett doesn't know what to do, but he knows he wants to know his enemy's daughter, especially after discovering something about his enemy.
This book has the Enemies to Lovers, Fated Mates, Touch Her and I'll Unalive You, and Who Hurt You? tropes. Yes, every one of my favorite tropes is packaged in one book. Yes, I'm here for it.
Here's another thing that is in the book. Whenever an MMC says 'Good Girl' to the FMC, I immediately fan myself, and I fall hard for the MMC. Garrett is one of those males who gives praise and likes to rip off clothes. Yes, Mr. Kingsdale, you won me over immediately with those traits and the fact you stepped in the way of your brother to protect Gabrielle. Yes, Garrett was everything to me.
I loved Gabrielle and how she didn't care about the consequences of going to Garret with a truce and her father finding out about it. The connection between these two was perfect. They were a perfect match.
Selena Blake brought the drama in this book too. She opens up the book with Garrett mentioning he unalived a couple of pack members from his enemy. I knew it would keep me interested in the story because I knew the pack leader was not someone to mess with in this book.
The spice level in this book was fantastic. Things like this are said in the book: 'You were made for me" "Good girl" and "I want to hear you. Don't be shy with me." I melted into a puddle a few times.
I give this book 4.5-stars and look forward to reading more from this author regarding Paranorml Romance stories. PNR has always been my favorite sub-genre, and I love authors that make me remember this was the genre that got me reading in the first place. It also helps when they have my favorite paranormal creatures in them too. I have a wolf tattooed on my right thigh, and it's all due to PNR romance authors like Selena Blake, that make me obsessed with wolves.
Standalone or Part of Series: It's part of the Mystic Isle Paranormal Resort series but it can be read as a standalone.
Steam/Spice: 🌶 🌶 🌶
Trope(s)/Element(s): Fated Mates. Enemies to Lovers. Touch Her and I'll Unalive You. Who Hurt You? Praise. Scarred FMC. Alpha MMC. Rip off your clothes MMC.
Would I recommend this book? Yes. If you enjoy Paranormal Romance, this book/series is for you.

---
---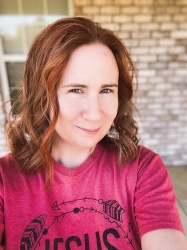 Latest posts by FranJessca
(see all)