Review: 'Moon Called' by Patricia Briggs #romanceopoly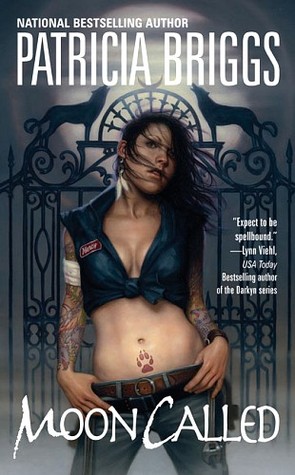 Moon Called
by
Patricia Briggs
Series:
Mercy Thompson #1
Published by
Ace Books
on January 31, 2006
Genres:
Urban Fantasy
Pages:
289
Format:
AudioBook
,
Paperback
Source:
Purchased
Amazon Kindle
|
Amazon Paperback
|
Audible
|
Barnes & Noble
|
Kobo
Goodreads

Mercedes Thompson, aka Mercy, is a talented Volkswagen mechanic living in the Tri-Cities area of Washington. She also happens to be a walker, a magical being with the power to shift into a coyote at will. Mercy's next-door neighbor is a werewolf. Her former boss is a gremlin. And she's fixing a bus for a vampire. This is the world of Mercy Thompson, one that looks a lot like ours but is populated by those things that go bump in the night. And Mercy's connection to those things is about to get her into some serious hot water...
I've meant to read the Mercy Thompson series by Patricia Briggs for a while, and now I can say I've at least read the first book. I'm going to have to make time to catch up on this series now because I had a hard time putting down the first book.
Instead of my regular reviews that I type, I'm going to list everything I loved about this book without spoiling it:
1.) Mercedes 'Mercy' Thompson. She's a kick-butt female character who is a mechanic. She's also a skin-walker who shifts to a coyote. She's not afraid to get things done, even though everyone else tells her to hold back. Wolf shifters raised her, and they are very protective of her. One of them she had a close relationship to, and he's back in her life trying to win her over. Even though she has to deal with another wolf shifter that may like her too.
2.) The worldbuilding and storyline. I love how the first book builds the world of Mercy and all the other paranormal creatures. Werewolves, Vampires, Witches, etc. Mercy is about to be apart of some trouble with those paranormal creatures, which makes it addicting. The Alpha Wolf and his daughter end up in trouble, and Mercy is there to help him.
3.) The secondary characters who happen to be several paranormal creatures. I adored Adam, Samuel, Jessie, Stefan, Warren, etc. There are so many to name, and I can't wait to read more about them in the next books.
4.) I listened to the book and found out the narrator was Lorelei King. I adore Lorelei King when it comes to narrating books. Between her and Robert Petkoff, I could listen to these two narrate books forever.
5.) The ending and how everything came together. I also loved how Patricia Briggs left me wanting more after reading the first book. I can't wait to read the next book in the series. This book was full of suspense, drama, and action. I loved it!
If you are a fan of Urban Fantasy that has a kick-butt heroine in it than this book is for you. 🙂
---
Story Rating: 5 stars
Standalone or part of series: Part of series and highly recommend reading in order.
Do I recommend this book? Yes, definitely
Will I read other books from the author? Yes. She's one of my auto-buy authors now. I loved this book.
Tropes/Elements: Werewolves; Skinwalker (Shifter); Vampires; Witches; Gremlins


I guess I should type a bio here. I'm FranJessca or Fran for short. I'm the owner of Book Lovin' Mamas and main Reviewer. I've been reviewing books since I got out of the Navy in 2011. Now 8 years later, I'm still reviewing, but this time with my youngest sidekick.
When I'm not reading and reviewing, you can find me at my day job during the week and on the weekend taking care of our little farm.

Latest posts by FranJessca (see all)