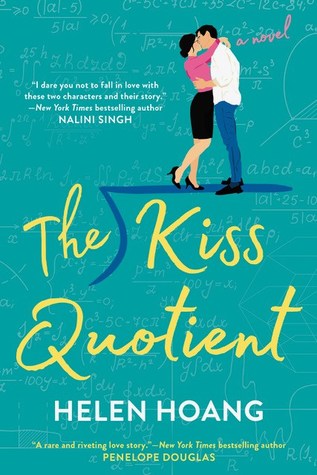 The Kiss Quotient
by Helen Hoang
Series: The Kiss Quotient #1
Published by Berkley on June 5, 2018
Genres: Contemporary Romance
Pages: 336
Format: AudioBook
Source: Audible Romance Package
Amazon Kindle | Amazon Paperback | Audible | Barnes & Noble | Kobo
Goodreads


A heartwarming and refreshing debut novel that proves one thing: there's not enough data in the world to predict what will make your heart tick.
Stella Lane thinks math is the only thing that unites the universe. She comes up with algorithms to predict customer purchases — a job that has given her more money than she knows what to do with, and way less experience in the dating department than the average thirty-year-old.
It doesn't help that Stella has Asperger's and French kissing reminds her of a shark getting its teeth cleaned by pilot fish. Her conclusion: she needs lots of practice — with a professional. Which is why she hires escort Michael Phan. The Vietnamese and Swedish stunner can't afford to turn down Stella's offer, and agrees to help her check off all the boxes on her lesson plan — from foreplay to more-than-missionary position...
Before long, Stella not only learns to appreciate his kisses, but to crave all the other things he's making her feel. Soon, their no-nonsense partnership starts making a strange kind of sense. And the pattern that emerges will convince Stella that love is the best kind of logic...
My Review Continue reading →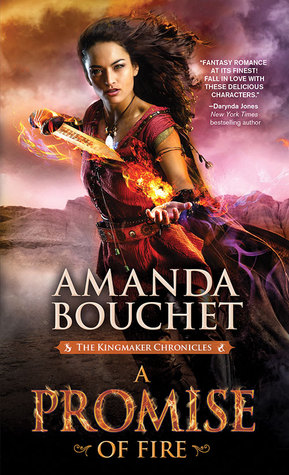 A Promise of Fire
by Amanda Bouchet
Series: Kingmaker Chronicles #1
Published by Sourcebooks Casablanca on August 2, 2016
Genres: Fantasy Romance
Pages: 441
Format: Paperback, AudioBook
Source: Library, Audible Romance Package
Amazon Kindle | Amazon Paperback | Audible | Barnes & Noble | Kobo
Goodreads


KINGDOMS WILL RISE AND FALL FOR HER...BUT NOT IF SHE CAN HELP IT
Catalia "Cat" Fisa lives disguised as a soothsayer in a traveling circus. She is perfectly content avoiding the danger and destiny the Gods-and her homicidal mother-have saddled her with. That is, until Griffin, an ambitious warlord from the magic-deprived south, fixes her with his steely gaze and upsets her illusion of safety forever.
Griffin knows Cat is the Kingmaker, the woman who divines the truth through lies. He wants her as a powerful weapon for his newly conquered realm-until he realizes he wants her for much more than her magic. Cat fights him at every turn, but Griffin's fairness, loyalty, and smoldering advances make him increasingly hard to resist and leave her wondering if life really does have to be short, and lived alone.
My Review Continue reading →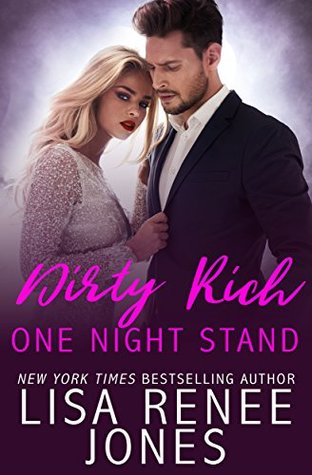 Dirty Rich One Night Stand
by Lisa Renee Jones
Series: Dirty Rich #1, Cat & Reese #1
Published by Julie Patra Publishing on October 17, 2017
Genres: Contemporary Romance, Erotic Romance
Pages: 367
Format: AudioBook
Source: Amazon, Audible Romance Package
Amazon Kindle | Amazon Paperback
Goodreads


DIRTY, RICH ONE NIGHT STAND.
That's all it was supposed to be. Her. Him. Pleasure. And then a fast goodbye. He's a stranger. And yet, he's not. She knows him even though he doesn't know her.He's the powerful attorney, now world-renowned after coming off the trial of a century which was publicized across the country. And I'm one of the reporters that sat in his courtroom.
I watched him, studied him, got to know him from afar which isn't hard since I know his exact brand of confidence, arrogance, and wealth.I know his type. I've dated his type. Which is why when I happen to come face to face with him, when sparks fly and heat simmers between us, I know what happens if I say "yes" to Reese Summer.
I know he'll taste like sin and sex, even before he kisses me.
I know he'll feel like pleasure and passion, even before he touches me.
I know he'll demand more than I want to give, and yet, because I dare to give myself to him, the result will be deliciously hot.
I know that I will not leave his bed without being utterly, completely sated.
And I know that I will leave the next morning anyway.
And so, I do.
And so, he follows.
And as chase begins my question becomes: Is Reese Summer THE one or is he really just a dirty, arrogant lie that should have stayed a one night stand?
My Review Continue reading →