Spotlight: 'Between a Wolf and a Hard Place' by @TerrySpear (Guest Post + #Giveaway)

Terry: I do a lot of research about wolves, so I pick up tons of interesting, true stories.
One was about a boy from one tribe who saved a wolf pup. A river had flooded the den. The parents couldn't reach the pups and he was only able to rescue one. The rest had already died. His tribe wouldn't allow him to bring the wolf into the camp so he lived outside of it to raise the wolf. They wouldn't allow him to take the wolf with them on hunts, but he did so on his own, raiding other tribes' horses. The wolf saved his life a couple of times, warning him before he was caught and killed. Then the wolf had grown into an adult and took off, returning, then taking off for longer. One day, it returned with his mate. He greeted the boy, though the she-wolf kept her distance. Then he left for good, his own wolf pack his priority. But the boy never forgot the beautiful wolf he'd raised from a pup that had saved his life in return.
In one case, a wolf biologist observed that one wolf always had a bad hair day—every day—his fur all kinked. Can you imagine?
Another true story was about a wolf that had a large pack and plenty of prey, so it was a rare sight, but he had two mates at the same time! And they each had his offspring!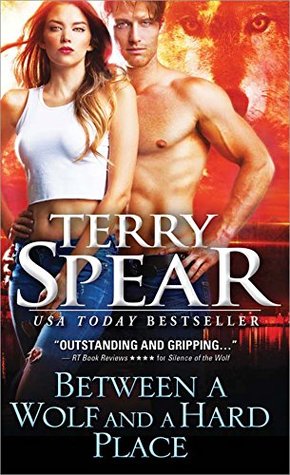 Between a Wolf and a Hard Place
(Silver Town Wolf #7)
Author: Terry Spear
Publishing Date: April 4, 2017
Publisher: Sourcebooks Casablanca
Genre: Paranormal Romance

In Silver Town, the secrets run deep…

Alpha werewolf Brett Silver has an ulterior motive when he donates a prized family heirloom to the Silver Town hotel. Ellie MacTire owns the place with her sisters, and he's out to get her attention.

Ellie is even more special than Brett knows. She's a wolf-shifter with a unique ability to commune with the dead. Ellie has been ostracized, so she protects herself and those she loves by revealing nothing—not even when strange and dangerous things begin to happen in Silver Town. And especially not to the devastatingly handsome and generous wolf who's determined to win her over…
Purchase at Amazon | Barnes & Noble | iBooks | Kobo

Sourcebooks is giving one paperback copy Between a Wolf and a Hard Place to one lucky winner.
Giveaway is open to US Residents ONLY
Winner will be announced on 4/11/17

I guess I should type a bio here. I'm FranJessca or Fran for short. I'm the owner of Book Lovin' Mamas and main Reviewer. I've been reviewing books since I got out of the Navy in 2011. Now 7 years later, I'm still reviewing, but this time with my oldest daughter aka Lil' Sidekick.
When I'm not reading and reviewing, you can find me at my day job during the week and on the weekend taking care of our little farm.

Latest posts by FranJessca (see all)
One Response to Spotlight: 'Between a Wolf and a Hard Place' by @TerrySpear (Guest Post + #Giveaway)