Spotlight: 'Her True Match' by @PaigeTyler (Excerpt + #Giveaway)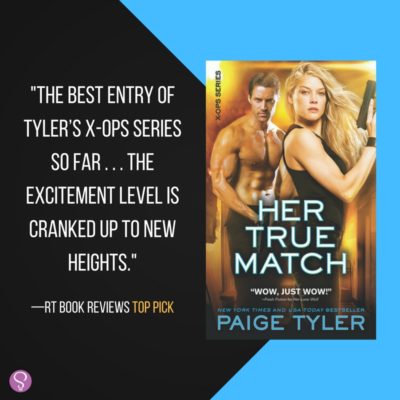 A Little Known Fact from Her True Match . . .
Braden catches Dreya in the act. It would have normally been impossible for anyone to get the drop on her during one of her high-wire jobs, especially a cop. But her feline senses that usually let her know when there's danger about, seem to be strangely muted when it comes to Braden Hayes. Would her inner kitty actually betray her if Braden was something it wanted? He does come with his own handcuffs after all.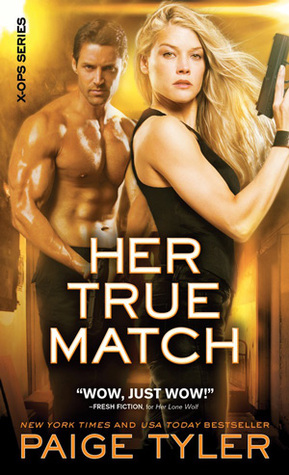 Her True Match
(X-Ops #6)
Author: Paige Tyler
Publishing Date: March 7, 2017
Publisher: Sourcebooks
Genre: Paranormal Romance

FORCED TOGETHER

When feline shifter Dreya Clark is escorted from the police interrogation by two secret agents, she thinks she's dodged a bullet. That sexy detective Braden Hayes caught her stealing red-handed. When she finds out what she has to do to stay out of jail, suddenly she's missing the hot cop with the piercing gaze. She's being recruited for her shifter abilities by the Department of Covert Operations.

WILL DANGER RIP THEM APART?

Braden has been chasing the smart-mouthed cat burglar for years. But when Dreya's taken away, he knows their game of cat and mouse has turned deadly-serious. There's no way he'll let her go off alone. Fur flies and temperatures flare as Braden realizes Dreya is much more than she appears. Thrown together on a dangerous covert mission, this unlikely pair will have to rely on each other to make it out alive.
Purchase at Amazon | Barnes & Noble | Kobo | iBooks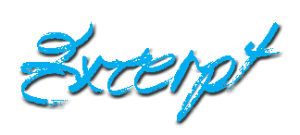 "How do you know I wasn't testing the security system?" Dreya asked, her lips curving into a coy smile.
Braden sat across from the beautiful thief in one of the burglary section's interrogation rooms, working hard to keep from smiling back at her. Even though he knew her record backward and forward, he was still having a hell of a time maintaining a professional detachment. He was good in the interrogation room, but Dreya was better. She charmed, she flirted, and she controlled where she wanted the conversation to go. Braden had already been forced to toss Mick out of the room. His partner had come damn close to asking their suspect out on a date, even though she was sitting at the table wearing a pair of handcuffs.
Though Braden had to admit she made the cuffs look good. Even now, she was sitting at the table with her long, blond hair cascading around her shoulders, talking animatedly with her hands as if the heavy stainless steel cuffs were a fashion accessory. He wasn't even sure when she'd gotten her hair out of the braid it had been in before, but he had the crazy urge to run his fingers through it. He resisted—barely. Dreya had been saying since they'd brought her in that this was all a big misunderstanding and that she could straighten this out if she could talk privately with the owner of the art piece they seemed to think she'd stolen. Like that was going to happen. Something told Braden that putting her in the same room with some rich playboy would be an incredibly bad idea. All she had to do was bat those hazel-green eyes at him a few times and tousle her hair with her fingers, and the guy would agree with anything she said. Hell, the guy would probably give her the silly blue balloon dog thing sitting on the table between them as a gift.
"If we're going to talk about security systems, Dreya, let's start with how you managed to climb the wall of that apartment on the south side of M Street. Because I gotta tell you, that was damn impressive."
He expected her to deny it had been her—or beam with pride at the compliment—but her eyes widened in shock. For the first time that night, there was fear on her face.
"You saw that?" She darted a nervous glance at the one-way glass mirror to her left, the one Mick was standing behind.
He nodded. "Sure did. In fact, we have it all on video. The climb, the walk across the cable, the jump you made to the balcony."
On the other side of the table, her face went pale. Shit, was she starting to hyperventilate?
"How many people have seen the video?" she demanded.
Braden frowned. Why the hell was a second-story thief worried about how many cops had seen her display her talents? That made no sense.
"Just my partner and me," he assured her. "But while the video is amazing, it doesn't explain how you were able to scale that wall. Were you using something on your hands to get a grip? I searched your bag but didn't find anything."
Dreya swallowed hard. In all of the previous occasions he'd questioned her, she'd been confident and posed, but suddenly it was like she'd been hit by lightning. She seemed off balance…lost.
"You can't let anyone else see the video," she said.
He shrugged. "That's not really up to me."
She stared at her cuffed wrists, her shoulders slumping in a defeat he hadn't seen coming. "What if I confess?"
She said it so softly he wasn't sure he'd heard her correctly. "What?"
Dreya lifted her head to look at him, that usual glimmer missing from her eyes now. "If I confess right now, will you destroy the video?"
Braden hoped to hell his mouth wasn't hanging open. Being interrogated by the cops could make people say strange stuff, but Dreya had to know that even with the evidence they had on her, a woman with her background and clean record could likely get a case like this whittled down from the standard five to seven to less than two years. Why would she agree to a written confession? What the hell was on that video she was so terrified of letting anyone see?
He knew he needed to be careful, but right then it was hard to think of Dreya as the hardened criminal he'd always believed. He was smart enough to know she wasn't a saint, but there was something going on here. She was so terrified she was on the verge of tears.
The sudden aura of vulnerability had his heart beating hard and fast. The urge to protect her from whatever was freaking her out was impossible to ignore. Part of the reason he'd become a cop was to help people in trouble, and Dreya definitely seemed to be in trouble.

Enter to win one of ten copies of Her Perfect Mate, the first book in Paige Tyler's thrilling X-Ops Series!
a Rafflecopter giveaway

I guess I should type a bio here. I'm FranJessca or Fran for short. I'm the owner of Book Lovin' Mamas and main Reviewer. I've been reviewing books since I got out of the Navy in 2011. Now 7 years later, I'm still reviewing, but this time with my oldest daughter aka Lil' Sidekick.
When I'm not reading and reviewing, you can find me at my day job during the week and on the weekend taking care of our little farm.

Latest posts by FranJessca (see all)