Spotlight: 'Wolf Hunt' by Paige Tyler (Guest Post + #Giveaway)

What are five reasons Remy will have readers swooning?
Remy was born and raised in New Orleans and of course he has a charming New Awlins drawl that makes the ladies swoon. He can make you melt with a few whispered words…and he knows it.
Remy is a bit of a player, but that's because he's nursing a serious broken heart and is doing his best to ensure he never lets another woman get close enough to hurt him again. Seeing this guy trying to keep himself from falling in love is going to tear at your heart.
Remy and Triana grew up together as teens in New Orleans, and they were definitely crushing on each other even back then. But they were good friends and neither one wanted to screw up that friendship. When Remy comes back to New Orleans for training with some of his SWAT team members and runs into Triana again, they discover the chemistry that had started to develop when they were younger has only grown over time. In fact, things are ready to combust the second they meet! Anyone who loves second-chance romances will absolutely adore this story.
Remy thinks he can avoid falling in love as long as he keeps every woman he meets at arm's length. Of course, that doesn't work for a werewolf when he meets The One for him, the mythical mate that supposedly exists for ever wolf out there. His werewolf nature isn't going to let him push Triana way no matter how much he might want it that way. Readers will love seeing him fight his werewolf nature as much as his own emotions, and will likely want to smack him over the head a time or two.
Remy is an alpha werewolf, which means he's big, strong, and gorgeous. The first time he turns into a werewolf and realizes he's going to be naked when he shifts back is going to have the reader's imagination working overtime.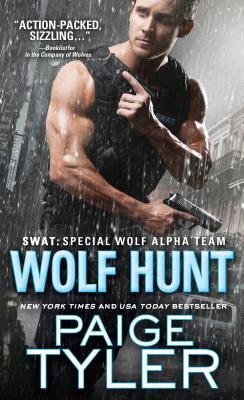 Wolf Hunt
(SWAT #6)
Author: Paige Tyler
Publishing Date: June 6, 2017
Publisher: Sourcebooks Casablanca
Genre: Paranormal Romance

Remy Boudreaux has kept his distance from women ever since his partner and girlfriend was killed on the job. From his point of view, you can't be hurt if you never let anyone get close.

Everything changes when Remy reconnects with the beautiful forensic scientist—and his high school crush—Triana Bellamy. Remy is determined keep things casual. But when a mysterious wolf pendant ropes them both into danger, Remy may have to reveal his true self…and hope Triana accepts him just as he is.
Purchase the Book HERE

Sourcebooks is giving away one copy of Wolf Unleashed to one lucky winner.
Giveaway is OPEN to U.S. Residents only.
Winner will be announced on June 28th, 2017.
a Rafflecopter giveaway

I guess I should type a bio here. I'm FranJessca or Fran for short. I'm the owner of Book Lovin' Mamas and main Reviewer. I've been reviewing books since I got out of the Navy in 2011. Now 7 years later, I'm still reviewing, but this time with my oldest daughter aka Lil' Sidekick.
When I'm not reading and reviewing, you can find me at my day job during the week and on the weekend taking care of our little farm.

Latest posts by FranJessca (see all)