Blogger Shame Review Challenge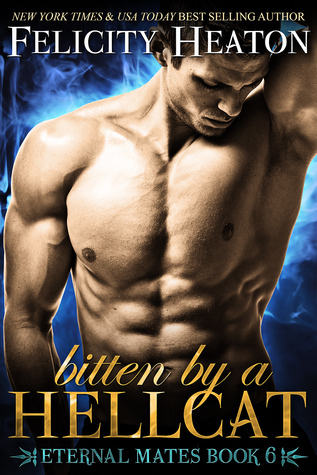 Bitten by a Hellcat
by Felicity Heaton
Series: Eternal Mates Romance Series #6
Published by Self-Published on February 17th 2015
Genres: Paranormal Romance
Pages: 163
Format: AudioBook
Source: Purchased
Amazon Kindle | Amazon Paperback
Goodreads


The sole remaining member of the most famous shifter hunter family in history, Owen Nightingale is a mercenary and a man with a secret held in his closely guarded heart, but when a beautiful rare shifter catches his eye and offers him a job, he has the feeling he'll be the one paying for helping her—with his heart.
Cait is in a spot of trouble with a capital T. A male hellcat has set his sights on claiming her and she's one kitty who doesn't want a collar. When she meets a dark, alluring and mysterious hunter, she sees a chance to rid herself of the male, but the price Owen sets and the fierce passion that burns white-hot between them lures her dangerously under his seductive spell.
Can Owen discover the true intent of the male hellcat and stop Cait from falling into his hands? And can Cait retain control as the heat of desire burns between her and Owen, or will a reckless moment seal both of their fates forever?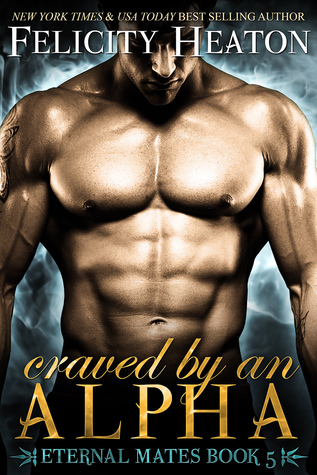 Craved by an Alpha
by Felicity Heaton
Series: Eternal Mates Romance Series #5
Published by Felicity Heaton on January 27th 2015
Genres: Paranormal Romance
Pages: 122
Format: AudioBook
Source: Purchased
Amazon Kindle | Amazon Paperback
Goodreads


Having turned his back on his snow leopard pride, Cavanaugh has been counting the days until he's free of a role he never wanted—one that separated him from his fated female and stands between him and the future he craves with her.
Just days from the night he will finally be free to be with the low-ranking beauty who stole his heart, she walks back into his life and threatens to destroy everything he's worked towards in the five long years they've been apart.
Eloise has traveled across continents searching for the male who was once her best friend and so much more to her, but was now her pride's true alpha. Desperate to fulfil a promise to her kin to save them from the tyrant he left in charge, she convinces Cavanaugh to return to his pride, but as they journey to Bhutan, doubts bloom and old feelings resurface, tearing her between duty and her deepest desires and impossible dreams.
Will Eloise be able to resist the burning need that Cavanaugh reignites in her and remember her place in the pride? And can Cavanaugh find a way to save his kin and claim the future he craves with the woman he loves?

Continue reading →
Blogger Shame Review Challenge is hosted by Herding Cats & Burning Soup and Addicted to Happily Ever After.
Read the details of the Challenge by clicking HERE or clicking on the image above this blog post.
---
I'm so glad these two bloggers created this challenge because I have definitely forgotten about quite a few review copies. I'm going to blame it on starting my full-time job the end of 2014 and going to my local library that has a lot of books I've been meaning to read since 2012. I don't get to read as much as I want to and when I can it's usually another book that catches my eye. Right now I'm on a YA Fantasy kick thanks to my local library introducing me to new authors.
I plan on trying to read/review 15-20 of my past ARC books I need to catch up on. They're in my bookcase waiting to be read.
I've also created a Goodreads
shelf
to keep up with the books I've read for this challenge.