ARC Review: Love Me Never by Sara Wolf
April 5, 2016
I received a complimentary copy of the book from the publisher in exchange for an honest review. This does not affect my opinion of the book or the content of my review.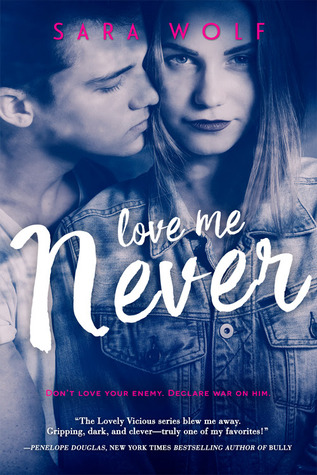 Love Me Never
by
Sara Wolf
Published by
Entangled: Teen
on April 5th 2016
Goodreads

Read the book that Kirkus Reviews called: "A complex, witty page-turner, ideal for YA fans of scandal and romance."
Don't love your enemy. Declare war on him.
Seventeen-year-old Isis Blake hasn't fallen in love in three years, nine weeks, and five days, and after what happened last time, she intends to keep it that way. Since then she's lost eighty-five pounds, gotten four streaks of purple in her hair, and moved to Buttcrack-of-Nowhere, Ohio, to help her mom escape a bad relationship.
All the girls in her new school want one thing—Jack Hunter, the Ice Prince of East Summit High. Hot as an Armani ad, smart enough to get into Yale, and colder than the Arctic, Jack Hunter's never gone out with anyone. Sure, people have seen him downtown with beautiful women, but he's never given high school girls the time of day. Until Isis punches him in the face.
Jack's met his match. Suddenly everything is a game.
The goal: Make the other beg for mercy.The game board: East Summit High.The reward: Something neither of them expected.
Previously published as Lovely Vicious, this fully revised and updated edition is full of romance, intrigue, and laugh-out-loud moments.
My Review
If it wasn't for the Young Adult genre I probably would've never found my love of reading again, so I was anxious to dive back into this genre. I rarely read the genre as much as I used do to other genres peeking my interest since 2009. Love Me Never is usually not something I would normally read, but I loved the tag line a part of the synopsis that got my attention to read it.
Don't love your enemy. Declare war on him.
Ummm…yes let's declare war on the sexy Ice Prince, who doesn't like any of the girls in high school. He's a down right jerk, but Isis Blake knows how to handle someone like him since she's changed. She refuses to let herself get hurt by any guy and doesn't trusts any guys really, especially with what happened three years, nine weeks, and five days ago. She'll never fall in love again and she'll not let any of her friends get hurt by a guy. I definitely feel for Isis because she has gone through a lot and definitely proved she's one tough teenager.
Isis Blake is what you would consider the strong-willed girl, who used to sweet and innocent at one time until she fell in love. She won't the Ice Prince get to her, even though she's going to meet her match. Jack Hunter is ice cold for a reason and Isis is going to bring out even his darker side, but she may even bring out another side he hasn't even seen for a while.
I won't go into too much of the storyline because I don't want to give anything away. What I loved about Love Me Never is how Isis spoke her mind and she knew how to get back at Jack Hunter. She literally had me on my toes, whenever she had to fight back with Jack. I knew I would like her character, when she hit him in the beginning of the book. Jack though had his own ways to get back to Isis too that were impressive, but really crazy. Jack Hunter is not a character that I liked at first due to how he treated everyone around him, especially the girls. He deserved whatever Isis threw at him in the story. Although, when Sara had Jack's POV in Love Me Never I was interested to find out more about him. Secrets get revealed in the story and it surely blew my mind on the truth about Jack.
Love Me Never is not your typical Young Adult Contemporary though, which is why it's not my normal read for this genre, but like I said I'm always up for something new to read and that tag line grabbed me. It has some violence in the story and it also has teenagers getting themselves in compromising positions, which includes alcohol, drugs, etc. Sara does leave the reader with a cliffhanger at the end, which kind of ticked me off because I wasn't expecting it at all. Oh well, I tend to enjoy cliffhangers because it leaves me wanting the next book right away. Thanks, Sara Wolf. 🙂
I give this book 4 stars and hopefully can find time to read the next book in the Lovely Vicious series. I wish I would've known about these books sooner because I definitely would've read them, when they first released. I'm also glad I found another New to Me Author thanks to the publisher introducing the first book to me.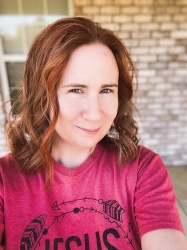 Latest posts by FranJessca
(see all)