FranJessca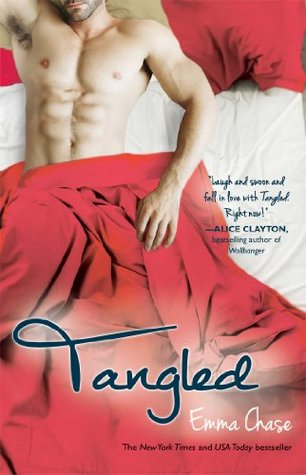 Tangled
by
Emma Chase
Series:
Tangled #1
Published by
Gallery Books
on January 14, 2014
Genres:
Contemporary Romance
Pages:
232
Format:
eBook
,
AudioBook
Source:
Purchased
Amazon Kindle
|
Amazon Paperback
|
Audible
|
Barnes & Noble
|
Kobo
Goodreads

When rich, handsome, and arrogant meets beautiful, brilliant, and ambitious, things are bound to get tangled
Drew Evans makes multimillion-dollar business deals and seduces New York's most beautiful women with just a smile. So why has he been shuttered in his apartment for seven days, miserable and depressed? He'll tell you he has the flu, but we all know that's not really true.
When Katherine Brooks is hired as the new associate at Drew's father's investment banking firm, every aspect of the dashing playboy's life is thrown into a tailspin. The professional competition she brings is unnerving, his attraction to her is distracting, his failure to entice her into his bed is exasperating.
How can one woman turn a smooth-talking player into a broken, desperate man? By making the one thing he never wanted in life the only thing he can't live without.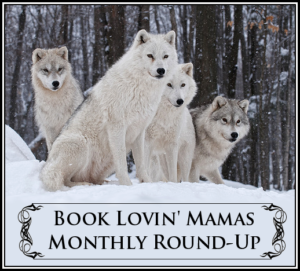 Graphic designed by JennJ Designs
Check out our Monthly Review Round-Up, Upcoming Reviews for April, and Most Anticipated Books for April.
---
As of right now I've chose the Adventurer Challenge and picked the Moon Pack for my challenge. Although I've been reading the seasonal challenges for Sun Pack.
I rolled the dice '5' times for April again. I need to read one book from my March picks, which happens to be for the Spring Square for the Moon pack.
---
Here are the following squares that I managed to land on when I rolled the dice '5' times:
1. [Burger Joint] – Halfway to the Grave by Jeaniene Frost
2. [Fated Folly] – Dark Gold by Christine Feehan
3. [Farmer's Market] – Nuts by Alice Clayton
4. [Journey's End] – Lord of the Fading Lands by C.L. Wilson
5. [Library Choice] – A Merciful Secret by Kendra Elliot
---
February/March Picks that I managed to read and finish:
[Winter – Sun Pack] –  Caressed by Ice by Nalini Singh (Finished: March 3, 2020)
[The Vault] – Darkness Dawns by Dianne Duvall (Finished: March 17, 2020)
[Emergency Services] – A Merciful Truth by Kendra Elliot (Finished: March 20, 2020)
[The Office] – Tangled by Emma Chase (Finished: March 23, 2020)
[The Bar] – Desired Untamed by Pamela Palmer (Finished: March 27, 2020)
---
March Picks I still need to read:
[Spring – Moon Pack] –  A Wedding in Springtime by Amanda Forester
---
Are you participating in the Romanceopoly Challenge? If you are, what have you read so far for the Challenge?
I received a complimentary copy of the book from the publisher in exchange for an honest review. This does not affect my opinion of the book or the content of my review.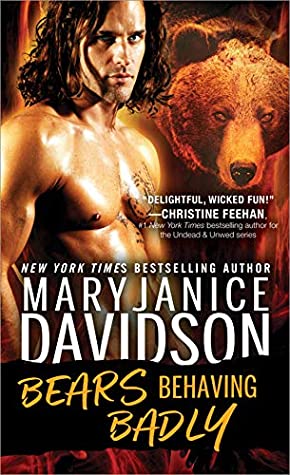 Bears Behaving Badly
by
MaryJanice Davidson
Series:
BeWere My Heart #1
Published by
Sourcebooks Casablanca
on March 31, 2020
Genres:
Paranormal Romance
Pages:
384
Format:
eArc
Source:
publisher
Amazon Kindle
|
Amazon Paperback
|
Audible
|
Barnes & Noble
|
Kobo
Goodreads

These social worker bear shifters give the term "mama bear" a whole new meaning! Bestselling author MaryJanice Davidson is back with this brand-new paranormal romance series featuring a foster care system for at-risk shifter babies and teens.
Werebear shifter Annette Garsea is a caseworker for the Interspecies Placement Agency. When a selectively mute and freakishly strong teen werewolf is put in her custody, Annette has to uncover the young girl's secrets if she's to have any hopes of helping her. And not even the growling of a scruffy private investigator can distract her from her mission...
Bear shifter David Auberon appreciates Annette's work with at-risk teen shifters, but he's not sure if her latest charge is so much a vulnerable teen as a predator who should be locked up. All that changes when he, Annette, and her motley band of juveniles find themselves dodging multiple murder attempts and uncovering a trafficking cartel that doesn't just threaten the kids, but risks discovery of the shifters by the wider world of homo sapiens.
BeWere My Heart series: Bears Behaving Badly (Book 1)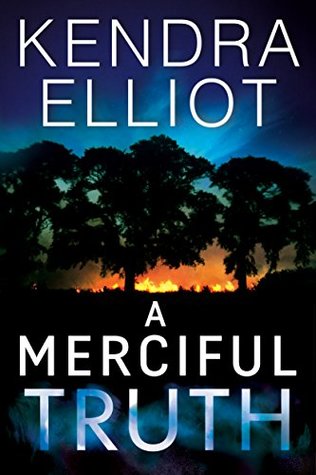 A Merciful Truth
by
Kendra Elliot
Series:
Mercy Kilpatrick #2
Published by
Montlake Romance
on June 6, 2017
Genres:
Romantic Suspense
Pages:
322
Format:
Paperback
,
AudioBook
Source:
Purchased
Amazon Kindle
|
Amazon Paperback
|
Audible
Goodreads

Raised by a family of survivalists, FBI agent Mercy Kilpatrick can take on any challenge—even the hostile reception to her homecoming. But she's not the only one causing chaos in the rural community of Eagle's Nest, Oregon. At first believed to be teenage pranks, a series of fires takes a deadly turn with the murder of two sheriff's deputies. Now, along with Police Chief Truman Daly, Mercy is on the hunt for an arsonist turned killer.
Still shunned by her family and members of the community, Mercy must keep her ear close to the ground to pick up any leads. And it's not long before she hears rumors of the area's growing antigovernment militia movement. If the arsonist is among their ranks, Mercy is determined to smoke the culprit out. But when her investigation uncovers a shocking secret, will this hunt for a madman turn into her own trial by fire?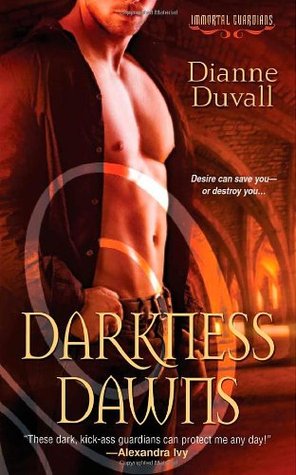 Darkness Dawns
by
Dianne Duvall
Series:
Immortal Guardians #1
Published by
Zebra
on February 1, 2011
Genres:
Paranormal Romance
Pages:
345
Format:
Paperback
,
AudioBook
Source:
Purchased
,
Audible Escape
Amazon Kindle
|
Amazon Paperback
|
Audible
|
Barnes & Noble
Goodreads

In this dazzling, sensual novel, Dianne Duvall beckons readers into a world of vampires, immortals, and humans with extraordinary gifts…where passion can last forever, if you're willing to pay the price…
Once, Sarah Bingham's biggest challenge was making her students pay attention in class. Now, after rescuing a wounded stranger, she's landed in the middle of a battle between corrupt vampires and powerful immortals who also need blood to survive. Roland Warbrook is the most compelling man Sarah has ever laid hands on. But his desire for her is mingled with a hunger he can barely control…
In his nine centuries of immortal existence, no woman has tempted Roland as much as Sarah. But asking her to love him is impossible—when it means forfeiting the world she's always known, and the life he would do anything to protect...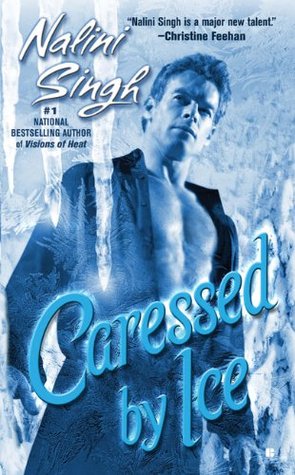 Caressed by Ice
by
Nalini Singh
Series:
Psy-Changeling #3
Published by
Berkley Sensation
on September 4, 2007
Genres:
Paranormal Romance
Pages:
352
Format:
Paperback
,
AudioBook
Source:
Purchased
Amazon Kindle
|
Amazon Paperback
|
Audible
|
Barnes & Noble
|
Kobo
Goodreads

Explore new heights of sensuality in this return to the world of the Psy—where two people who know evil intimately must unlock the good within their icy hearts…
As an Arrow, an elite soldier in the Psy Council ranks, Judd Lauren was forced to do terrible things in the name of his people. Now a defector, his dark abilities have made him the most deadly of assassins—cold, pitiless, unfeeling. Until he meets Brenna…
Brenna Shane Kincaid was an innocent before she was abducted—and had her mind violated—by a serial killer. Her sense of evil runs so deep, she fears she could become a killer herself. Then the first dead body is found, victim of a familiar madness. Judd is her only hope, yet her sensual changeling side rebels against the inhuman chill of his personality, even as desire explodes between them. Shocking and raw, their passion is a danger that threatens not only their hearts, but their very lives…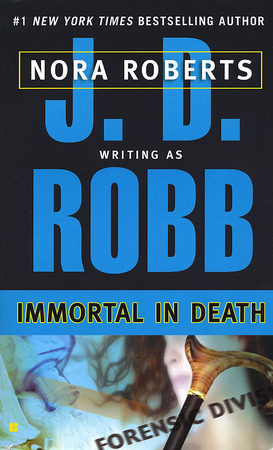 Immortal in Death
by
J.D. Robb
Series:
In Death #3
Published by
Berkley Books
on July 1, 1996
Genres:
Romantic Suspense
Pages:
320
Format:
Paperback
,
AudioBook
Source:
Purchased
Amazon Kindle
|
Amazon Paperback
|
Audible
|
Barnes & Noble
|
Kobo
Goodreads

She was one of the most sought-after women in the world. A top model who would stop at nothing to get what she wanted -- even another woman's man. And now she was dead, the victim of a brutal murder. Police lieutenant Eve Dallas put her professional life on the line to take the case when suspicion fell on her best friend, the other woman in the fatal love triangle. Beneath the facade of glamour, Eve found that the world of high fashion thrived on an all-consuming passion for youth and fame. One that led from the runway to the dark underworld of New York City where drugs could fulfill any desire -- for a price . . .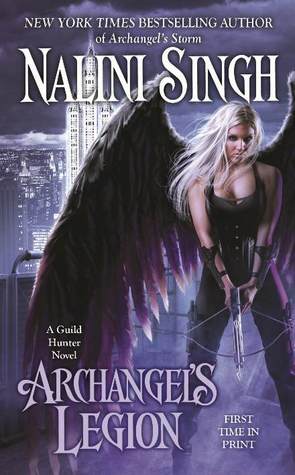 Archangel's Legion
by
Nalini Singh
Series:
Guild Hunter #6
Published by
Jove
on October 29, 2013
Genres:
Paranormal Romance
Pages:
374
Format:
AudioBook
,
Paperback
Source:
Purchased
Amazon Kindle
|
Amazon Paperback
|
Audible
|
Barnes & Noble
|
Kobo
Goodreads

Nalini Singh, the New York Times bestselling "alpha author of paranormal romance" (Booklist) returns to an immortal world of violent passion and lethal power…on the brink of a deadly archangelic war.
Angels are falling from the sky in New York, struck down by a vicious, unknown force.
Vampires are dying impossibly of disease.
Guild hunter Elena Deveraux and the Archangel Raphael must discover the source of the wave of death before it engulfs their city and their people, leaving New York a ruin and Raphael's Tower under siege by enemy archangels.
Yet even as they fight desperately to save the city, an even darker force is stirring, its chill eyes trained on New York…and on Raphael. Rivers of crimson and nightmares given flesh, the world will never again be the same…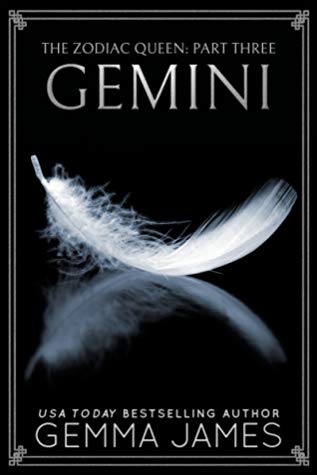 Gemini
by
Gemma James
Series:
The Zodiac Queen #3
Published by
Self-Published
on February 20, 2020
Genres:
Dark Romance
Pages:
79
Format:
eBook
Source:
Kindle Unlimited
Amazon Kindle
Goodreads

Twelve men. A virgin queen. One arranged marriage.

Three men.
Too many betrayals.
A multitude of secrets.

They circle me like the walls in this tower.

Because Landon Astor isn't who I thought he was. My history entwines with his in ways I don't want to believe are true. And speaking of histories…Sebastian's past struts in sporting a pair of stilettos and an attitude to match the lion's ego.

But discovering the truth about Liam is the harshest blow. He was my safe haven in this madness—the one man I thought I could trust the most.

Now I'm in a free-fall with no one to catch me.

Because if the three men I thought I knew best are capable of turning my world upside down, I don't want to know what the other nine men in the Zodiac Brotherhood have in store for me.

Part 3 of The Zodiac Queen.