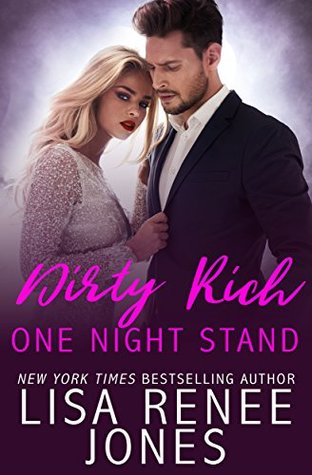 Dirty Rich One Night Stand
by Lisa Renee Jones
Series: Dirty Rich #1, Cat & Reese #1
Published by Julie Patra Publishing on October 17, 2017
Genres: Contemporary Romance, Erotic Romance
Pages: 367
Format: AudioBook
Source: Amazon, Audible Romance Package
Amazon | B&N
Goodreads


DIRTY, RICH ONE NIGHT STAND.
That's all it was supposed to be. Her. Him. Pleasure. And then a fast goodbye. He's a stranger. And yet, he's not. She knows him even though he doesn't know her.He's the powerful attorney, now world-renowned after coming off the trial of a century which was publicized across the country. And I'm one of the reporters that sat in his courtroom.
I watched him, studied him, got to know him from afar which isn't hard since I know his exact brand of confidence, arrogance, and wealth.I know his type. I've dated his type. Which is why when I happen to come face to face with him, when sparks fly and heat simmers between us, I know what happens if I say "yes" to Reese Summer.
I know he'll taste like sin and sex, even before he kisses me.
I know he'll feel like pleasure and passion, even before he touches me.
I know he'll demand more than I want to give, and yet, because I dare to give myself to him, the result will be deliciously hot.
I know that I will not leave his bed without being utterly, completely sated.
And I know that I will leave the next morning anyway.
And so, I do.
And so, he follows.
And as chase begins my question becomes: Is Reese Summer THE one or is he really just a dirty, arrogant lie that should have stayed a one night stand?
My Review Continue reading →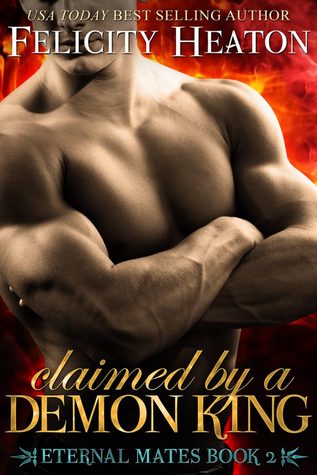 Claimed by a Demon King
by Felicity Heaton
Published by Smashwords on February 22, 2014
Genres: Paranormal Romance
Pages: 269
Format: eArc, AudioBook
Source: the Author
Amazon
Goodreads


The moment the demon King Thorne of the Third Realm set eyes on the mortal huntress Sable, he knew she was his fated one. The fiery, dangerous female awakened hungers he had never experienced before, a dark craving and passion that has consumed him in their time apart. As the lunar cycle wanes, she enters his world again and nothing will stand in the way of him claiming his forever with her—not the relentless assault from the Fifth Realm or the dark elf male determined to seduce her out of his grasp.
Intent on achieving the coveted position of commander at Archangel, Sable leads her small team into the dark underworld and the Third Realm, to a war where her allies are the very creatures she normally hunts—vampires, werewolves, and demons. Her eagerness to lead the deadly mission has everything to do with winning her promotion, and nothing to do with the kingdom's brash, lethally seductive demon king—a king who stirred fierce desire and wildfire heat in her with just a look and an innocent touch when they first met, and has been in her wicked dreams ever since.
As the gathering storm between rivals unleashes irresistible passion that flares white-hot and the heat of the battle brings life-shattering realisations, can Sable place her duty before her heart? Or will she surrender to her deepest desires and be claimed by a demon king?
My Review Continue reading →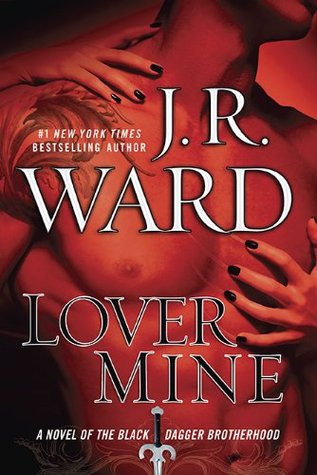 Lover Mine
by J.R. Ward
Series: Black Dagger Brotherhood #8
Published by NAL on April 27th 2010
Genres: Paranormal Romance
Pages: 528
Format: Hardcover
Source: Purchased
Amazon | B&N
Goodreads


John Matthew has come a long way since he was found living among humans, his vampire nature unknown to himself and to those around him. After he was taken in by the Brotherhood, no one could guess what his true history was- or his true identity. Indeed, the fallen Brother Darius has returned, but with a different face and a very different destiny. As a vicious personal vendetta takes John into the heart of the war, he will need to call up on both who he is now and who he once was in order to face off against evil incarnate.
Xhex, a symphath assassin, has long steeled herself against the attraction between her and John Matthew. Having already lost one lover to madness, she will not allow the male of worth to fall prey to the darkness of her twisted life. When fate intervenes, however, the two discover that love, like destiny, is inevitable between soul mates.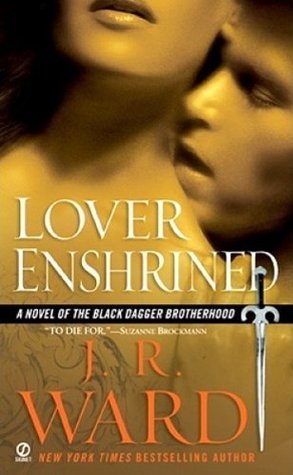 Lover Enshrined
by J.R. Ward
Series: Black Dagger Brotherhood #6
Published by Signet on June 3rd 2008
Genres: Paranormal Romance
Pages: 534
Format: AudioBook, Paperback
Source: Purchased
Amazon | B&N
Goodreads



In this "frighteningly addictive" paranormal romance saga there's a war raging between vampires and their slayers. Here are the stories of a secret band of brothers like no other—six vampire warriors, defenders of their race. And now a dutiful twin must choose between two lives...

Fiercely loyal to the Black Dagger Brotherhood, Phury has sacrificed himself for the good of the race, becoming the male responsible for keeping the Brotherhood's bloodlines alive. As Primale of the Chosen, he is obligated to father the sons and daughters who will ensure that the traditions of the race survive, and that there are warriors to fight those who want all vampires extinguished.
As his first mate, the Chosen Cormia wants to win not only his body, but his heart for herself. She is drawn to the noble responsibility behind the emotionally scarred male. But Phury has never allowed himself to know pleasure or joy. As the war with the Lessening Society grows grim, tragedy looms over the Brotherhood's mansion, and Phury must decide between duty and love....
My Review Continue reading →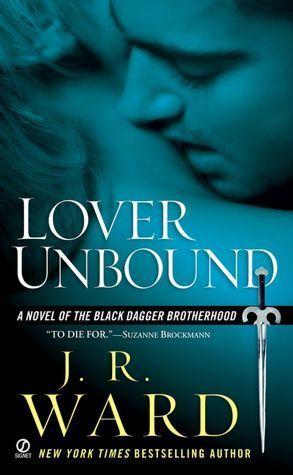 Lover Unbound
by J.R. Ward
Series: Black Dagger Brotherhood #5
Published by Signet on October 1st 2007
Genres: Paranormal Romance
Pages: 502
Format: AudioBook, Paperback
Source: Purchased
Amazon | B&N
Goodreads


The ruthless and brilliant brother Vishous possesses a destructive curse and a frightening ability to see the future. As a member of the Brotherhood, he has no interest in love or emotion, only the battle with the Lessening Society. But when a mortal injury puts him in the care of a human surgeon, Dr. Jane Whitcomb compels him to reveal his inner pain and taste true pleasure for the first time-until a destiny he didn't choose takes him into a future that does not include her...
My Review Continue reading →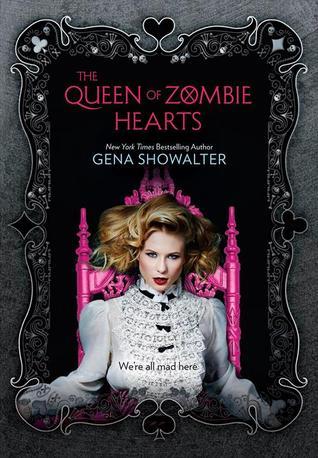 The Queen of Zombie Hearts
by Gena Showalter
Series: White Rabbit Chronicles #3
Published by Harlequin Teen on September 30th 2014
Pages: 464
Format: Hardcover, AudioBook
Source: Purchased
Amazon | B&N
Goodreads


I thought I had nothing left to give.
I thought wrong.
They started the war.
Now I will end it.
Alice "Ali" Bell thinks the worst is behind her. She's ready to take the next step with boyfriend Cole Holland, the leader of the zombie slayers…until Anima Industries, the agency controlling the zombies, launches a sneak attack, killing four of her friends. It's then she realizes that humans can be more dangerous than monsters…and the worst has only begun.
As secrets that may tear Ali and Cole apart come to light, and more slayers are taken or killed, Ali will fight harder than ever to bring down Anima—even sacrificing her own life for those she loves.
My Review Continue reading →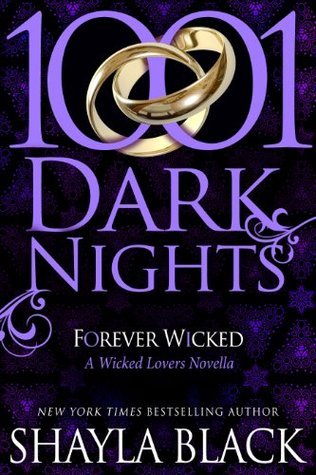 Forever Wicked
by Shayla Black
Series: Wicked Lovers #7.75, 1001 Dark Nights #1
on January 14th 2014
Genres: Erotic Romance
Pages: 156
Format: AudioBook
Source: Purchased
Amazon | B&N
Goodreads


They had nothing in common but a desperate passion…
Billionaire Jason Denning lived life fast and hard in a world where anything could be bought and sold, even affection. But all that changed when he met "Greta," a beautiful stranger ready to explore her hidden desires. From a blue collar family, Gia Angelotti wore a badge, fought for right—and opened herself utterly to love him. Blindsided and falling hard, Jason does the first impulsive thing of his life and hustles her to the altar.
Until a second chance proved that forever could be theirs.
Then tragedy ripped Jason's new bride from his arms and out of his life. When he finds Gia again, he gives her a choice: spend the three weeks before their first anniversary with him or forfeit the money she receives from their marriage. Reluctantly, she agrees to once again put herself at his mercy and return to his bed. But having her right where he wants her is dangerous for Jason's peace of mind. No matter how hard he tries, he finds himself falling for her again. Will he learn to trust that their love is real before Gia leaves again for good?
My Review Continue reading →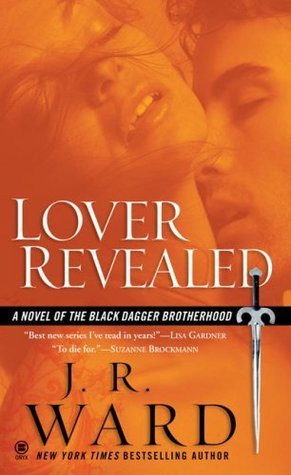 Lover Revealed
by J.R. Ward
Series: Black Dagger Brotherhood #4
Published by Onyx on March 6th 2007
Genres: Paranormal Romance
Pages: 455
Format: AudioBook, Paperback
Source: Purchased
Amazon | B&N
Goodreads


Butch O'Neal is a fighter by nature. A hard-living ex-homicide cop, he's the only human ever to be allowed in the inner circle of the Black Dagger Brotherhood. And he wants to go even deeper into the vampire world—to engage in the turf war with the lessers. He's got nothing to lose. His heart belongs to a female vampire, an aristocratic beauty who's way out of his league. If he can't have Marissa, then at least he can fight side by side with the Brothers...
Fate curses him with the very thing he wants. When Butch sacrifices himself to save a civilian vampire from the slayers, he falls prey to the darkest force in the war. Left for dead, he's found by a miracle, and the Brotherhood calls on Marissa to bring him back. But even her love may not be enough to save him...
My Review Continue reading →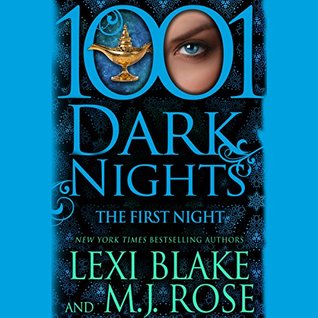 The First Night
by Lexi Blake, M.J. Rose, Natalie Ross
Series: 1001 Dark Nights #0.5
Published by Audible Studios on Brilliance Audio on August 2nd 2016
Genres: Paranormal Romance
Format: AudioBook
Source: Purchased
Amazon
Goodreads


Join New York Times Best Selling Authors Lexi Blake and M. J. Rose as they take you to ancient Persia—a land of magic, erotic delights and exotic danger.
Discover the beginnings of 1001 Dark Nights…
The First NightTrapped in the body of the legendary Scheherazade, a young woman named Camille, finds herself in a land of harems, wizards, and ruthless rulers. A student of time travel, a descendant of a witch, and a curious and sensitive soul, Camille is trapped by the king's order. Night after night she's forced to tell stories of her travels across the planes in order to keep herself alive. Tales of the erotic, the romantic, the magical, and the sensual, she entertains the king in the hopes that he will spare her life. Desperate to get back to her own time, she turns to the one man who might be able to save her.
Khalid is a member of an ancient order of mages, his power granted to him by a Djinn. The most feared man in the kingdom, he is still forced to do the king's bidding and the king wants to know if Scheherazade is a witch. Khalid sees through the mask Camille wears and knows she's the one woman promised to him by fate. He'll do anything to have her, anything to love her. But to save her means losing her forever…
My Review Continue reading →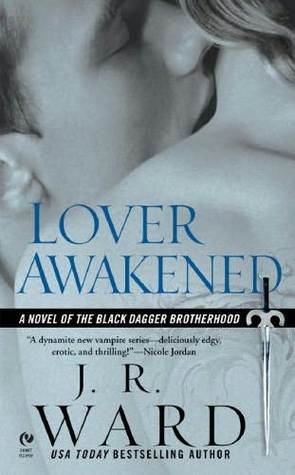 Lover Awakened
by J.R. Ward
Series: Black Dagger Brotherhood #3
Published by Signet on September 5th 2006
Genres: Paranormal Romance
Pages: 448
Format: AudioBook, Paperback
Source: Purchased
Amazon | B&N
Goodreads


In the shadows of the night in Caldwell, New York, there's a deadly war raging between vampires and their slayers. And there exists a secret band of brothers like no other - six vampire warriors, defenders of their race. Of these, Zsadist is the most terrifying member of the Black Dagger Brotherhood.
A former blood slave, the vampire Zsadist still bears the scars from a past filled with suffering and humiliation. Renowned for his unquenchable fury and sinister deeds, he is a savage feared by humans and vampires alike. Anger is his only companion, and terror is his only passion—until he rescues a beautiful aristocrat from the evil Lessening Society.
Bella is instantly entranced by the seething power Zsadist possesses. But even as their desire for one another begins to overtake them both, Zsadist's thirst for vengeance against Bella's tormentors drives him to the brink of madness. Now, Bella must help her lover overcome the wounds of his tortured past, and find a future with her…
My Review Continue reading →