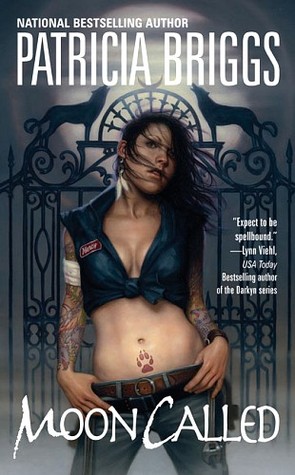 Moon Called
by Patricia Briggs
Series: Mercy Thompson #1
Published by Ace Books on January 31, 2006
Genres: Urban Fantasy
Pages: 289
Format: AudioBook, Paperback
Source: Purchased
Amazon Kindle | Amazon Paperback | Audible | Barnes & Noble | Kobo
Goodreads


Mercedes Thompson, aka Mercy, is a talented Volkswagen mechanic living in the Tri-Cities area of Washington. She also happens to be a walker, a magical being with the power to shift into a coyote at will. Mercy's next-door neighbor is a werewolf. Her former boss is a gremlin. And she's fixing a bus for a vampire. This is the world of Mercy Thompson, one that looks a lot like ours but is populated by those things that go bump in the night. And Mercy's connection to those things is about to get her into some serious hot water...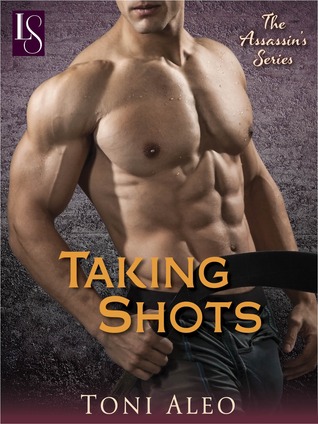 Taking Shots
by Toni Aleo
Series: Assassins #1
Published by Loveswept on October 4, 2011
Genres: Contemporary Romance
Pages: 490
Format: AudioBook
Source: Audible Escape
Amazon Kindle | Amazon Paperback | Audible | Barnes & Noble | Kobo
Goodreads


In Toni Aleo's exhilarating Loveswept debut, the first in a series featuring the hockey hunks of the Nashville Assassins, a reformed bad boy helps a charming, willful woman face off against the demons of her past. No matter how hard she tries, Elleanor Fisher never thinks she's good enough, from her job to her weight to her love life. After enduring years of abuse at the hands of an ex-boyfriend, Elli has been drifting through life in a daze. Until, that is, she meets Shea Adler on a promotional shoot for the NHL's Nashville Assassins. Before Elli knows what's happening, the gorgeous Shea breaks the ice and shatters her world. A brilliant athlete inside the rink, Shea Adler is tired of the life he's living outside of it: the women, the money, the drinking. But everything changes when he meets Elli. After laying eyes on this feisty, witty, beautiful woman, he feels like he's just taken the hardest hit of his life. No matter how skeptical she is, Shea knows they are meant to be together—if only he can convince Elli to put her insecurities aside before she misses out on a shot at love.
Praise for Toni Aleo's Nashville Assassins romances "Aleo melts the ice and hits it into the net with her Assassins series."—Award-winning author Jami Davenport "Taking Shots is really the whole package. You get romance, humor, steamy sex, drama, and then it all wraps up with a great conclusion. I am amazed that this is Toni's first book. She has come out in a huge way. I can't wait to read more from her. Don't hesitate for a moment to grab this book."—Guilty Pleasures Book Reviews "A little steamy, a little heartbreaking, and a whole lot of fanning yourself are in order this time around readers. Are your cheeks feeling a little pink yet? Get used to the feeling."—Dreaming in the Pages, on Trying to Score "Empty Net is an honest, heartwarming, endearing story. . . . Toni Aleo doesn't just write a story. She gives you the ability to experience the journey of her characters right along with them. Her stories are enveloped with passion, emotion, humor, love; and let me tell you, that girl knows how to write a sex scene that just makes you sweat!"—Guilty Pleasures Book Review "Sexy and riveting . . . the perfect combination of love and lust."—USA Today bestselling author Heidi McLaughlin, on Blue Lines Includes a special message from the editor, as well as excerpts from these Loveswept titles: Trying to Score and Empty Net.
I received a complimentary copy of the book from the publisher in exchange for an honest review. This does not affect my opinion of the book or the content of my review.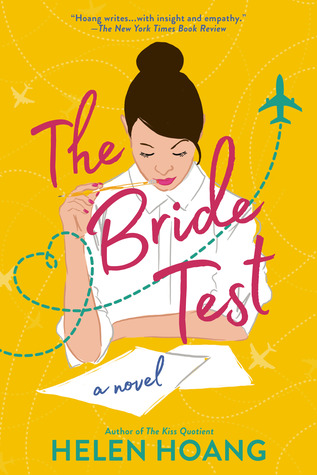 The Bride Test
by Helen Hoang
Series: The Kiss Quotient #2
Published by Berkley on May 7, 2019
Genres: Contemporary Romance
Pages: 296
Format: ARC
Source: publisher
Amazon Kindle | Amazon Paperback | Audible | Barnes & Noble | Google Play | Kobo
Goodreads


Khai Diep has no feelings. Well, he feels irritation when people move his things or contentment when ledgers balance down to the penny, but not big, important emotions—like grief. And love. He thinks he's defective. His family knows better—that his autism means he just processes emotions differently. When he steadfastly avoids relationships, his mother takes matters into her own hands and returns to Vietnam to find him the perfect bride.
As a mixed-race girl living in the slums of Ho Chi Minh City, Esme Tran has always felt out of place. When the opportunity arises to come to America and meet a potential husband, she can't turn it down, thinking this could be the break her family needs. Seducing Khai, however, doesn't go as planned. Esme's lessons in love seem to be working…but only on herself. She's hopelessly smitten with a man who's convinced he can never return her affection.
With Esme's time in the United States dwindling, Khai is forced to understand he's been wrong all along. And there's more than one way to love.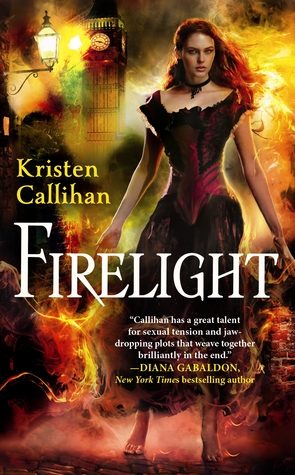 Firelight
by Kristen Callihan
Series: Darkest London #1
Published by Forever on January 31, 2012
Genres: Paranormal Romance, Historical Romance
Pages: 372
Format: eBook, AudioBook
Source: Purchased
Amazon Kindle | Amazon Paperback | Audible | Barnes & Noble | Google Play | Kobo
Goodreads


Once the flames are ignited . . .
Miranda Ellis is a woman tormented. Plagued since birth by a strange and powerful gift, she has spent her entire life struggling to control her exceptional abilities. Yet one innocent but irreversible mistake has left her family's fortune decimated and forced her to wed London's most nefarious nobleman.
They will burn for eternity . . .
Lord Benjamin Archer is no ordinary man. Doomed to hide his disfigured face behind masks, Archer knows it's selfish to take Miranda as his bride. Yet he can't help being drawn to the flame-haired beauty whose touch sparks a passion he hasn't felt in a lifetime. When Archer is accused of a series of gruesome murders, he gives in to the beastly nature he has fought so hard to hide from the world. But the curse that haunts him cannot be denied. Now, to save his soul, Miranda will enter a world of dark magic and darker intrigue. For only she can see the man hiding behind the mask.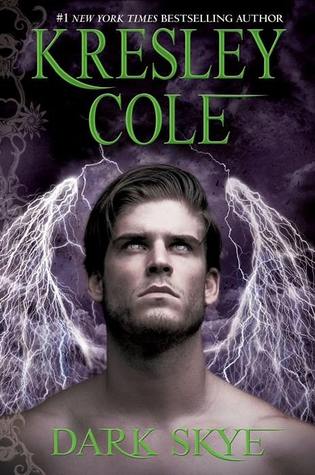 Dark Skye
by Kresley Cole
Series: Immortals After Dark #15
Published by Gallery Books on August 5, 2014
Genres: Paranormal Romance
Pages: 420
Format: Paperback, AudioBook
Source: Purchased
Amazon Kindle | Amazon Paperback | Audible | Barnes & Noble | Kobo
Goodreads


In this highly anticipated fifteenth novel in the Immortals After Dark series, #1 New York Times bestselling author Kresley Cole spins a sultry tale of a mighty warrior scarred inside and out and the beguiling sorceress with the power to heal him—or vanquish him forever.
ETERNAL OBSESSION
As a boy, Thronos, prince of Skye Hall, loved Lanthe, a mischievous Sorceri girl who made him question everything about his Vrekener clan. But when the two got caught in the middle of their families' war, tragedy struck, leaving Thronos and Lanthe bitter enemies. Though centuries have passed, nothing can cool his seething need for the beautiful enchantress who scarred his body—and left an even deeper impression on his soul.
ENDLESS YEARNING
Lanthe, a once-formidable sorceress struggling to reclaim her gifts, searches for love and acceptance with all the wrong immortal suitors. But she's never forgotten Thronos, the magnificent silver-eyed boy who protected her until she was ripped from the shelter of his arms. One harrowing night changed everything between them. Now he's a notorious warlord with a blood vendetta against Lanthe, hunting her relentlessly.
CAN THE HEAT OF DESIRE BURN BRIGHTER THAN VENGEANCE?
With their families locked in conflict and battles raging all around them, will Thronos and Lanthe succumb to the brutal chaos that threatens everything they cherish? Or will the fragile bond they formed so long ago spark a passion strong enough to withstand even the darkest doubts?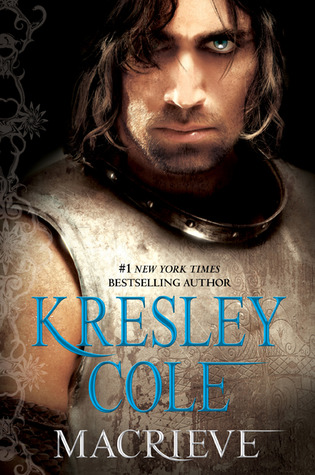 MacRieve
by Kresley Cole
Series: Immortals After Dark #14
Published by Gallery Books on July 2, 2013
Genres: Paranormal Romance
Pages: 358
Format: Hardcover, AudioBook
Source: Purchased
Amazon Kindle | Amazon Paperback | Audible | Barnes & Noble | Kobo
Goodreads


In this pulse-pounding Immortals After Dark tale, #1 New York Times bestselling author Kresley Cole delves into the darkest mysteries and deepest passions of Clan MacRieve. . .
A Beast In Torment
Uilleam MacRieve believed he'd laid to rest the ghosts of his boyhood. But when a brutal torture revives those ancient agonies and destroys his Lykae instinct, the proud Scot craves the oblivion of death. Until he finds her—a young human so full of spirit and courage that she pulls him back from the brink.
A Beauty In Chains
Seized for the auction block, Chloe Todd is forced to enter a terrifying new world of monsters and lore as a bound slave. When offered up to creatures of the dark, she fears she won't last the night. Until she's claimed by him—a tormented immortal with heartbreaking eyes, whose touch sets her blood on fire.
A Full Moon On The Rise
With enemies circling, MacRieve spirits Chloe away to the isolated Highland keep of his youth. But once he takes her to his bed, his sensual mate becomes something more than human, evoking his savage past and testing his sanity. On the cusp of the full moon, can he conquer his worst nightmare to save Chloe . . . from himself?
My Review Continue reading →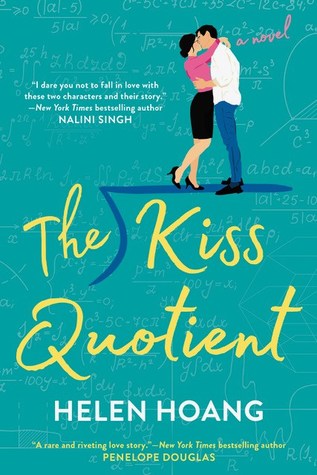 The Kiss Quotient
by Helen Hoang
Series: The Kiss Quotient #1
Published by Berkley on June 5, 2018
Genres: Contemporary Romance
Pages: 336
Format: AudioBook
Amazon Kindle | Amazon Paperback | Audible | Barnes & Noble | Kobo
Goodreads


A heartwarming and refreshing debut novel that proves one thing: there's not enough data in the world to predict what will make your heart tick.
Stella Lane thinks math is the only thing that unites the universe. She comes up with algorithms to predict customer purchases — a job that has given her more money than she knows what to do with, and way less experience in the dating department than the average thirty-year-old.
It doesn't help that Stella has Asperger's and French kissing reminds her of a shark getting its teeth cleaned by pilot fish. Her conclusion: she needs lots of practice — with a professional. Which is why she hires escort Michael Phan. The Vietnamese and Swedish stunner can't afford to turn down Stella's offer, and agrees to help her check off all the boxes on her lesson plan — from foreplay to more-than-missionary position...
Before long, Stella not only learns to appreciate his kisses, but to crave all the other things he's making her feel. Soon, their no-nonsense partnership starts making a strange kind of sense. And the pattern that emerges will convince Stella that love is the best kind of logic...
My Review Continue reading →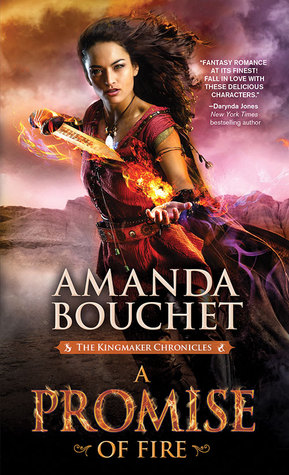 A Promise of Fire
by Amanda Bouchet
Series: Kingmaker Chronicles #1
Published by Sourcebooks Casablanca on August 2, 2016
Genres: Fantasy Romance
Pages: 441
Format: Paperback, AudioBook
Source: Library
Amazon Kindle | Amazon Paperback | Audible | Barnes & Noble | Kobo
Goodreads


KINGDOMS WILL RISE AND FALL FOR HER...BUT NOT IF SHE CAN HELP IT
Catalia "Cat" Fisa lives disguised as a soothsayer in a traveling circus. She is perfectly content avoiding the danger and destiny the Gods-and her homicidal mother-have saddled her with. That is, until Griffin, an ambitious warlord from the magic-deprived south, fixes her with his steely gaze and upsets her illusion of safety forever.
Griffin knows Cat is the Kingmaker, the woman who divines the truth through lies. He wants her as a powerful weapon for his newly conquered realm-until he realizes he wants her for much more than her magic. Cat fights him at every turn, but Griffin's fairness, loyalty, and smoldering advances make him increasingly hard to resist and leave her wondering if life really does have to be short, and lived alone.
My Review Continue reading →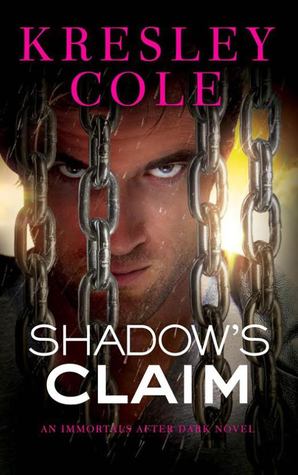 Shadow's Claim
by Kresley Cole
Series: Immortals After Dark #13, The Dacians #1
Published by Pocket Books on November 27, 2012
Genres: Paranormal Romance
Pages: 481
Format: Paperback, AudioBook
Source: Purchased
Amazon Kindle | Amazon Paperback | Audible | Barnes & Noble | Kobo
Goodreads


#1 New York Times bestseller Kresley Cole introduces The Dacians: Realm of Blood and Mist, a new paranormal series following the royal bloodline of Dacia, a vampire kingdom hidden within the Lore of the Immortals After Dark. Shadow's Claim features Prince Trehan, a ruthless master assassin who will do anything to possess Bettina, his beautiful sorceress mate, even compete for her hand in a blood-sport tournament— to the death.

HE WON'T BE DENIED...

Trehan Daciano, known as the Prince of Shadows, has spent his life serving his people—striking in the night, quietly executing any threat to their realm. The coldly disciplined swordsman has never desired anything for himself -
until he beholds Bettina, the sheltered ward of two of the Lore's most fearsome villains.
SHE'S BOUND TO ANOTHER...

Desperate to earn her guardians' approval after a life-shattering mistake, young Bettina has no choice but to marry whichever suitor prevails—even though she's lost her heart to another.
Yet one lethal competitor, a mysterious cloaked swordsman, invades her dreams, tempting her with forbidden pleasure.
A BATTLE FOR HER BODY AND SOUL

Even if Trehan can survive the punishing contests to claim her as his wife, the true battle for Bettina's heart is yet to come. And unleashing a millennium's worth of savage need will either frighten his Bride away -
or stoke Bettina's own desires to a fever pitch....

My Review Continue reading →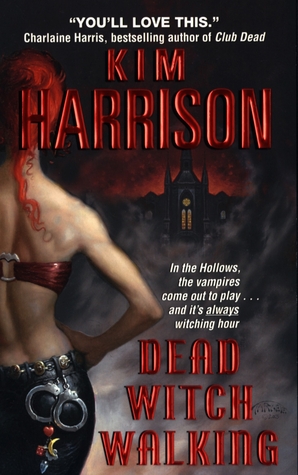 Dead Witch Walking
by Kim Harrison
Series: The Hollows #1
Published by HarperTorch on July 1, 2004
Genres: Urban Fantasy
Pages: 416
Format: Paperback, AudioBook
Source: Purchased
Amazon Kindle | Amazon Paperback | Audible | Barnes & Noble
Goodreads


All the creatures of the night gather in "the Hollows" of Cincinnati, to hide, to prowl, to party... and to feed.
Vampires rule the darkness in a predator-eat-predator world rife with dangers beyond imagining - and it's Rachel Morgan's job to keep that world civilized.
A bounty hunter and witch with serious sex appeal and an attitude, she'll bring 'em back alive, dead... or undead.
My Review Continue reading →