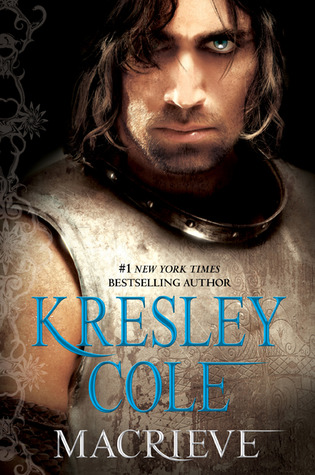 MacRieve
by Kresley Cole
Series: Immortals After Dark #14
Published by Gallery Books on July 2, 2013
Genres: Paranormal Romance
Pages: 358
Format: Hardcover, AudioBook
Source: Purchased
Amazon Kindle | Amazon Paperback | Audible | Barnes & Noble | Kobo
Goodreads


In this pulse-pounding Immortals After Dark tale, #1 New York Times bestselling author Kresley Cole delves into the darkest mysteries and deepest passions of Clan MacRieve. . .
A Beast In Torment
Uilleam MacRieve believed he'd laid to rest the ghosts of his boyhood. But when a brutal torture revives those ancient agonies and destroys his Lykae instinct, the proud Scot craves the oblivion of death. Until he finds her—a young human so full of spirit and courage that she pulls him back from the brink.
A Beauty In Chains
Seized for the auction block, Chloe Todd is forced to enter a terrifying new world of monsters and lore as a bound slave. When offered up to creatures of the dark, she fears she won't last the night. Until she's claimed by him—a tormented immortal with heartbreaking eyes, whose touch sets her blood on fire.
A Full Moon On The Rise
With enemies circling, MacRieve spirits Chloe away to the isolated Highland keep of his youth. But once he takes her to his bed, his sensual mate becomes something more than human, evoking his savage past and testing his sanity. On the cusp of the full moon, can he conquer his worst nightmare to save Chloe . . . from himself?
My Review Continue reading →
This book may be unsuitable for people under 17 years of age due to its use of sexual content, drug and alcohol use, and/or violence.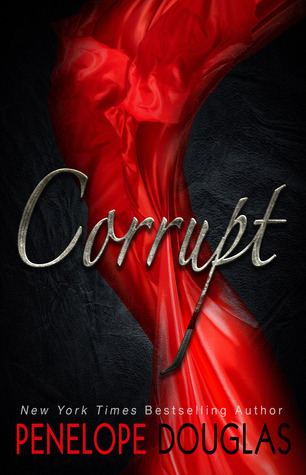 Corrupt
by Penelope Douglas
Series: Devil's Night #1
Published by Self-Published on November 17, 2015
Genres: Contemporary Romance, Dark Romance
Pages: 461
Format: eBook
Source: Purchased
Amazon Kindle | Amazon Paperback | Audible | Barnes & Noble | Kobo
Goodreads



From New York Times bestselling author Penelope Douglas comes a new dark romance...

ErikaI was told that dreams were our heart's desires. My nightmares, however, became my obsession.
His name is Michael Crist.
My boyfriend's older brother is like that scary movie that you peek through your hand to watch. He's handsome, strong, and completely terrifying. The star of his college's basketball team and now gone pro, he's more concerned with the dirt on his shoe than me.
But I noticed him.
I saw him. I heard him. The things that he did, and the deeds that he hid... For years, I bit my nails, unable to look away.
Now, I've graduated high school and moved on to college, but I haven't stopped watching Michael. He's bad, and the dirt I've seen isn't content to stay in my head anymore.
Because he's finally noticed me.
MichaelHer name is Erika Fane, but everyone calls her Rika.
My brother's girlfriend grew up hanging around my house and is always at our dinner table. She looks down when I enter a room and stills when I am close. I can always feel the fear rolling off of her, and while I haven't had her body, I know that I have her mind. That's all I really want anyway.
Until my brother leaves for the military, and I find Rika alone at college.
In my city.
Unprotected.
The opportunity is too good to be true, as well as the timing. Because you see, three years ago she put a few of my high school friends in prison, and now they're out.
We've waited. We've been patient. And now every last one of her nightmares will come true.
*Corrupt is a STANDALONE dark romance with no cliffhanger. It is suitable for ages 18+.
My Review Continue reading →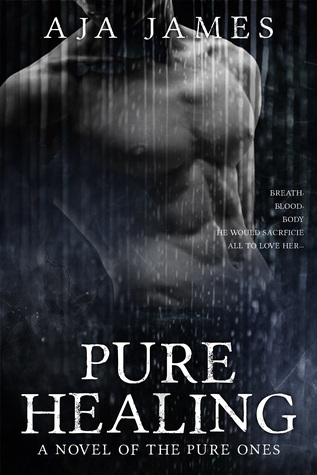 Pure Healing
by Aja James
Published by Self-Published on May 4, 2012
Genres: Paranormal Romance
Pages: 334
Format: eBook
Source: Purchased
Amazon Kindle | Amazon Paperback | Audible
Goodreads


In the world of Pure Ones, where sexual intercourse with anyone other than one's Eternal Mate leads to a slow, painful death within thirty days, love comes with the warning label "fall at your own peril"… Rain: the Healer
From the first time she beheld him, she yearned to sooth his pain and torment and nurtured a secret, selfish desire – to have him for her very own…
Valerius: the Protector
Despite their instant attraction, he has staunchly avoided applying to be the Healer's Consort, haunted by the brutality and violence of his past…
As the decadal Phoenix Rite draws near, as threats from their vampire nemesis intensify, Rain and Valerius must decide whether they let their histories and duties dictate their destiny or whether they risk all for a chance at everlasting love.
My Review Continue reading →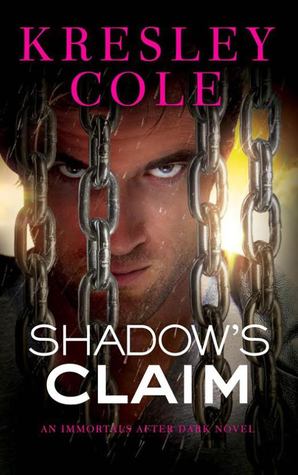 Shadow's Claim
by Kresley Cole
Published by Pocket Books on November 27, 2012
Genres: Paranormal Romance
Pages: 481
Format: Paperback, AudioBook
Source: Purchased
Amazon Kindle | Amazon Paperback | Audible | Barnes & Noble | Kobo
Goodreads


#1 New York Times bestseller Kresley Cole introduces The Dacians: Realm of Blood and Mist, a new paranormal series following the royal bloodline of Dacia, a vampire kingdom hidden within the Lore of the Immortals After Dark. Shadow's Claim features Prince Trehan, a ruthless master assassin who will do anything to possess Bettina, his beautiful sorceress mate, even compete for her hand in a blood-sport tournament— to the death.

HE WON'T BE DENIED...

Trehan Daciano, known as the Prince of Shadows, has spent his life serving his people—striking in the night, quietly executing any threat to their realm. The coldly disciplined swordsman has never desired anything for himself -
until he beholds Bettina, the sheltered ward of two of the Lore's most fearsome villains.
SHE'S BOUND TO ANOTHER...

Desperate to earn her guardians' approval after a life-shattering mistake, young Bettina has no choice but to marry whichever suitor prevails—even though she's lost her heart to another.
Yet one lethal competitor, a mysterious cloaked swordsman, invades her dreams, tempting her with forbidden pleasure.
A BATTLE FOR HER BODY AND SOUL

Even if Trehan can survive the punishing contests to claim her as his wife, the true battle for Bettina's heart is yet to come. And unleashing a millennium's worth of savage need will either frighten his Bride away -
or stoke Bettina's own desires to a fever pitch....

My Review Continue reading →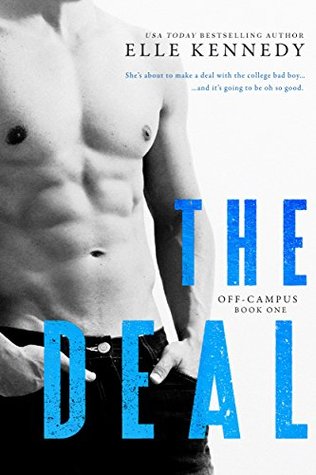 The Deal
by Elle Kennedy
Series: Off-Campus #1
Published by Self-Published on February 24, 2015
Pages: 330
Format: eBook
Source: Purchased
Amazon Kindle | Amazon Paperback | Audible | Barnes & Noble
Goodreads


She's about to make a deal with the college bad boy...
Hannah Wells has finally found someone who turns her on. But while she might be confident in every other area of her life, she's carting around a full set of baggage when it comes to sex and seduction. If she wants to get her crush's attention, she'll have to step out of her comfort zone and make him take notice...even if it means tutoring the annoying, childish, cocky captain of the hockey team in exchange for a pretend date.
...and it's going to be oh so good
All Garrett Graham has ever wanted is to play professional hockey after graduation, but his plummeting GPA is threatening everything he's worked so hard for. If helping a sarcastic brunette make another guy jealous will help him secure his position on the team, he's all for it. But when one unexpected kiss leads to the wildest sex of both their lives, it doesn't take long for Garrett to realize that pretend isn't going to cut it. Now he just has to convince Hannah that the man she wants looks a lot like him.
My Review Continue reading →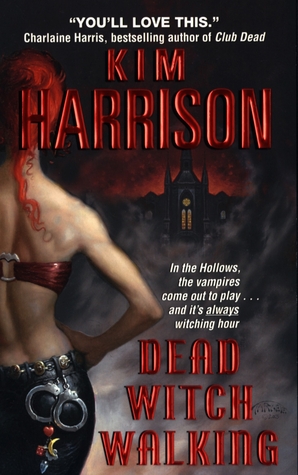 Dead Witch Walking
by Kim Harrison
Series: The Hollows #1
Published by HarperTorch on July 1, 2004
Genres: Urban Fantasy
Pages: 416
Format: Paperback, AudioBook
Source: Purchased
Amazon Kindle | Amazon Paperback | Audible | Barnes & Noble
Goodreads


All the creatures of the night gather in "the Hollows" of Cincinnati, to hide, to prowl, to party... and to feed.
Vampires rule the darkness in a predator-eat-predator world rife with dangers beyond imagining - and it's Rachel Morgan's job to keep that world civilized.
A bounty hunter and witch with serious sex appeal and an attitude, she'll bring 'em back alive, dead... or undead.
My Review Continue reading →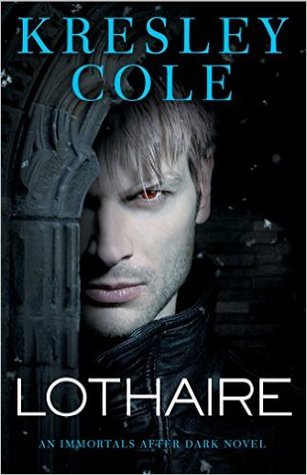 Lothaire
by Kresley Cole
Series: Immortals After Dark #12
Published by Gallery Books on January 10th 2012
Genres: Paranormal Romance
Pages: 468
Format: Hardcover
Source: Purchased
Amazon Kindle | Barnes & Noble
Goodreads


Number-one New York Times best-selling author Kresley Cole continues her electrifying Immortals After Dark series with this thrilling tale, revealing secrets of the Lore, fierce realm of the immortals....
All fear the enemy of old.
Driven by his insatiable need for revenge, Lothaire, the Lore's most ruthless vampire, plots to seize the Horde's crown. But bloodlust and torture have left him on the brink of madness—until he finds Elizabeth Peirce, the key to his victory. He captures the unique young mortal, intending to offer up her very soul in exchange for power, yet Elizabeth soothes his tormented mind and awakens within him emotions Lothaire believed he could no longer experience.
A deadly force dwells within her.
Growing up in desperate poverty, Ellie Peirce yearned for a better life, never imagining she'd be convicted of murder—or that an evil immortal would abduct her from death row. But Lothaire is no savior, as he himself plans to sacrifice Ellie in one month's time. And yet the vampire seems to ache for her touch, showering her with wealth and sexual pleasure. In a bid to save her soul, Ellie surrenders her body to the wicked vampire, while vowing to protect her heart.
Centuries of cold indifference shattered.
Elizabeth tempts Lothaire beyond reason, as only his fated mate could. As the month draws to a close, he must choose between a millennia-old blood vendetta and his irresistible prisoner. Will Lothaire succumb to the miseries of his past—or risk everything for a future with her?
My Review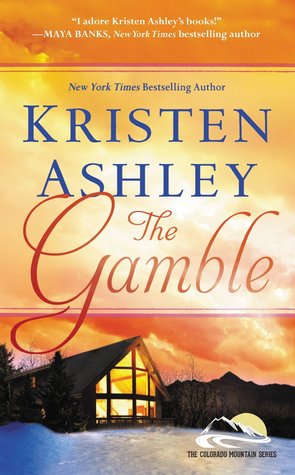 The Gamble
by Kristen Ashley
Series: Colorado Mountain #1
Published by Forever on December 11, 2012
Genres: Contemporary Romance
Pages: 679
Format: eBook
Source: Purchased
Amazon Kindle | Amazon Paperback | Audible | Barnes & Noble | Kobo
Goodreads


Love is the greatest gamble of all...
Nina Sheridan desperately needs a timeout vacation. With a fiancé who can't even remember how she takes her coffee, Nina wants some distance to rethink her engagement. Flying halfway around the world from England to a mountain town in Colorado should do the trick. But when she finds a gorgeous man at her rental cabin, Nina's cold, lonely adventure suddenly heats up.
The owner of the house, Holden "Max" Maxwell is surprised by the beautiful woman who turns up at his door. But when Nina becomes ill, Max spends days nursing her back to health. A private man with a broken heart, Max finds himself drawn to the strong-willed woman. Soon it becomes impossible for Nina and Max to deny their growing attraction to one another. Yet even as these two wounded lovebirds think about taking a chance on a relationship, a dangerous secret from Max's past emerges-and threatens to end their love for good.
My Review Continue reading →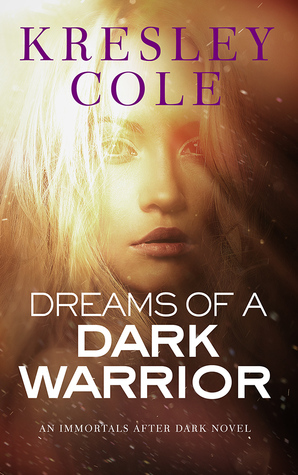 Dreams of a Dark Warrior
by Kresley Cole
Series: Immortals After Dark #11
Published by Pocket on February 15th 2011
Genres: Paranormal Romance
Pages: 515
Format: Paperback, AudioBook
Source: Purchased
Amazon Kindle | Amazon Paperback | Audible | Barnes & Noble
Goodreads


From #1 New York Times bestseller Kresley Cole comes this gripping tale of a battle-maddenend warrior driven by revenge and the Valkyrie temptress who haunts his dreams.
He Vowed He'd Come For Her...
Murdered before he could wed Regin the Radiant, warlord Aidan the Fierce seeks his beloved through eternity, reborn again and again into new identities, yet with no memory of his past lives.
She Awaits His Return...
When Regin encounters Declan Chase, a brutal Celtic soldier, she recognizes her proud warlord reincarnated. But Declan takes her captive, intending retribution against all immortals—unaware that he belongs to their world.
To Sate A Desire More Powerful Than Death...
Yet every reincarnation comes with a price, for Aidan is doomed to die when he remembers his past. To save herself from Declan's torments, will Regin rekindle memories of the passion they once shared—even if it means once again losing the only man she could ever love?
My Review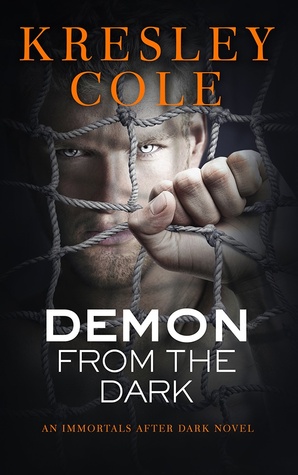 Demon from the Dark
by Kresley Cole
Series: Immortals After Dark #10
Published by Pocket Books on August 24th 2010
Genres: Paranormal Romance
Pages: 430
Format: Paperback, AudioBook
Source: Purchased
Amazon Kindle | Amazon Paperback | Barnes & Noble
Goodreads


From New York Times bestselling author Kresley Cole comes this scorching tale of a demon outcast poisoned with vampire blood and the vulnerable young witch he vows to protect, even from himself.
A DANGEROUS DEMON SHE CAN'T RESIST . . .
Malkom Slaine: tormented by his sordid past and racked by vampiric hungers, he's pushed to the brink by the green-eyed beauty under his guard.
A MADDENING WITCH HE ACHES TO CLAIM . . .
Carrow Graie: hiding her own sorrows, she lives only for the next party or prank. Until she meets a tortured warrior worth saving.
TRAPPED TOGETHER IN A SAVAGE PRISON . . .
In order for Malkom and Carrow to survive, he must unleash both the demon and vampire inside him. When Malkom becomes the nightmare his own people feared, will he lose the woman he craves body and soul?
My Review