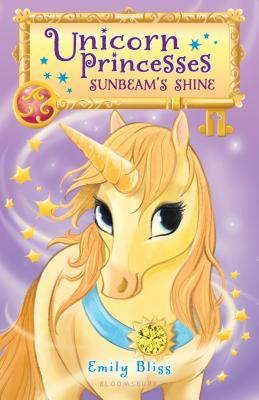 Sunbeam's Shine
by Emily Bliss, Sydney Hanson
Series: Unicorn Princesses #1
Published by Bloomsbury USA Childrens on August 8, 2017
Pages: 128
Format: Paperback
Source: Purchased
Amazon Kindle | Amazon Paperback | Barnes & Noble | Kobo
Goodreads


Welcome to an enchanted land ruled by unicorn princesses! Cressida Jenkins, a unicorn-obsessed girl who is sure that unicorns are real, is invited to visit, and readers will be thrilled to journey to the Rainbow Realm along with her! In each story, Cressida is called to help a unicorn princess and her sisters in a magical adventure.
In the first story, a blundering wizard-lizard casts a spell that accidentally robs Princess Sunbeam of her magic yellow sapphire. Without it, she loses her powers--the ability to create light and heat. The only way to reverse the spell is for a human girl who believes in unicorns to find the yellow sapphire and reunite Sunbeam with her gemstone. Sunbeam ventures into the human world and enlists Cressida's help, who is thrilled to visit the Rainbow Realm. But finding Sunbeam's sapphire isn't quite as easy as she thought it would be . . .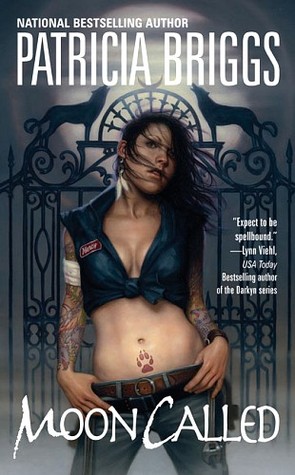 Moon Called
by Patricia Briggs
Series: Mercy Thompson #1
Published by Ace Books on January 31, 2006
Genres: Urban Fantasy
Pages: 289
Format: AudioBook, Paperback
Source: Purchased
Amazon Kindle | Amazon Paperback | Audible | Barnes & Noble | Kobo
Goodreads


Mercedes Thompson, aka Mercy, is a talented Volkswagen mechanic living in the Tri-Cities area of Washington. She also happens to be a walker, a magical being with the power to shift into a coyote at will. Mercy's next-door neighbor is a werewolf. Her former boss is a gremlin. And she's fixing a bus for a vampire. This is the world of Mercy Thompson, one that looks a lot like ours but is populated by those things that go bump in the night. And Mercy's connection to those things is about to get her into some serious hot water...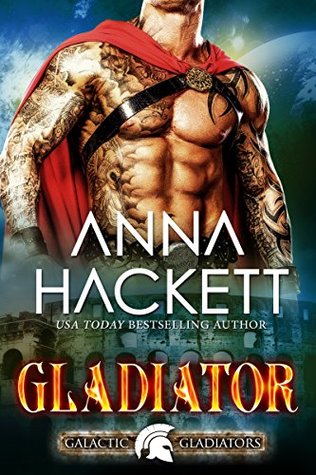 Gladiator
by Anna Hackett
Series: Galactic Gladiators #1
Published by Self-Published on October 23, 2016
Pages: 176
Format: eBook
Source: Purchased
Amazon Kindle | Amazon Paperback | Audible | Barnes & Noble
Goodreads


Fighting for love, honor, and freedom on the galaxy's lawless outer rim…
When Earth space marine Harper Adams finds herself abducted by alien slavers off a space station, her life turns into a battle for survival. Dumped into an arena on a desert planet on the outer rim, she finds herself face to face with a big, tattooed alien gladiator…the champion of the Kor Magna Arena.
A former prince abandoned to the arena as a teen, Raiden Tiago has long ago earned his freedom. Now he rules the arena, but he doesn't fight for the glory, but instead for his own dark purpose—revenge against the Thraxian aliens who destroyed his planet. Then his existence is rocked by one small, fierce female fighter from an unknown planet called Earth.
Harper is determined to find a way home, but when she spots her best friend in the arena—a slave of the evil Thraxian aliens—she'll do anything to save her friend…even join forces with the tough, alpha male who sets her body on fire. But as Harper and Raiden step foot onto the blood-soaked sands of the arena, Harper worries that Raiden has his own dangerous agenda…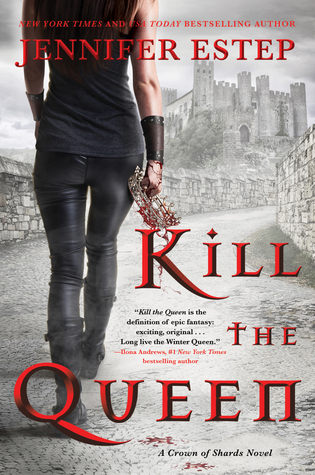 Kill the Queen
by Jennifer Estep
Series: Crown of Shards #1
Published by Harper Voyager on October 2, 2018
Pages: 480
Format: Paperback
Source: Purchased
Amazon Kindle | Amazon Paperback | Audible | Barnes & Noble | Kobo
Goodreads


Gladiator meets Game of Thrones: a royal woman becomes a skilled warrior to destroy her murderous cousin, avenge her family, and save her kingdom in this first entry in a dazzling fantasy epic from the New York Times and USA Today bestselling author of the Elemental Assassin series—an enthralling tale that combines magic, murder, intrigue, adventure, and a hint of romance.
In a realm where one's magical power determines one's worth, Lady Everleigh's lack of obvious ability relegates her to the shadows of the royal court of Bellona, a kingdom steeped in gladiator tradition. Seventeenth in line for the throne, Evie is nothing more than a ceremonial fixture, overlooked and mostly forgotten.
But dark forces are at work inside the palace. When her cousin Vasilia, the crown princess, assassinates her mother the queen and takes the throne by force, Evie is also attacked, along with the rest of the royal family. Luckily for Evie, her secret immunity to magic helps her escape the massacre.
Forced into hiding to survive, she falls in with a gladiator troupe. Though they use their talents to entertain and amuse the masses, the gladiators are actually highly trained warriors skilled in the art of war, especially Lucas Sullivan, a powerful magier with secrets of his own. Uncertain of her future—or if she even has one—Evie begins training with the troupe until she can decide her next move.
But as the bloodthirsty Vasilia exerts her power, pushing Bellona to the brink of war, Evie's fate becomes clear: she must become a fearsome gladiator herself . . . and kill the queen.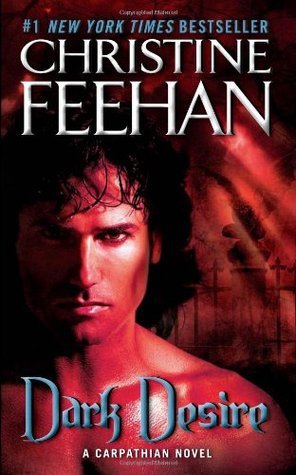 Dark Desire
by Christine Feehan
Series: Dark #2
Published by Avon on July 31, 2012
Genres: Paranormal Romance
Pages: 404
Format: Paperback
Source: Purchased
Amazon Kindle | Amazon Paperback | Audible | Barnes & Noble | Kobo
Goodreads


"The Queen of paranormal romance."—USA Today
#1 New York Times bestselling author Christine Feehan has enchanted legions of paranormal romance fans with her sensation series featuring sexy immortal Carpathian heroes—a remarkable breed of vampire. In this stunning new edition of Dark Desire, a beautiful doctor is perilously drawn to the far Carpathian Mountains by a mysterious stranger who needs her medical expertise. Despite the danger, she cannot deny her deep connection to this mystery man—or he, his raging need for her. Discover the breathtaking power of supernatural love in this darkly sensuous classic from Christine Feehan.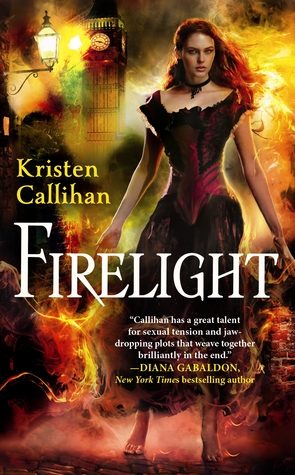 Firelight
by Kristen Callihan
Series: Darkest London #1
Published by Forever on January 31, 2012
Genres: Paranormal Romance, Historical Romance
Pages: 372
Format: eBook, AudioBook
Source: Purchased
Amazon Kindle | Amazon Paperback | Audible | Barnes & Noble | Google Play | Kobo
Goodreads


Once the flames are ignited . . .
Miranda Ellis is a woman tormented. Plagued since birth by a strange and powerful gift, she has spent her entire life struggling to control her exceptional abilities. Yet one innocent but irreversible mistake has left her family's fortune decimated and forced her to wed London's most nefarious nobleman.
They will burn for eternity . . .
Lord Benjamin Archer is no ordinary man. Doomed to hide his disfigured face behind masks, Archer knows it's selfish to take Miranda as his bride. Yet he can't help being drawn to the flame-haired beauty whose touch sparks a passion he hasn't felt in a lifetime. When Archer is accused of a series of gruesome murders, he gives in to the beastly nature he has fought so hard to hide from the world. But the curse that haunts him cannot be denied. Now, to save his soul, Miranda will enter a world of dark magic and darker intrigue. For only she can see the man hiding behind the mask.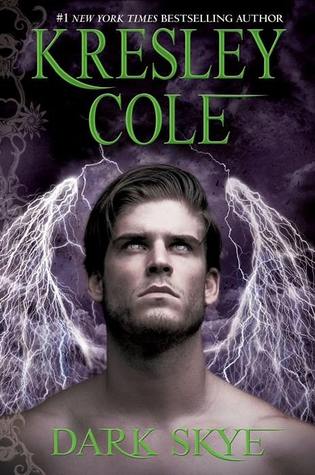 Dark Skye
by Kresley Cole
Series: Immortals After Dark #15
Published by Gallery Books on August 5, 2014
Genres: Paranormal Romance
Pages: 420
Format: Paperback, AudioBook
Source: Purchased
Amazon Kindle | Amazon Paperback | Audible | Barnes & Noble | Kobo
Goodreads


In this highly anticipated fifteenth novel in the Immortals After Dark series, #1 New York Times bestselling author Kresley Cole spins a sultry tale of a mighty warrior scarred inside and out and the beguiling sorceress with the power to heal him—or vanquish him forever.
ETERNAL OBSESSION
As a boy, Thronos, prince of Skye Hall, loved Lanthe, a mischievous Sorceri girl who made him question everything about his Vrekener clan. But when the two got caught in the middle of their families' war, tragedy struck, leaving Thronos and Lanthe bitter enemies. Though centuries have passed, nothing can cool his seething need for the beautiful enchantress who scarred his body—and left an even deeper impression on his soul.
ENDLESS YEARNING
Lanthe, a once-formidable sorceress struggling to reclaim her gifts, searches for love and acceptance with all the wrong immortal suitors. But she's never forgotten Thronos, the magnificent silver-eyed boy who protected her until she was ripped from the shelter of his arms. One harrowing night changed everything between them. Now he's a notorious warlord with a blood vendetta against Lanthe, hunting her relentlessly.
CAN THE HEAT OF DESIRE BURN BRIGHTER THAN VENGEANCE?
With their families locked in conflict and battles raging all around them, will Thronos and Lanthe succumb to the brutal chaos that threatens everything they cherish? Or will the fragile bond they formed so long ago spark a passion strong enough to withstand even the darkest doubts?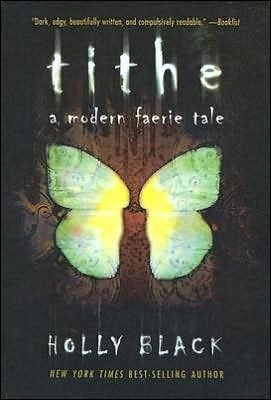 Tithe
by Holly Black
Series: Modern Faerie Tales #1
Published by Simon Pulse on October 1, 2002
Pages: 332
Format: Paperback
Source: Purchased
Amazon Kindle | Amazon Paperback | Audible | Barnes & Noble
Goodreads


Welcome to the realm of very scary faeries!
Sixteen-year-old Kaye is a modern nomad. Fierce and independent, she travels from city to city with her mother's rock band until an ominous attack forces Kaye back to her childhood home. There, amid the industrial, blue-collar New Jersey backdrop, Kaye soon finds herself an unwilling pawn in an ancient power struggle between two rival faerie kingdoms - a struggle that could very well mean her death.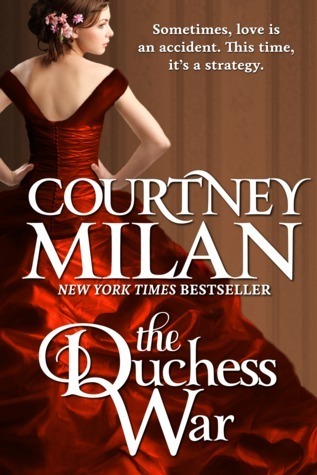 The Duchess War
by Courtney Milan
Series: Brothers Sinister #1
Published by Self-Published on December 8, 2012
Genres: Historical Romance
Pages: 270
Format: eBook
Source: Purchased
Amazon Kindle | Amazon Paperback | Audible | Barnes & Noble | Kobo
Goodreads


Sometimes love is an accident.
This time, it's a strategy.
Miss Minerva Lane is a quiet, bespectacled wallflower, and she wants to keep it that way. After all, the last time she was the center of attention, it ended badly—so badly that she changed her name to escape her scandalous past. Wallflowers may not be the prettiest of blooms, but at least they don't get trampled. So when a handsome duke comes to town, the last thing she wants is his attention.
But that is precisely what she gets.
Because Robert Blaisdell, the Duke of Clermont, is not fooled. When Minnie figures out what he's up to, he realizes there is more to her than her spectacles and her quiet ways. And he's determined to lay her every secret bare before she can discover his. But this time, one shy miss may prove to be more than his match...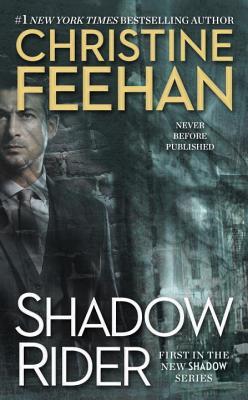 Shadow Rider
by Christine Feehan
Series: Shadow Riders #1
Published by Jove on June 28, 2016
Genres: Paranormal Romance
Pages: 448
Format: Paperback
Source: Purchased
Amazon Kindle | Amazon Paperback | Audible | Barnes & Noble | Google Play | Kobo
Goodreads


The #1 New York Times bestselling "queen of paranormal romance"* is back with a sexy new series starring a Chicago crime family that hides a dark, mystical secret...
Whether it's fast cars or fast women, Stefano Ferraro gets what he wants. When he's not fodder for the paparazzi, he commands Ferraro family businesses—both legitimate and illegitimate.
While their criminal activity is simply a rumor yet to be proven, no one knows the real truth. The Ferraros are a family of shadow riders capable of manipulating light and dark, an ability Stefano thought ran in his family alone—until now…
With little left to her name, Francesca Cappello has come to Chicago in hopes of a new life. She wasn't expecting to attract the attention of a man with primal hunger in his eyes, driven to claim her as his to protect and to please. And if he discovers her secret, it could ruin her...