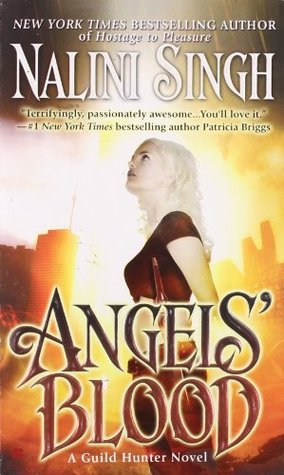 Angels' Blood
by Nalini Singh
Series: Guild Hunter #1
Published by Berkley Sensation on March 3rd 2009
Genres: Paranormal Romance
Pages: 339
Format: AudioBook
Source: Purchased
Amazon Kindle | Amazon Paperback
Goodreads


Vampire hunter Elena Deveraux knows she is the best- but she does not know if even she is good enough for this job. Hired by the dangerously beautiful archangel Raphael, a being so lethal that no mortal wants his attention, Elena knows failure is not an option—even if the task is impossible.
Because this time, it's not a wayward vamp she has to track. It's an archangel gone bad.
The job will put Elena in the midst of a killing spree like no other—and pull her to the razor's edge of passion. Even if the hunt does not destroy her, succumbing to Raphael's seductive touch just might. For when archangels play, mortals break.
Review Continue reading →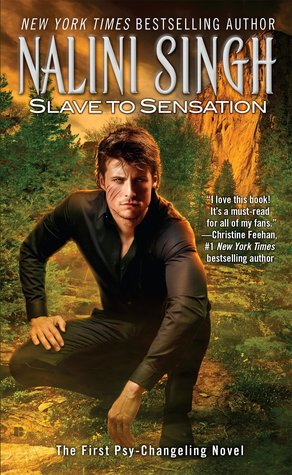 Slave to Sensation
by Nalini Singh
Series: Psy-Changeling #1
Published by Penguin on May 1, 2015
Genres: Paranormal Romance
Pages: 352
Format: AudioBook, Paperback
Source: Purchased
Amazon Kindle | Amazon Paperback
Goodreads


Previous edition for this ISBN found here
Nalini Singh dives into a world torn apart by a powerful race with phenomenal powers of the mind-and none of the heart.
In a world that denies emotions, where the ruling Psy punish any sign of desire, Sascha Duncan must conceal the feelings that brand her as flawed. To reveal them would be to sentence herself to the horror of "rehabilitation" - the complete psychic erasure of everything she ever was...
Both human and animal, Lucas Hunter is a changeling hungry for the very sensations the Psy disdain. After centuries of uneasy coexistence, these two races are now on the verge of war over the brutal murders of several changeling women. Lucas is determined to find the Psy killer who butchered his packmate, and Sascha is his ticket into their closely guarded society. But he soon discovers that this ice-cold Psy is very capable of passion - and that the animal in him is fascinated by her. Caught between their conflicting worlds, Lucas and Sascha must remain bound to their identities - or sacrifice everything for a taste of darkest temptation.
My Review Continue reading →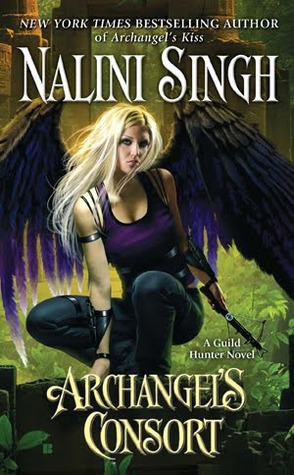 Archangel's Consort
by Nalini Singh
Series: Guild Hunter #3
Published by Berkley Sensation on January 25, 2011
Genres: Paranormal Romance
Pages: 324
Format: Paperback, AudioBook
Source: Purchased
Amazon Kindle | Amazon Paperback | Apple iBooks | Audible
Goodreads


Nalini Singh steps back into the shadows of her heartbreakingly original world where angels rule, vampires serve, and the innocent can pay the greatest price of all ...Vampire hunter Elena Deveraux and her lover, the lethally beautiful archangel Raphael, have returned home to New York only to face an uncompromising new evil ...A vampire has attacked a girls' school - the assault one of sheer, vicious madness - and it is only the first act. Rampant bloodlust takes vampire after vampire, threatening to make the streets run with blood. Then Raphael himself begins to show signs of an uncontrolled rage, as inexplicable storms darken the city skyline and the earth itself shudders. The omens are suddenly terrifyingly clear. An ancient and malevolent immortal is rising. The violent winds whisper her name: Caliane. She has returned to reclaim her son, Raphael. Only one thing stands in her way: Elena, the consort who must be destroyed ...

Continue reading →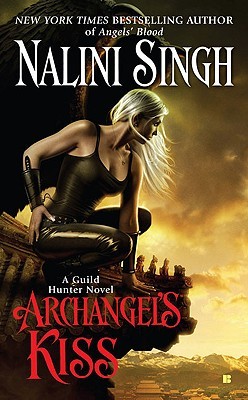 Archangel's Kiss
by Nalini Singh
Series: Guild Hunter #2
Published by Berkley Sensation on February 2nd 2010
Genres: Paranormal Romance
Pages: 323
Format: AudioBook
Source: Purchased
Amazon Kindle | Amazon Paperback | Apple iBooks | Audible
Goodreads


New York Times bestselling author Nalini Singh returns to her world of angelic rulers, vampiric servants, and the woman thrust into their darkly seductive world...
Vampire hunter Elena Deveraux wakes from a year-long coma to find herself changed—an angel with wings the colors of midnight and dawn—but her fragile body needs time to heal before she can take flight. Her lover, the stunningly dangerous archangel, Raphael, is used to being in control—especially when it comes to the woman he considers his own. But Elena has never done well with authority.
They've barely begun to understand each other when Raphael receives an invitation to a ball from the archangel, Lijuan. To refuse would be a sign of fatal weakness, so Raphael must ready Elena for the flight to Beijing—and to the nightmare that awaits them there. Ancient and without conscience, Lijuan holds a power that lies with the dead. And she has organized the most perfect and most vicious of welcomes for Elena.
My Review Continue reading →
I received a complimentary copy of the book from the Netgalley in exchange for an honest review. This does not affect my opinion of the book or the content of my review.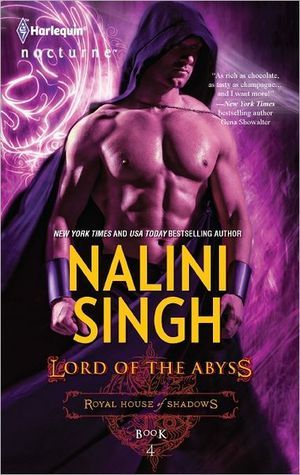 Lord of the Abyss
by Nalini Singh
Series: Royal House of Shadows #4
Published by Harlequin Nocturne on November 22, 2011
Genres: Paranormal Romance
Pages: 281
Format: eArc
Source: Netgalley
Amazon Kindle | Amazon Paperback
Goodreads


Once upon a time...the Blood Sorcerer vanquished the kingdom of Elden. To save their children, the queen scattered them to safety and the king filled them with vengeance. Only a magical timepiece connects the four royal heirs...and time is running out....
As the dark Lord who condemns souls to damnation in the Abyss, Micah is nothing but a feared monster wrapped in impenetrable black armor. He has no idea he is the last heir of Elden, its last hope. Only one woman knows--the daughter of his enemy.
Liliana is nothing like her father, the Blood Sorcerer who'd cursed Micah. She sees past Micah's armor to the prince inside. A prince whose sinful touch she craves. But first she has to brave his dark, dangerous lair and help him remember.
Because they only have till midnight to save Elden.
My Review Continue reading →