Review: 'Archangel's Resurrection' by Nalini Singh
October 26, 2022
I received a complimentary copy of the book from the publisher in exchange for an honest review. This does not affect my opinion of the book or the content of my review.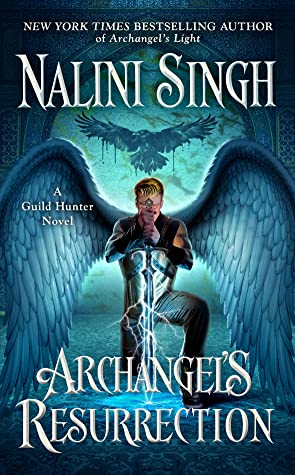 Archangel's Resurrection
by
Nalini Singh
Series:
Guild Hunter #15
Published by
Berkley Books
on October 25, 2022
Genres:
Paranormal Romance
Format:
ARC
Goodreads
Purchase at
Amazon
|
Barnes & Noble
|
Kobo

New York Times Bestselling author Nalini Singh takes us into the dangerous, haunting world of archangels…and a love that is legend.
For thousands of years, the passion between Alexander, Archangel of Persia, and Zanaya, Queen of the Nile, burned furious and bright, seemingly without end. But to be an archangel is to be bound to power violent and demanding. Driven by its primal energy, Alexander and Zanaya fought as fiercely as they loved. Locked in an endless cycle of devotion and heartbreak, it is only Zanaya's decision to Sleep that ends their love story.
Eons later, it is the Cascade of Death that wakens them both. The passion between them a flame that yet burns, Alexander and Zanaya stand together in one last battle against the ultimate darkness. But even a warrior archangel cannot win every war. Alexander's scream shatters the world as Zanaya falls, broken and silent…only to rise again in a miracle that may be a devastating curse. For is it truly the Queen of the Nile who has been resurrected?
Only one thing is clear: this is the last beat of their passionate, angry dance. The final song for Alexander and his Zani…
---
Nalini Singh, you could have warned me that I would need tissues when reading Alexander and Zanaya's book. I was not prepared and found myself putting down the book to regroup myself after certain scenes I read in this book. That's okay, though, because I managed to get through the waterworks and power through finding out why Alexander and Zanaya's relationship is one that I will never forget.
Storyline/My Thoughts: Now I know some readers were hoping for a continuation of Bluebell and Sparkle's storyline after reading their book. Still, I was more than happy to have Alexander's story and find out why he and Zanaya had such a difficult time together initially. Yes, this is a book where the couple goes through a lot together, and everyone around them sees them as a couple that shouldn't be together since they are bad for each other. They tend to get together and break it off. They have their reasons, which are touched on in their book. I was at first reading their book, wondering how these two would manage to work together if they constantly were walking away from their love for each other; then, I found out why they needed time. Their love never disappeared even thousands of years later; they still were madly in love.
I'll say this first if you have not read the Guild Hunter in chronological order, I highly recommend you do because this book will have scenes from different perspectives from previous books in the series. For instance, you will miss out on Lijuan and her crazy self, why the Cascade happened. Ancients and archangels wake during the Cascade early, and one of them happens to be Alexander's long-lost love, Zanaya, who he is still mad at for leaving him.
There are quite a few time jumps in this book because Nalini Singh has to cover thousands of years in this fictional world she's created for these characters. She doesn't want to miss out on the opportunity to explain how Alexander and Zanaya met and why they constantly fight for their love for each other.
Poor Alexander and what he had to endure for being without Zanaya for so long after she went to sleep and then losing her in the Cascade, he was happy to have her back. He didn't care if she risked having darkness after what happened to her. He loved her. He would do anything to prove himself to her. Zanaya had her reasons for always walking away from Alexander. They both wanted different things. She also knew that Alexander was all about power, and she wasn't.
What I loved most about this book is how Zanaya fell for Alexander's grandson when she finally met him. Don't even start with how Nalini Singh had my heart drop towards the end of the book and what she did to a certain character. Did you have to put a specific character through that? Hadn't he been through enough? I was worried.
I know though Nalini Singh would make my heart feel better, the horrible darkness plaguing the Archangels of this world would be somewhat defeated. I'm anxious, though, after this book, where Nalini Singh is going to take us next. Yes, I would love another Bluebell and Sparkle book, but there are other characters I'm curious about too. I need everyone's book that is mentioned throughout this series. Everyone deserves a HEA. This book gets 4.5-stars from me. I love this world that Nalini has created. This series is everything to me, and I'm so glad that Nalini wrote it. It's the series I go to when I feel myself going into a reading slump. I love rereading it.
Standalone or Part of Series: It's part of the Guild Hunter series, and I highly recommend reading in order.
Steam/Spice: 🌶 🌶
Trope(s): Fated Mates. Second Chance at Love.
Would I recommend this book? Yes. If you enjoy UF/Paranormal Romance books, this series is for you.

This post contains affiliate links you can use to purchase the book. If you buy the book using that link, I will receive a small commission from the sale. It will help sponsor future giveaways but costs you nothing extra. You can read the full disclosure underneath the Privacy Policy.
---
---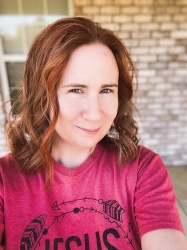 Latest posts by FranJessca
(see all)