Review: 'Cowboy Wolf Christmas' by Kait Ballenger #CMCon23
October 27, 2022
I received a complimentary copy of the book from the author in exchange for an honest review. This does not affect my opinion of the book or the content of my review.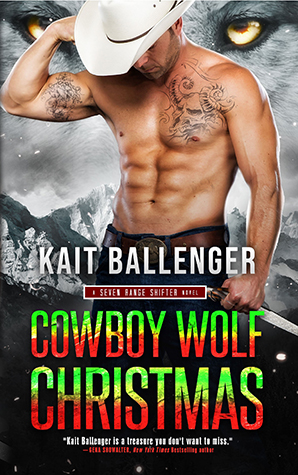 Cowboy Wolf Christmas
by
Kait Ballenger
Series:
Seven Range Shifters #6.5
Published by
Kait Ballenger LLC
,
Self-Published
on October 25, 2022
Genres:
Paranormal Romance
Format:
eArc
Goodreads
Purchase at
Amazon
|
Barnes & Noble
|
Kobo

For fans of sexy paranormal romance comes a novella from Kait Ballenger's action-packed Seven Range Shifters series...
Grumpy Grey Wolf, Silas Buck hates Christmas and everything that comes with it. As duty to ranch and pack force this cowboy wolf to confront his ghosts of Christmases past, his newfound packmate, Cheyenne, is saddled alongside him for the ride. But when a sudden snowstorm forces them to spend a heated night together, Silas may find Cheyenne's sunshiny ways warm his long-frozen heart...
---
I will read anything Kait Ballenger writes. I don't care if one day she decides to write non-fiction; I will still buy her books. I hope she continues to write Romance because she writes her characters so well that I have too many book boyfriends from her books that my other book boyfriends are getting jealous. There's also the issue of her heroines and why I wish they were not fictional and I could have them as best friends, especially regarding the FMC in Cowboy Wolf Christmas.
Storyline/My Thoughts: Cowboy Wolf Christmas originally appeared in the Shifter and Mistletoe Anthology, which I never got a chance to read. When I realized Kait was rereleasing it, I jumped at the chance to read it. First, because Silas was getting his book and he used to be a part of the Wild Eight, but because Cheyenne was the lucky gal that would have Silas falling to his knees for her. Silas would also be the lucky guy winning over Cheyenne's heart.
I love stories where the MMC is grumpy, and the FMC is all sunshine; that is precisely what Silas was to Cheyenne. You know these two are going to clash. They were complete opposites of each other. Silas thought he would never fit into the wolf pack because he used to be the pack's enemy, but Cheyenne knew better. She knows he fits right in with them.
These two together were electric in every kind of way. Yes, Silas thought he was horrible for Cheyenne, and Cheyenne thought that Silas would have the same feelings as everyone else when it came to some males thinking she was weird. Both couldn't be more wrong about what they were thinking of each other. These two were made for each other. I've said that with every pairing that Kait has done for the Seven Range Shifter series, but these two were meant to be in every possible way.
I loved how Kait Ballenger has an Autistic Rep FMC in this book and how Cheyenne reminded me of my nephew and niece, who both have Asperger's Syndrome. (I love my nephew and niece; they grew up too fast on me, but I remember when they were little and how people used to treat them. It broke my heart. The two sweetest kids are now adults, which I can't friggin' believe since it was yesterday I was visiting them with my oldest, and they were in diapers.) It broke my heart how others treated Cheyenne because they didn't understand her. I loved how Silas handled things when it came to her. He may be a grumpy jerk, but when it came to Cheyenne, he was very protective of the sweet mechanic, especially when other pack members chose to give her a hard time.
How about those steamy moments between Mr. Grumpy Pants and Miss Sweet Sunshine? I'll give you some quotes from the book to give you hints about how they were together.
"It's okay baby, I've got you," he whispered against her. "We don't finish until you're satisfied."
"You're the only kind of dessert I want to eat."
"I mean I want to take you raw, bare, right here against this counter, sweetheart." He drew back, spreading her legs wide. "Fill you up with a different kind of sugar."
Silas, you dirty talker, how can Cheyenne resist those words out of your mouth?
I promise you that this book has a storyline, and I was not just there falling for the characters, but how can you not fall for them?
If you are looking for a story with wolf shifters that have to fight vampires and sometimes other wolf shifters, this series is for you. It's also during Christmas, so this book will put you in the Christmas mood, even when it is released around Halloween. Refer to the quote of Silas above, where he mentions filling a confident female wolf shifter up with sugar. =)
Overall, this book gets 4.5-stars from me, and I will wait for Kait to release another book anxiously. =)
Standalone or Part of Series: It's part of the Seven Range Shifter series, but can be read as a standalone. (You'll miss out on the other characters in the series, though, if you skip those books.)
Steam/Spice: 🌶 🌶 🌶
Trope(s)/Element(s): Grumpy MMC + Sunshine FMC. Autistic Rep FMC. One Bed. Wolf Shifter Cowboy. Mechanic FMC. All the Christmas Feels w/ Vampires and Shifters Oh My.
HEA: Yes.
Would I recommend this book/series? Yes. If you are a fan of Paranormal Romance, this series is for you. Imagine the show Yellowstone but the characters turn into shifters. (These books came before the show Yellowstone though.)

This post contains affiliate links you can use to purchase the book. If you buy the book using that link, I will receive a small commission from the sale. It will help sponsor future giveaways but costs you nothing extra. You can read the full disclosure underneath the Privacy Policy.
---
---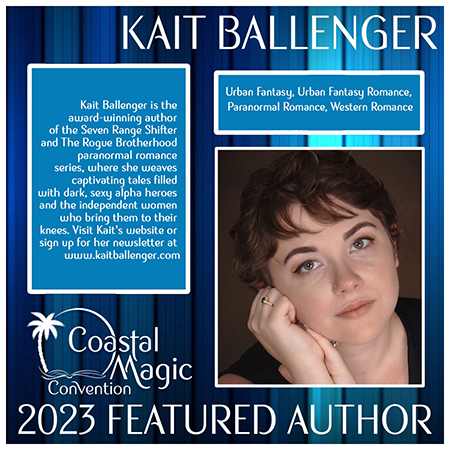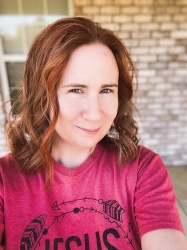 Latest posts by FranJessca
(see all)