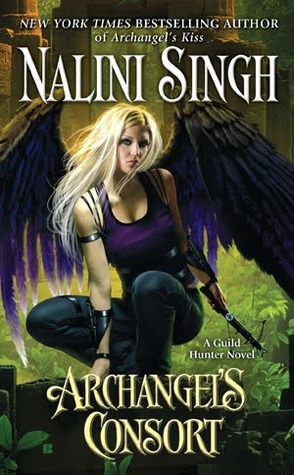 Archangel's Consort
by Nalini Singh
Series: Guild Hunter #3
Published by Berkley Sensation on January 25th 2011
Genres: Paranormal Romance
Pages: 324
Format: AudioBook, Paperback
Source: Purchased
Amazon | B&N
Goodreads


Vampire hunter Elena Deveraux and her lover, the lethally beautiful archangel Raphael, have returned home to New York only to face an uncompromising new evil…
A vampire has attacked a girls' school—the assault one of sheer, vicious madness—and it is only the first act. Rampant bloodlust takes vampire after vampire, threatening to make the streets run with blood. Then Raphael himself begins to show signs of an uncontrolled rage, as inexplicable storms darken the city skyline and the earth itself shudders. The omens are suddenly terrifyingly clear.
An ancient and malevolent immortal is rising. The violent winds whisper her name: Caliane. She has returned to reclaim her son, Raphael. Only one thing stands in her way: Elena, the consort who must be destroyed…
My Review Continue reading →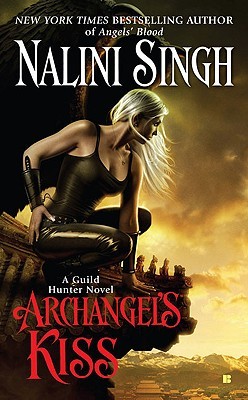 Archangel's Kiss
by Nalini Singh
Series: Guild Hunter #2
Published by Berkley Sensation on February 2nd 2010
Genres: Paranormal Romance
Pages: 323
Format: AudioBook
Source: Purchased
Amazon | B&N
Goodreads


New York Times bestselling author Nalini Singh returns to her world of angelic rulers, vampiric servants, and the woman thrust into their darkly seductive world...
Vampire hunter Elena Deveraux wakes from a year-long coma to find herself changed—an angel with wings the colors of midnight and dawn—but her fragile body needs time to heal before she can take flight. Her lover, the stunningly dangerous archangel, Raphael, is used to being in control—especially when it comes to the woman he considers his own. But Elena has never done well with authority.
They've barely begun to understand each other when Raphael receives an invitation to a ball from the archangel, Lijuan. To refuse would be a sign of fatal weakness, so Raphael must ready Elena for the flight to Beijing—and to the nightmare that awaits them there. Ancient and without conscience, Lijuan holds a power that lies with the dead. And she has organized the most perfect and most vicious of welcomes for Elena.
My Review Continue reading →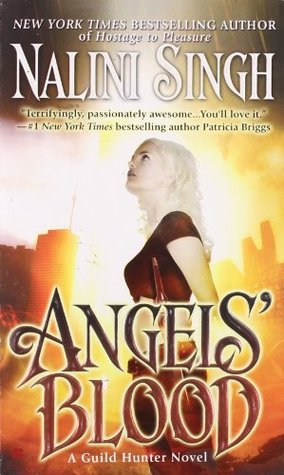 Angels' Blood
by Nalini Singh
Series: Guild Hunter #1
Published by Berkley Sensation on March 3rd 2009
Genres: Paranormal Romance
Pages: 339
Format: AudioBook
Source: Purchased
Amazon | B&N
Goodreads


Vampire hunter Elena Deveraux knows she is the best- but she does not know if even she is good enough for this job. Hired by the dangerously beautiful archangel Raphael, a being so lethal that no mortal wants his attention, Elena knows failure is not an option—even if the task is impossible.
Because this time, it's not a wayward vamp she has to track. It's an archangel gone bad.
The job will put Elena in the midst of a killing spree like no other—and pull her to the razor's edge of passion. Even if the hunt does not destroy her, succumbing to Raphael's seductive touch just might. For when archangels play, mortals break.
Review Continue reading →