Review: 'Archangel's Enigma' by Nalini Singh
May 27, 2020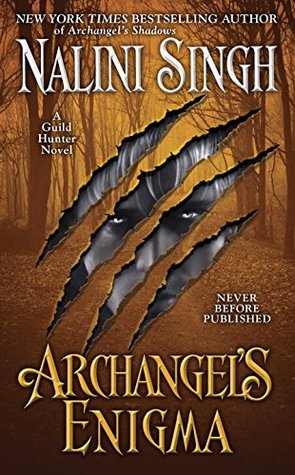 Archangel's Enigma
by
Nalini Singh
Series:
Guild Hunter #8
Published by
Berkley Sensation
on September 1, 2015
Genres:
Paranormal Romance
Format:
AudioBook
,
Paperback
Source:
Purchased
Goodreads
Purchase at
Amazon
|
Barnes & Noble

New York Times bestselling author Nalini Singh returns to her world of dark passion and immortal power—and to one of the most seductive and impenetrable heroes ever to stalk the Guild Hunter landscape…
"Oh, Naasir. So weird, so bloodthirsty, so unique and wonderful…I have fallen for him…"—Fiction Vixen
Naasir is the most feral of the powerful group of vampires and angels known as the Seven, his loyalty pledged to the Archangel Raphael. When rumors surface of a plot to murder the former Archangel of Persia, now lost in the Sleep of the Ancients, Naasir is dispatched to find him. For only he possesses the tracking skills required—those more common to predatory animals than to man.
Enlisted to accompany Naasir, Andromeda, a young angelic scholar with dangerous secrets, is fascinated by his nature—at once playful and brilliant, sensual and brutal. As they race to find the Sleeping archangel before it's too late, Naasir will force her to question all she knows…and tempt her to walk into the magnificent, feral darkness of his world. But first they must survive an enemy vicious enough to shatter the greatest taboo of the angelic race and plunge the world into a screaming nightmare…
---
I've been fascinated with Naasir's character since he was first introduced in the Guild Hunter series. I wanted to know what he was, where he originated, and who would be his leading lady. I knew she would have to be a tough heroine because Naasire likes to play rough. Well, Nalini Singh set him up with the perfect heroine. Andromeda is a scholar/historian who has been working with Jessamy. She also knows how to protect herself. She is the granddaughter of one of the ruthless known Archangels. She will be forced to work with her Grandfather for 500 years due to a vow with him unless she finds a way to break it.
In the eighth novel of Nalini Singh's Guild Hunter series, Naasire and Andromeda are teamed together to find an Ancient sleeping Archangel. If not, then he could be killed by Lijuan and her second in command. It's not going to be easy because the Ancient is supposed to be asleep for a thousand years, and he will be weak if woken too early. There are going to be dangerous and unthinkable trials that Naasir and Andromeda will have to face in this book. It will either break them or make them stronger, although both characters are strong in their own ways.
One of the biggest ordeals they have to deal with is their infatuation with each other. I love Naasir and Andromeda together because they both compliment each other so well. There's one issue for Naasir, and that is Andromeda has sworn a vow of celibacy unless Naasir can find a particular book. Naasir is determined to find the book in the story to be with Andromeda.
One of the many reasons I'm enjoying this series is that they each follow the biggest issue: the villain, Lijuan. She's always up to something sinister, and this time it was a big one in this book. I'm not too fond of Lijuan and hope she eventually meets her end.
Readers will get Raphael and Elena's POVs in this book, which is something I love because these two have always been a favorite of mine. The next book dives back into their story, and I can't wait to read it. I recommend readers read these books in order because of how Nalini Singh has the stories flow together. I love how Nalini Singh connects everything. She's become one of my favorite authors because of it.
I'm so happy that Naasir got his HEA, especially after finding out his backstory. He didn't have it easy, but he got his revenge, thanks to Raphael. Andromeda is the perfect mate for him because she knows how to handle him and vice versa.
I give this book 5-stars and highly recommend this series to PNR/UF readers. Here's hoping I can catch up in this series before Nalini Singh releases the next book at the end of this year. I need to catch up.
Forewarning, if you are a Bluebell fan like I am, be prepared to have moments of heart failure in this book. I swear if anything happens to Bluebell, I will be so mad. I love his character. If you're read the next books in the series, please don't spoil it for me. I want to get the full effect when reading the books and don't like spoilers.

This post contains affiliate links you can use to purchase the book. If you buy the book using that link, I will receive a small commission from the sale. It will help sponsor future giveaways but costs you nothing extra. You can read the full disclosure underneath the Privacy Policy.
---
---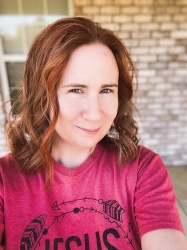 Latest posts by FranJessca
(see all)