Review: 'Archangel's Storm' by Nalini Singh
February 5, 2020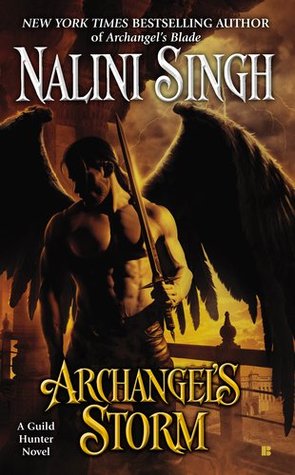 Archangel's Storm
by
Nalini Singh
Series:
Guild Hunter #5
Published by
Berkley
on September 4, 2012
Genres:
Paranormal Romance
Format:
Paperback
,
AudioBook
Source:
Purchased
Goodreads
Purchase at
Amazon
|
Barnes & Noble

Enter New York Times bestselling author Nalini Singh's darkly beautiful world of archangels and immortal power, as a pact is sealed between two souls bound by blood, stirred by desire, and driven by vengeance…
With wings of midnight and an affinity for shadows, Jason courts darkness. But now, with the Archangel Neha's consort lying murdered in the jewel-studded palace that was his prison and her rage threatening cataclysmic devastation, Jason steps into the light, knowing he must unearth the murderer before it is too late.
Earning Neha's trust comes at a price—Jason must tie himself to her bloodline through the Princess Mahiya, a woman with secrets so dangerous, she trusts no one. Least of all an enemy spymaster.
With only their relentless hunt for a violent, intelligent killer to unite them, Jason and Mahiya embark on a quest that leads to a centuries-old nightmare… and to the dark storm of an unexpected passion that threatens to drench them both in blood.
---
I finally got a chance to read Archangel's Storm by Nalini Singh, which happens to be the Spymaster's (Jason) story. Jason has been a mystery since he was introduced to the series. I was excited to dive into his book. I wanted to know more about his character and find out who he would end up within the series. Although, I could tell from the beginning that he takes his job seriously and is not all about finding love. He is one of Raphael's Seven, and he tends to keep to the shadows.
In the fifth novel of the Guild Hunter series, Jason is sent to India to assist with finding out who murdered Neha's consort. Neha is the Archangel of India, and she has been unstable since she lost her daughter. She blames Raphael for what happened to her daughter, and Raphael knows that Neha could make his Spymaster's life difficult in India because of it. Jason knows he will have to gain her trust somehow and agrees to a blood bond oath with one of Neha's bloodline. Princess Mahiya is Neha's last remaining bloodline, but unfortunately, she's not loved by Neha. Mahiya is more of a captive that wants to be freed of Neha's rule. Jason knows right away that Mahiya has secrets, especially with how Neha treats her. Jason will find out why when he is trying to find the murderer of Neha's consort.
Mahiya is not a kick-butt heroine like Honor or Elena in the previous books. She's more the damsel in distress since she's been held captive most of her life thanks to Neha. I felt for her with everything she has gone through and continues to go through in the book. She never loves either and finds it in Jason, but he won't give love to her entirely due to what he went through in his past. Their love story is more of a slow burn because of Jason being hesitant with being with Mahiya. Believe me, when they do end up being together romantically, it's steamy.
I don't want to give anything away for readers that haven't read this book or any of the books in the series yet. I liked this book but didn't enjoy it like I did the previous books in the series. Jason is not an alpha male like Raphael and Dimitri in the books, and I love alpha males. Don't get me wrong; I like Jason for his qualities. He's mysterious, dark, quiet, and focused. I understood why once Nalini Singh told his backstory. It was a heart-wrenching story, and I felt for Jason.
Nalini Singh has become one of my favorite authors after starting the Guild Hunter series. I love PNR books that have angels/archangels in the stories, and Nalini's Guild Hunter series has become a favorite. I'm hoping to catch up on the series before she releases her next book later on. The fifth book in the series may only get four stars from me, but it had me in shock after finding out who was behind the murder of Neha's consort. I also enjoyed the other mysteries that were uncovered in the book, too, with Jason and Mahiya. Nalini is an author who is a master of writing addicting PNR stories.
---
Story Rating: 4 stars
Steaminess Rating: 3 stars
Standalone or part of series: Part of series and highly recommend reading in order.
Do I recommend this book? Yes.
Will I read other books from the author? Yes.
Tropes/Elements: Slow Burn; Angels/Archangels; Mystery/Suspense; Vengeance

This post contains affiliate links you can use to purchase the book. If you buy the book using that link, I will receive a small commission from the sale. It will help sponsor future giveaways but costs you nothing extra. You can read the full disclosure underneath the Privacy Policy.
---
---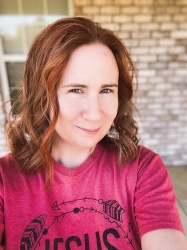 Latest posts by FranJessca
(see all)