Review: 'Blaze of Memory' by Nalini Singh
November 16, 2021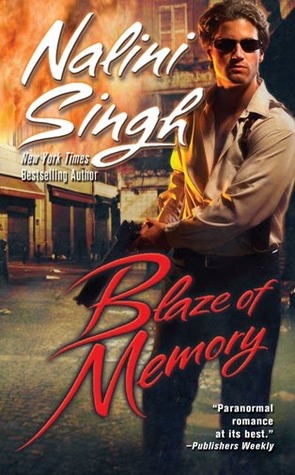 Blaze of Memory
by
Nalini Singh
Series:
Psy-Changeling #7
Published by
Berkley
on November 3, 2009
Genres:
Paranormal Romance
Format:
Paperback
Source:
Purchased
Goodreads
Purchase at
Amazon
|
Barnes & Noble
|
Kobo


Nalini Singh returns to the Psy/Changeling world and its "breathtaking blend of passion, adventure, and the paranormal" as a woman without a past becomes the pawn of a man who controls her future . . .

Devraj Santos discovers her unconscious and battered, with no memory of who she is. All she knows is that she's dangerous. Charged with protecting his people's most vulnerable secrets, Dev is duty-bound to eliminate all threats. It's a task he's never hesitated to complete . . . until he finds himself drawn to a woman who might prove to be the enemy's most insidious weapon yet.
Stripped of her memories by a shadowy oppressor and programmed to carry out cold-blooded murder, Katya Haas is fighting desperately for her sanity. Her only hope is Dev. But how can she expect to gain the trust of a man who could very well be her next target? For in this game, one must die . . .
---
Blaze of Memory is the seventh novel to Nalini Singh's Psy/Changeling series. This was my first time reading this book, and I was a little taken aback that it involved two main characters that I didn't really know much about yet. It didn't stop me from reading the book, though, because I knew Nalini Singh would continue her remarkable world-building in this series. 
Storyline/My Thoughts: Blaze of Memory doesn't involve your typical Fated Mates characters; Psy/Changeling and Changeling/Changeling. This time around, it's a Forgotten/Psy couple that gets their story. I remember being introduced briefly to Devraj Santos in an earlier book in the series, but he didn't grab my attention at that time. He's the leader of the Shine Foundation, where he helps the Forgotten (Psy who dropped out of the PsyNet) live their lives with emotion. Unfortunately, the Psy Council wants the Forgotten gone and will do anything to make it happen. Katya Haas is a Psy that has been damaged by one of the Psy Council members. Her memory is not all there, but she knows she's been programmed to do something awful. Dev comes across her and ends up keeping an eye on her. He wants to make sure she doesn't harm one of the Forgotten. What he doesn't realize is that she's there to hurt him. 
What did I think about the main characters? I thought I would not like Dev because he wasn't someone I knew, but he surprised me. He has all the qualities I enjoy in a male protagonist. He's protective (not only of the Forgotten), but he becomes protective of Katya. He's possessive at times but doesn't even realize it until someone finally mentions it to him. He's ruthless and will do anything to protect who harmed Katya and anyone in the Forgotten. There are several other qualities, but that are the main ones that won me over. He is reluctant to trust Katya at first until he learns what happened to her.
I liked Katya, but she drove me crazy at times, especially running away. Did she not realize she would be caught? Dev is not someone who will let her run away. She's been through a. lot, and I felt for her character. She was tortured and damaged by one of the scariest Psy Council members, and I wanted to get revenge for her. She tried to protect everyone from herself, so I can understand at the end of her not wanting to be around anymore. She almost made me mad at a scene involving the Psy Council member who messed her up and Dev. I thought she had become a traitor.
The best parts of the book were the Petrokov Family archive letters and the shocking ending. The letters actually told readers how and why the Forgotten chose not to be a part of the PsyNet. It was great to learn more about them. The ending was the best. It was a tearjerker at first, but then it became a good kind of tearjerker. I was amazed at who saved the day in the end. (I'm not spoiling for anyone who hasn't read this book). All I'm going to say is it involves Katya and saving her.
Yes, there are some steamy scenes in this book. Katya has never known love before, but Dev will show her and prove to her what it is several times in the book. I loved this!
Overall, I enjoyed this book and gave it 4.5 stars. I was expecting not to like it since I didn't know the characters and didn't involve any Changeling characters, but this book surprised me. I should know better by now that Nalini Singh will never disappoint with her storylines and characters. This is why I can't get enough of her books.
Standalone or Part of Series: It's part of the Psy/Changeling series, and I would recommend reading in order.
Steaminess: ⭐️ ⭐️ ⭐️ 💫
Trope: Fated Mates
HEA: Yes.
Would I recommend this book? Yes. If you enjoy Paranormal Romance and/or Science Fiction Romance, then you'll enjoy this book/series.
One of these days, I will be caught up with this series because I need to know where Nalini Singh has taken this series. I'm so far behind, but I'm getting there. My goal in 2022 is to be caught up with this series finally. I was able to catch up on her Guild Hunter series, and I'm more determined than ever to be caught up with this series.

This post contains affiliate links you can use to purchase the book. If you buy the book using that link, I will receive a small commission from the sale. It will help sponsor future giveaways but costs you nothing extra. You can read the full disclosure underneath the Privacy Policy.
---
---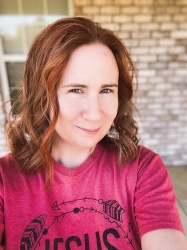 Latest posts by FranJessca
(see all)