Review: 'Shadow's Claim' by Kresley Cole
April 30, 2019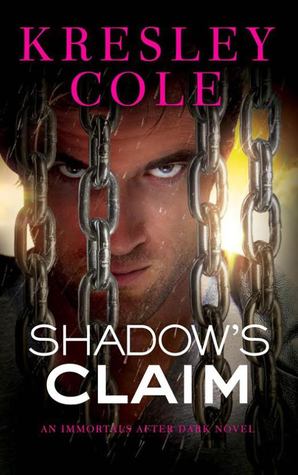 Shadow's Claim
by
Kresley Cole
Series:
Immortals After Dark #13
,
The Dacians #1
Published by
Pocket Books
on November 27, 2012
Genres:
Paranormal Romance
Format:
Paperback
,
AudioBook
Source:
Purchased
Goodreads
Purchase at
Amazon
|
Apple
|
Google Play
|
Kobo

#1 New York Times bestseller Kresley Cole introduces The Dacians: Realm of Blood and Mist, a new paranormal series following the royal bloodline of Dacia, a vampire kingdom hidden within the Lore of the Immortals After Dark. Shadow's Claim features Prince Trehan, a ruthless master assassin who will do anything to possess Bettina, his beautiful sorceress mate, even compete for her hand in a blood-sport tournament— to the death.

HE WON'T BE DENIED...

Trehan Daciano, known as the Prince of Shadows, has spent his life serving his people—striking in the night, quietly executing any threat to their realm. The coldly disciplined swordsman has never desired anything for himself -
until he beholds Bettina, the sheltered ward of two of the Lore's most fearsome villains.
SHE'S BOUND TO ANOTHER...

Desperate to earn her guardians' approval after a life-shattering mistake, young Bettina has no choice but to marry whichever suitor prevails—even though she's lost her heart to another.
Yet one lethal competitor, a mysterious cloaked swordsman, invades her dreams, tempting her with forbidden pleasure.
A BATTLE FOR HER BODY AND SOUL

Even if Trehan can survive the punishing contests to claim her as his wife, the true battle for Bettina's heart is yet to come. And unleashing a millennium's worth of savage need will either frighten his Bride away -
or stoke Bettina's own desires to a fever pitch....

I've had Shadow's Claim on my Goodreads TBR since 2012. I bought the paperback but never got a chance to read it back then. Now during the re-read of the Immortals After Dark series this year (2019), I'm finally getting a chance to catch up on the series and read Shadow's Claim. I decided to listen to the book though during the day when I was working and cleaning.
Shadow's Claim is also the first book in the spin-off series called 'The Dacians,' so I was excited to see where Kresley Cole was going to take the first book in the spin-off series. If you read Lothaire, then you would've been introduced to some of the Dacian characters. The main character in Shadow's Claim is the Prince of Shadows himself, Trehan Daciano. He ends up meeting his mate unexpectedly when he's trying to go after a Demon who was not supposed to leave his realm. Trehan is automatically drawn to his mate, even though her feelings for someone else is stronger in this book. Poor Trehan!
Princess Bettina of Abaddon is forced to hold a contest to find a suitor that will prevail at all the problematic battles her guardians put them up against and these are not easy contests. There is a lot of death that happens. Unfortunately, she already wants to be with her friend, but he is not the one for her. She ends up meeting a very handsome stranger in her room one night who she thinks is her friend. Bettina is going to end up having her feelings go haywire after that one night with the stranger and then seeing him again during the contests. Trehan is determined to prove himself to Bettina, even though she's in love with someone else.
This book didn't get that many stars like others in the series. Don't get me wrong I thoroughly enjoyed the book. I loved Trehan and getting to know him more. I also loved how Kresley had this book fit into the Immortals After Dark series, but also be a spin-off of the series because I now want to know even more about the Dacians. Also, for readers who adore Lothaire, you will get some of him in this story too.
Here's the reasoning behind the lesser stars from other books and that is Bettina's character. For some reason, I don't like sorceresses because I didn't like Sabine's style/character either. I think it's due to the personalities though. Bettina is naive and childish compared to other heroines. I happened to listen to these books also, instead of reading them and Robert Petkoff had me not liking Bettina. I love Robert telling the story though because he brings everything to life. I didn't connect with Bettina and how she acted in the story. She was so into her friend, Caspian from the beginning and Caspian is one that goes through women like crazy. He knows Bettina is not her mate, but he will help Bettina in the book.
I did enjoy the story and the world-building of the Dacians. I'm looking forward to reading more about them in the next spin-off book. I'm onto the next IAD book as I'm typing up this review. I'm catching up on the series to be ready for Munro's book. I can't wait! I love this series and adore Kresley. 😉
---
Story Rating: 3.5 stars
Steaminess Rating: 3 stars
Standalone or part of series: Part of the Immortals After Dark series and I highly recommend reading in order. Although, Shadow's Claim is the first book in the Spin-Off series: The Dacians.
Do I recommend this book? Yes, most definitely.
Will I read other books from the author? Yes. She's one of my auto-buy favorite authors.
Tropes/Elements: Fated Mates
Hero: Vampire (Dacian); Assassin; Alpha; Very-Protective
Heroine: Halfling (Sorceress/Demon); Powerless during most of the book; Depends on Others

This post contains affiliate links you can use to purchase the book. If you buy the book using that link, I will receive a small commission from the sale. It will help sponsor future giveaways but costs you nothing extra. You can read the full disclosure underneath the Privacy Policy.
---
---

Latest posts by FranJessca
(see all)