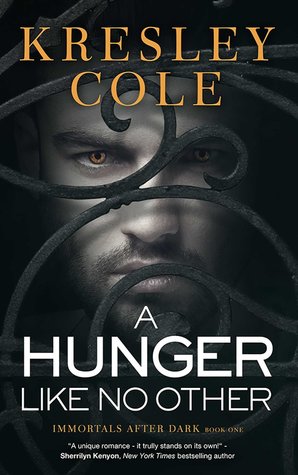 A Hunger Like No Other
by Kresley Cole
Series: Immortals After Dark #2
Published by Pocket Star on April 1st 2006
Genres: Paranormal Romance
Pages: 356
Format: AudioBook
Source: Purchased
Amazon | B&N
Goodreads


In New York Times and USA TODAY bestselling author Kresley Cole's sizzling series, a fierce werewolf and a bewitching vampire become unlikely soul mates whose passion will test the boundaries of life and death.
After enduring years of torture from the vampire horde, Lachlain MacRieve, leader of the Lykae Clan, is enraged to find the predestined mate he's waited millennia for is a vampire. Or partly one. Emmaline Troy is a small, ethereal half Valkyrie/half vampire, who somehow begins to soothe the fury burning within him.
Sheltered Emmaline finally sets out to uncover the truth about her deceased parents—until a powerful Lykae claims her as his mate and forces her back to his ancestral Scottish castle. There, her fear of the Lykae—and their notorious dark desires—ebbs as he begins a slow, wicked seduction to sate her own dark cravings.
Yet when an ancient evil from her past resurfaces, will their desire deepen into a love that can bring a proud warrior to his knees and turn a gentle beauty into the fighter she was born to be?
My Review Continue reading →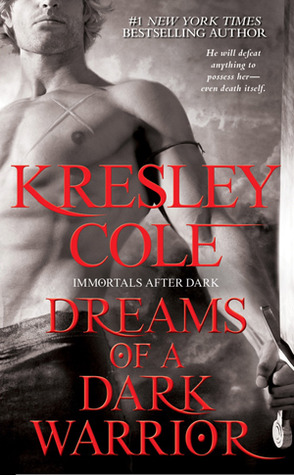 Dreams of a Dark Warrior
by Kresley Cole
Series: Immortals After Dark #11
Published by Pocket on February 15th 2011
Genres: Paranormal Romance
Pages: 515
Format: Paperback
Source: Purchased
Amazon | B&N
Goodreads


From #1 New York Times bestseller Kresley Cole comes this gripping tale of a battle-maddenend warrior driven by revenge and the Valkyrie temptress who haunts his dreams.
He Vowed He'd Come For Her...
Murdered before he could wed Regin the Radiant, warlord Aidan the Fierce seeks his beloved through eternity, reborn again and again into new identities, yet with no memory of his past lives.
She Awaits His Return...
When Regin encounters Declan Chase, a brutal Celtic soldier, she recognizes her proud warlord reincarnated. But Declan takes her captive, intending retribution against all immortals—unaware that he belongs to their world.
To Sate A Desire More Powerful Than Death...
Yet every reincarnation comes with a price, for Aidan is doomed to die when he remembers his past. To save herself from Declan's torments, will Regin rekindle memories of the passion they once shared—even if it means once again losing the only man she could ever love?
My Review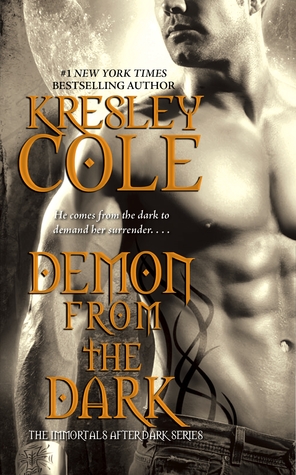 Demon from the Dark
by Kresley Cole
Series: Immortals After Dark #10
Published by Pocket Books on August 24th 2010
Genres: Paranormal Romance
Pages: 430
Format: Paperback
Source: Purchased
Amazon | B&N
Goodreads


From New York Times bestselling author Kresley Cole comes this scorching tale of a demon outcast poisoned with vampire blood and the vulnerable young witch he vows to protect, even from himself.
A DANGEROUS DEMON SHE CAN'T RESIST . . .
Malkom Slaine: tormented by his sordid past and racked by vampiric hungers, he's pushed to the brink by the green-eyed beauty under his guard.
A MADDENING WITCH HE ACHES TO CLAIM . . .
Carrow Graie: hiding her own sorrows, she lives only for the next party or prank. Until she meets a tortured warrior worth saving.
TRAPPED TOGETHER IN A SAVAGE PRISON . . .
In order for Malkom and Carrow to survive, he must unleash both the demon and vampire inside him. When Malkom becomes the nightmare his own people feared, will he lose the woman he craves body and soul?
My Review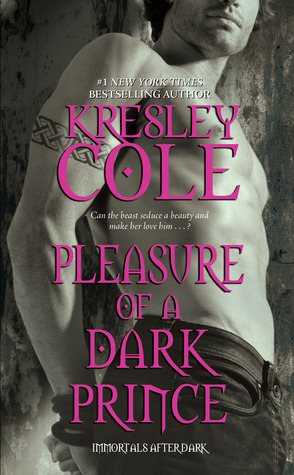 Pleasure of a Dark Prince
by Kresley Cole
Series: Immortals After Dark #9
Published by Pocket Books on February 16th 2010
Genres: Paranormal Romance
Pages: 431
Format: Paperback
Source: Purchased
Amazon | B&N
Goodreads


#1 New York Times bestselling author Kresley Cole enraptures again with this seductive tale of a fierce werewolf prince who will stop at nothing to protect the lovely archer he covets from afar.
A DANGEROUS BEAUTY...
Lucia the Huntress: as mysterious as she is exquisite, she harbors secrets that threaten to destroy her -- and those she loves.
AN UNCONTROLLABLE NEED...
Garreth MacRieve, Prince of the Lykae: the brutal Highland warrior who burns to finally claim this maddeningly sensual creature as his own.
THAT LEAD TO A PLEASURE SO WICKED....
From the shadows, Garreth has long watched over Lucia. Now, the only way to keep the proud huntress safe from harm is to convince her to accept him as her guardian. To do this, Garreth will ruthlessly exploit Lucia's greatest weakness -- her wanton desire for him.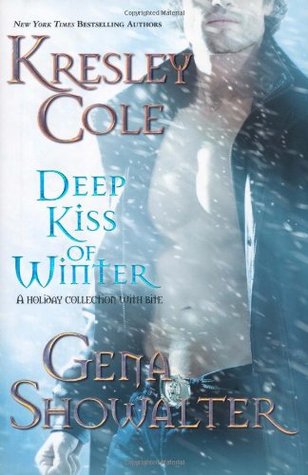 Deep Kiss of Winter
by Kresley Cole, Gena Showalter
Published by Pocket Books on October 13th 2009
Genres: Paranormal Romance
Pages: 426
Format: Hardcover
Source: Purchased
Amazon | B&N
Goodreads


Kresley Cole - Untouchable (Immortals After Dark #8)
#1 NEW YORK TIMES BESTSELLING AUTHOR KRESLEY COLE delivers a breathtaking tale of a brutal vampire soldier about to know love for the first time... and a Valkyrie aching for his touch.
Murdoch Wroth will stop at nothing to claim Daniela - the delicate Valkyrie who makes his heart beat for the first time in three hundred years. Yet the exquisite Danii is part ice fey, and her freezing skin can't be touched by anyone but her own kind without inflicting pain beyond measure. Can they conquer an agony of frustration and slake the overwhelming desire burning between them?
Gena Showalter - Tempt Me Eternally (Alien Huntress #4.5)
NEW YORK TIMES AND USA TODAY BESTSELLING AUTHOR GENA SHOWALTER puts a daring spin on a tale of huntress and hunted... and concocts a sensual chemistry that is positively explosive.
With only skin-to-skin contact, Aleaha Love can change her appearance, assume any identity. Now she's an AIR (Alien Investigation and Removal) agent on a mission to capture a group of otherworldly warriors. Only she is held captive when dangerously seductive Breean, a golden-skinned, iron-willed commander, threatens her new life - and for the first time, Aleaha wants only to be herself.
My Review: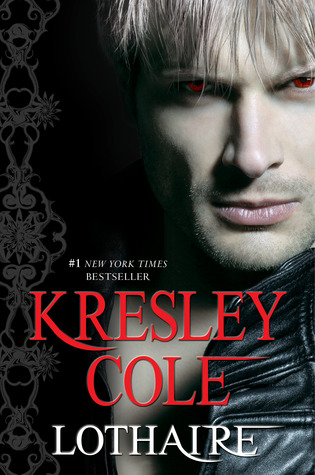 Lothaire
by Kresley Cole
Series: Immortals After Dark #12
Published by Gallery Books on January 10th 2012
Genres: Paranormal Romance
Pages: 468
Format: Hardcover
Source: Purchased
Amazon | B&N
Goodreads


Number-one New York Times best-selling author Kresley Cole continues her electrifying Immortals After Dark series with this thrilling tale, revealing secrets of the Lore, fierce realm of the immortals....
All fear the enemy of old.
Driven by his insatiable need for revenge, Lothaire, the Lore's most ruthless vampire, plots to seize the Horde's crown. But bloodlust and torture have left him on the brink of madness—until he finds Elizabeth Peirce, the key to his victory. He captures the unique young mortal, intending to offer up her very soul in exchange for power, yet Elizabeth soothes his tormented mind and awakens within him emotions Lothaire believed he could no longer experience.
A deadly force dwells within her.
Growing up in desperate poverty, Ellie Peirce yearned for a better life, never imagining she'd be convicted of murder—or that an evil immortal would abduct her from death row. But Lothaire is no savior, as he himself plans to sacrifice Ellie in one month's time. And yet the vampire seems to ache for her touch, showering her with wealth and sexual pleasure. In a bid to save her soul, Ellie surrenders her body to the wicked vampire, while vowing to protect her heart.
Centuries of cold indifference shattered.
Elizabeth tempts Lothaire beyond reason, as only his fated mate could. As the month draws to a close, he must choose between a millennia-old blood vendetta and his irresistible prisoner. Will Lothaire succumb to the miseries of his past—or risk everything for a future with her?
My Review: