ARC Review: 'Munro' by Kresley Cole
January 25, 2022
I received a complimentary copy of the book from the author's assistant in exchange for an honest review. This does not affect my opinion of the book or the content of my review.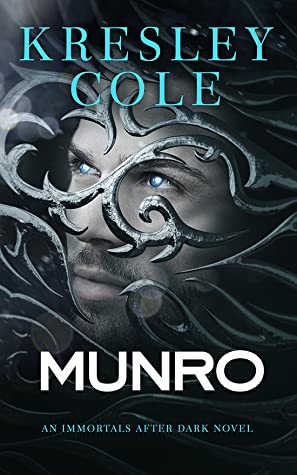 Munro
by
Kresley Cole
Series:
Immortals After Dark #18
Published by
Valkyrie Press
on January 25, 2022
Genres:
Paranormal Romance
Format:
eArc
Goodreads
Purchase at
Amazon
|
Barnes & Noble
|
Kobo

The next stand-alone installment in the electrifying Immortals After Dark series by #1 New York Times best-selling author Kresley Cole. Venture deeper into the Lore, fierce realm of the immortals—if you dare. . . .
TORMENTED IN UNIMAGINABLE WAYS Coming off torture at the hands of his warlock captors, Munro MacRieve never expected to find his mate, or to lose her just as abruptly. Driven to desperation, the ruthless warrior uses his enemies' own powers to reunite with her—in the distant past.
STOLEN FROM HER TIME When a crazed werewolf crashes her wedding, Kereny "Ren" Codrina does what any cunning huntress would do: she captures him. Yet she finds herself softening toward the wounded beast—until he turns the tables and forces her into an incomprehensible future.
CAN A HUMAN AND AN IMMORTAL UNITE IN ORDER TO SURVIVE?As danger mounts, Munro will do anything to make her undying, even sell his soul to an evil sorceress. But first he must convince his fiery mate that she belongs with him. If seduction means her survival, Munro will use every weapon in his arsenal to possess her—forever
---
It's been five years since the last IAD book was released. I know it's been a long time, but believe me, Munro's book is worth the wait. I started re-reading the series to get a refresher in November 2021. I'm still going through my re-read but made time for Munro. Nothing was going to prevent me from reading this book. My husband even let me be when I read it because he knew how much this book meant to me.
Storyline/My Thoughts: First, Kresley, I'm so glad you are back. I have missed you so much! Your IAD series is what got me through the last couple of years I was in the Navy (going through health issues in the early 2010s). When I needed to escape reality, Kresley's books have always been my comfort reads. The characters and the world kept me from falling into depression at times. The minute I opened my kindle and saw Munro, I knew I would be emotional reading it. I couldn't wait to read Munro and Kereny's story and see where Kresley would take me next in the IAD series.
What can I say, without giving anything away for readers who have been waiting for Munro?
If you read the ending of MacRieve and were left hanging, you will get your answers in this book. The first dang chapters of this book are friggin' emotional and what Kresley will put Munro through with the warlocks that captured him, especially when he finds out who his mate is in this book.
Munro is determined to get to his mate and keep her alive more than ever. In this book, Munro tends to be very demanding, but he's a typical alpha being overly protective. He won't budge with things. After finding out about his past, I could understand why he was the way he was when it came to mortals. He also has been through so much to protect his brother, Will. (I'm not sure who is which, Hot or Hotter—Will or Munro, which could they be because they are identical. Will says he is Hotter, but I don't know I think it's Munro.) There were so many moments in this book that made me fall hard for Munro. Yes, he is going on my 'book boyfriend' list. I already have quite a few on my list, thanks to Kresley. She knows how to write male protagonists that make them lovable and unforgettable.
Munro's mate, Kereny, aka Ren, is not some pushover. She's a carnie who knows how to throw a knife perfectly. She's at her wedding when a crazy Lykae crashes her wedding and tells her she is his mate. She is not going to go with him without a fight. I loved Ellie in Lothaire, but I think Ren may become a top favorite female protagonist for me in this series, especially since she's mortal and can kick butt. She did things in this book that no ordinary mortal would ever do if a lore creature captured them. She even does something that leaves me in shock. She did something no one else could do. It was AWESOME! I love her! She was perfect for Munro, and Munro was perfect for her.
There is a lot in this book, so be prepared when you read it. You will get to be reunited with other IAD characters that already had their books: Will and Chloe; Lothaire and Ellie; Lachlain and Emma, etc. I love being back with Lothaire and Ellie. Lothaire is definitely whipped! Ellie knows how to handle the Enemy of Old, and I'm so glad I got some more time with these two characters.
Let's not forget, Nix. Nix is recruiting in this book, but Nix is getting a little crazier. I feel for her. I think I know who she will end up with, but that can change because Kresley knows how to shock her readers. She did with me in this book.
Kresley has left me speechless with surprising moments in this book. I was prepared for one of them, but not that ending. Not that ending! I still can't get over it. My husband got to see my reaction after I read the book.
He said, 'It was that good.'
'NO, IT WAS F***ING FANTASTIC!'
He wishes he had taken a picture of my facial expression after finishing it.
Overall, this book gets five stars from me. I can't wait for the next book in the series. That ending! HOLY CRAP, Kresley! I still am not over it! Dang you woman, how I have missed you! I'm sending virtual hugs to you!
Standalone or Part of Series: It's part of the IAD series, each book could be read as a standalone, but I always recommend reading my FAVE series in order. You will miss out on the earlier books with other IAD characters getting their books.
Steaminess: ⭐️ ⭐️ ⭐️ 💫
Trope(s): Fated Mates
Would I recommend this book? Yes, most definitely. I will shout to the highest mountain that I recommend this book/series to other PNR/Fantasy readers.

This post contains affiliate links you can use to purchase the book. If you buy the book using that link, I will receive a small commission from the sale. It will help sponsor future giveaways but costs you nothing extra. You can read the full disclosure underneath the Privacy Policy.
---
---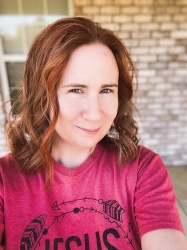 Latest posts by FranJessca
(see all)