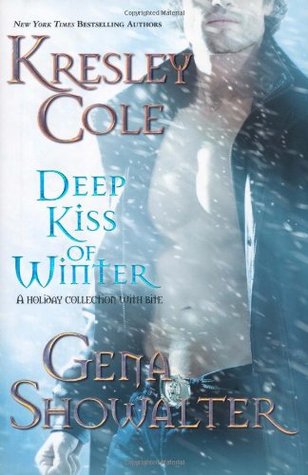 Deep Kiss of Winter
by Kresley Cole, Gena Showalter
Series: Immortals After Dark #8, Alien Huntress #3.5
Published by Pocket Books on October 13th 2009
Genres: Paranormal Romance
Pages: 426
Format: Hardcover
Source: Purchased
Amazon Kindle | Amazon Paperback
Goodreads


Kresley Cole - Untouchable (Immortals After Dark #8)
#1 NEW YORK TIMES BESTSELLING AUTHOR KRESLEY COLE delivers a breathtaking tale of a brutal vampire soldier about to know love for the first time... and a Valkyrie aching for his touch.
Murdoch Wroth will stop at nothing to claim Daniela - the delicate Valkyrie who makes his heart beat for the first time in three hundred years. Yet the exquisite Danii is part ice fey, and her freezing skin can't be touched by anyone but her own kind without inflicting pain beyond measure. Can they conquer an agony of frustration and slake the overwhelming desire burning between them?
Gena Showalter - Tempt Me Eternally (Alien Huntress #4.5)
NEW YORK TIMES AND USA TODAY BESTSELLING AUTHOR GENA SHOWALTER puts a daring spin on a tale of huntress and hunted... and concocts a sensual chemistry that is positively explosive.
With only skin-to-skin contact, Aleaha Love can change her appearance, assume any identity. Now she's an AIR (Alien Investigation and Removal) agent on a mission to capture a group of otherworldly warriors. Only she is held captive when dangerously seductive Breean, a golden-skinned, iron-willed commander, threatens her new life - and for the first time, Aleaha wants only to be herself.
My Review: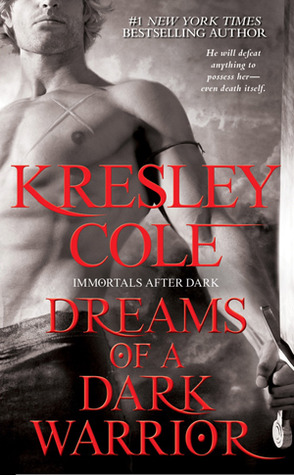 Dreams of a Dark Warrior
by Kresley Cole
Series: Immortals After Dark #11
Published by Pocket on February 15th 2011
Genres: Paranormal Romance
Pages: 515
Format: Paperback
Source: Purchased
Amazon Kindle | Amazon Paperback
Goodreads


From #1 New York Times bestseller Kresley Cole comes this gripping tale of a battle-maddenend warrior driven by revenge and the Valkyrie temptress who haunts his dreams.
He Vowed He'd Come For Her...
Murdered before he could wed Regin the Radiant, warlord Aidan the Fierce seeks his beloved through eternity, reborn again and again into new identities, yet with no memory of his past lives.
She Awaits His Return...
When Regin encounters Declan Chase, a brutal Celtic soldier, she recognizes her proud warlord reincarnated. But Declan takes her captive, intending retribution against all immortals—unaware that he belongs to their world.
To Sate A Desire More Powerful Than Death...
Yet every reincarnation comes with a price, for Aidan is doomed to die when he remembers his past. To save herself from Declan's torments, will Regin rekindle memories of the passion they once shared—even if it means once again losing the only man she could ever love?
My Review