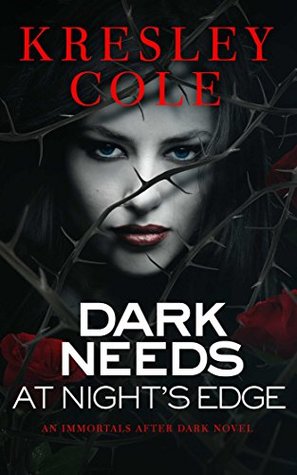 Dark Needs at Night's Edge
by Kresley Cole
Series: Immortals After Dark #5
Published by Pocket Books on April 29, 2008
Genres: Paranormal Romance
Pages: 368
Format: Paperback, AudioBook
Source: Purchased
Amazon Kindle | Amazon Paperback | Audible | Barnes & Noble
Goodreads


Bestselling author Kresley Cole continues her seductive Immortals After Dark series with this tale of a vampire shunned even by his own kind and a beautiful phantom, bound together by a passion they cannot resist.
A RAVEN-HAIRED TEMPTRESS OF THE DARK...
Naomi Laress, a famous ballerina from a past century, became a phantom the night she was murdered. Imbued with otherworldly powers but invisible to the living, she haunts her beloved home, scaring away trespassers -- until she encounters a ruthless
A VAMPIRE WARRIOR CONSUMED BY MADNESS...
To prevent him from harming others, Conrad Wroth's brothers imprison him in an abandoned manor. But there, a female only he can see seems determined to drive him further into madness. The exquisite creature torments him with desire, leaving his body racked with lust and his soul torn as he finds himself coveting her for his own.
HOW FAR WILL HE GO TO CLAIM HER?
Yet even if Conrad can win Naomi, evil still surrounds her. Once he returns to the brutality of his past to protect her, will he succumb to the dark needs seething inside him?
My Review Continue reading →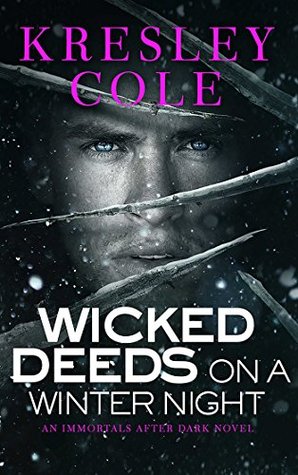 Wicked Deeds on a Winter's Night
by Kresley Cole
Series: Immortals After Dark #4
Published by Simon & Schuster Ltd on November 1st 2007
Genres: Paranormal Romance
Pages: 384
Format: Paperback, AudioBook
Source: Purchased
Amazon Kindle | Amazon Paperback
Goodreads


Bowen MacRieve of the Lykae clan was nearly destroyed when he lost the one woman meant for him. The ruthless warrior grew even colder, never taking another to his bed—until a smoldering encounter with his enemy, Mariketa the Awaited, reawakens his darkest desires. When sinister forces unite against her, the Highlander finds himself using all his strength and skill to keep her alive.

Temporarily stripped of her powers, Mari is forced to take refuge with her sworn adversary. It's rumored that no one can tempt Bowen's hardened heart, but soon passion burns between them. Though a future together is impossible, she fears he has no intention of letting her go.

If they defeat the evil that surrounds them, can Mari deny Bowen when he demands her body and soul—or will she risk everything for her fierce protector?
My Review Continue reading →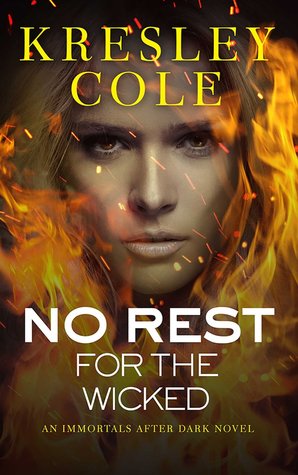 No Rest for the Wicked
by Kresley Cole
Series: Immortals After Dark #3
Published by Pocket Star on October 31, 2006
Genres: Paranormal Romance
Pages: 356
Format: Paperback, AudioBook
Source: Purchased
Amazon Kindle | Amazon Paperback
Goodreads


In this next installment in the Immortals After Dark Series, USA Today Bestselling author Kresley Cole delivers a scorching tale about a forbidding vampire who lives in the shadows and the beautiful assassin who hunts him there.
A vampire soldier weary of life...
Centuries ago, Sebastian Wroth was turned into a vampire—a nightmare in his mind—against his will. Burdened with hatred and alone for ages, he sees little reason to live. Until an exquisite, fey creature comes to kill him, inadvertently saving him instead.
A valkyrie assassin dispatched to destroy him...
When Kaderin the Cold Hearted lost her two beloved sisters to a vampire attack long ago, a benevolent force deadened her sorrow—accidentally extinguishing all of her emotions. Yet whenever she encounters Sebastian, her feelings—particularly lust—emerge multiplied. For the first time, she's unable to complete a kill.
Competitors in a legendary hunt...
The prize of the month-long contest is powerful enough to change history, and Kaderin will do anything to win it for her sisters. Wanting only to win her, forever, Sebastian competes as well, taking every opportunity—as they travel to ancient tombs and through catacombs, seeking relics around the world—to use her new feelings to seduce her. But when forced to choose between the vampire she's falling for and reuniting her family, how can Kaderin live without either?

Continue reading →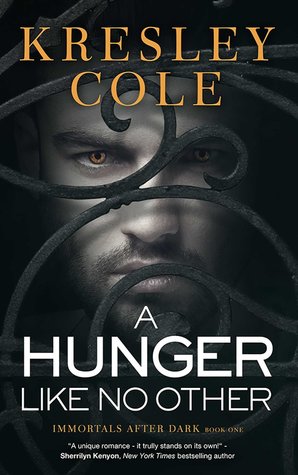 A Hunger Like No Other
by Kresley Cole
Series: Immortals After Dark #2
Published by Pocket Star on April 1st 2006
Genres: Paranormal Romance
Pages: 356
Format: AudioBook
Source: Purchased
Amazon Kindle | Amazon Paperback
Goodreads


In New York Times and USA TODAY bestselling author Kresley Cole's sizzling series, a fierce werewolf and a bewitching vampire become unlikely soul mates whose passion will test the boundaries of life and death.
After enduring years of torture from the vampire horde, Lachlain MacRieve, leader of the Lykae Clan, is enraged to find the predestined mate he's waited millennia for is a vampire. Or partly one. Emmaline Troy is a small, ethereal half Valkyrie/half vampire, who somehow begins to soothe the fury burning within him.
Sheltered Emmaline finally sets out to uncover the truth about her deceased parents—until a powerful Lykae claims her as his mate and forces her back to his ancestral Scottish castle. There, her fear of the Lykae—and their notorious dark desires—ebbs as he begins a slow, wicked seduction to sate her own dark cravings.
Yet when an ancient evil from her past resurfaces, will their desire deepen into a love that can bring a proud warrior to his knees and turn a gentle beauty into the fighter she was born to be?
My Review Continue reading →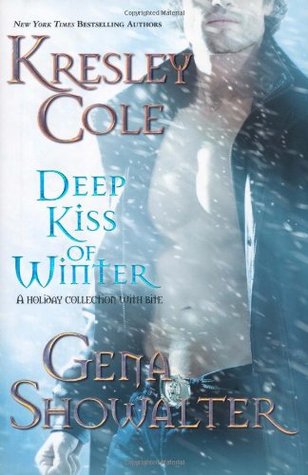 Deep Kiss of Winter
by Kresley Cole, Gena Showalter
Series: Immortals After Dark #8, Alien Huntress #3.5
Published by Pocket Books on October 13th 2009
Genres: Paranormal Romance
Pages: 426
Format: Hardcover
Source: Purchased
Amazon Kindle | Amazon Paperback
Goodreads


Kresley Cole - Untouchable (Immortals After Dark #8)
#1 NEW YORK TIMES BESTSELLING AUTHOR KRESLEY COLE delivers a breathtaking tale of a brutal vampire soldier about to know love for the first time... and a Valkyrie aching for his touch.
Murdoch Wroth will stop at nothing to claim Daniela - the delicate Valkyrie who makes his heart beat for the first time in three hundred years. Yet the exquisite Danii is part ice fey, and her freezing skin can't be touched by anyone but her own kind without inflicting pain beyond measure. Can they conquer an agony of frustration and slake the overwhelming desire burning between them?
Gena Showalter - Tempt Me Eternally (Alien Huntress #4.5)
NEW YORK TIMES AND USA TODAY BESTSELLING AUTHOR GENA SHOWALTER puts a daring spin on a tale of huntress and hunted... and concocts a sensual chemistry that is positively explosive.
With only skin-to-skin contact, Aleaha Love can change her appearance, assume any identity. Now she's an AIR (Alien Investigation and Removal) agent on a mission to capture a group of otherworldly warriors. Only she is held captive when dangerously seductive Breean, a golden-skinned, iron-willed commander, threatens her new life - and for the first time, Aleaha wants only to be herself.
My Review: