Review: 'Pleasure of a Dark Prince' by Kresley Cole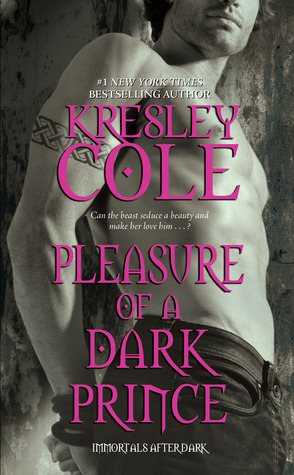 Pleasure of a Dark Prince
by Kresley Cole
Series: Immortals After Dark #9
Published by Pocket Books on February 16th 2010
Genres: Paranormal Romance
Pages: 431
Format: Paperback
Source: Purchased
Amazon Kindle | Amazon Paperback
Goodreads


#1 New York Times bestselling author Kresley Cole enraptures again with this seductive tale of a fierce werewolf prince who will stop at nothing to protect the lovely archer he covets from afar.
A DANGEROUS BEAUTY...
Lucia the Huntress: as mysterious as she is exquisite, she harbors secrets that threaten to destroy her -- and those she loves.
AN UNCONTROLLABLE NEED...
Garreth MacRieve, Prince of the Lykae: the brutal Highland warrior who burns to finally claim this maddeningly sensual creature as his own.
THAT LEAD TO A PLEASURE SO WICKED....
From the shadows, Garreth has long watched over Lucia. Now, the only way to keep the proud huntress safe from harm is to convince her to accept him as her guardian. To do this, Garreth will ruthlessly exploit Lucia's greatest weakness -- her wanton desire for him.
My Review

(Originally Reviewed on Mrs. Papillion aka "The Book Worm")
Oh, yes a WEREWOLF Lover again and a VERY determined Huntress who will stop at nothing to complete the task that she's been doing for a LONG time. These two are a riot. They both are difficult in my opinion, but I love them for it. Garreth will do anything to be with his WOMAN, and Lucia doesn't want anything to do with him. She wants to complete what she must finish. She must finally succumb to Gareth's wishes for him to protect her and then she also discovers the power that she was given, really will never leave her. I won't go into too much detail because I'll give away the story. I loved this story, and I loved Lucia. I still can't believe what happened to her in her past and now I understand why she doesn't want to fall in love or trust anyone. Garreth has been searching for the one for a while and I'm glad he finally meets Lucia and finds out she's his. They both are meant to be.
Again, thanks to Kresley Cole for this amazing storyline. I will love to meet her one day and find out how she came up with these characters and their world. Every book I read from her, feels like I'm right there with the characters. Thank you again, Kresley Cole, for getting me sucked into this WORLD of yours that you created.


I guess I should type a bio here. I'm FranJessca or Fran for short. I'm the owner of Book Lovin' Mamas and main Reviewer. I've been reviewing books since I got out of the Navy in 2011. Now 8 years later, I'm still reviewing, but this time with my youngest sidekick.
When I'm not reading and reviewing, you can find me at my day job during the week and on the weekend taking care of our little farm.

Latest posts by FranJessca (see all)