Review: 'Pleasure of a Dark Prince' by Kresley Cole
December 30, 2021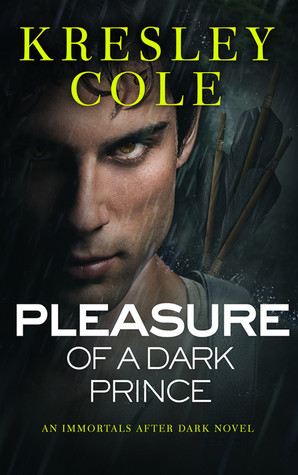 Pleasure of a Dark Prince
by
Kresley Cole
Series:
Immortals After Dark #8
Published by
Pocket Books
on February 16th 2010
Genres:
Paranormal Romance
Format:
AudioBook
,
Paperback
Source:
Purchased
Goodreads
Purchase at
Amazon
|
Barnes & Noble

#1 New York Times bestselling author Kresley Cole enraptures again with this seductive tale of a fierce werewolf prince who will stop at nothing to protect the lovely archer he covets from afar.
A DANGEROUS BEAUTY...
Lucia the Huntress: as mysterious as she is exquisite, she harbors secrets that threaten to destroy her -- and those she loves.
AN UNCONTROLLABLE NEED...
Garreth MacRieve, Prince of the Lykae: the brutal Highland warrior who burns to finally claim this maddeningly sensual creature as his own.
THAT LEAD TO A PLEASURE SO WICKED....
From the shadows, Garreth has long watched over Lucia. Now, the only way to keep the proud huntress safe from harm is to convince her to accept him as her guardian. To do this, Garreth will ruthlessly exploit Lucia's greatest weakness -- her wanton desire for him.
---
( I originally reviewed Pleasure on a Dark Prince on my first book blog, 'Mrs. Papillion aka "The Book Worm" ' back in the day of 2010/2011. This was when I was first blogging, and I was still in the Navy.)
The Pleasure of a Dark Prince is the eighth novel in the Immortals After Dark series by Kresley Cole (ninth if you count The Warlords Wants Forever as the first novel. I count it as a novella.) I was so happy to be back with Lucia and Garreth for the third time. Yes, I've read this book two other times and loved it each time.
Storyline/My Thoughts: Oh, yes, a WEREWOLF Lover again and a very determined Huntress who will stop at nothing to complete the task she's been doing for a LONG time. These two are a riot in this book. They both are problematic, in my opinion, but I love them for it. Garreth MacRieve (Prince of the Lykae) will do anything to be with his fated mate, and Lucia the Huntress is trying everything to give him a hint that she can't be with him. However, Garreth is determined to win her over somehow, even if he can only protect her on her mission. She eventually succumbs to his charm to protect her because who cannot resist his charm of protection. I know I couldn't. (You can save me anytime, Garreth.)
The second time I enjoyed this story was due to Robert Petkoff. He knows how to bring the characters and stories to life. This time around, for the third time, I read it instead. Lucia's character is a kick-butt heroine in the story, and Garreth is a determined protective alpha when it comes to Lucia. In the story, the readers will get a backstory of Lucia and what happened to her, and you will understand why she's on her mission. She doesn't trust easily, and she never falls in love, especially with what happened in the past. I could understand why. Just wait until Garreth finds out the truth. Oh boy! He's not going to be mad, though, in the story. He will react the protective way as every fated mate always reacts towards their heroine. He's going to kick butt when someone messes with their mate.
I loved how Kresley had both characters go on an adventure in the story together. I also enjoyed all the banter between them because they already felt like an old married couple. Garreth, though is my favorite of the two. His reaction to Lucia with certain things, which is so fun. Seriously, I can't say it enough, but I fell hard for him.
Again, thanks to Kresley Cole for this fantastic storyline. I will love to meet her one day and discover how she came up with these characters and their world. Every book I read from her feels like I'm right there with the characters. Thank you again, Kresley Cole, for getting me sucked into this WORLD of yours that you created.
I give this book 4.5-stars and look forward to continuing my re-read of this series. This series will always be my go-to when I need to get out of a reading funk. The characters and world are addicting.
Standalone or Part of Series: It's part of the Immortals After Dark series, and I recommend reading in order.
Steaminess: ⭐️ ⭐️ ⭐️ ⭐️
Trope(s): Fated Mates; Enemies to Lovers
Would I recommend this book? Yes. She's one of my auto-buy favorite authors. Paranormal Romance readers will love this series by Kresley Cole.

This post contains affiliate links you can use to purchase the book. If you buy the book using that link, I will receive a small commission from the sale. It will help sponsor future giveaways but costs you nothing extra. You can read the full disclosure underneath the Privacy Policy.
---
---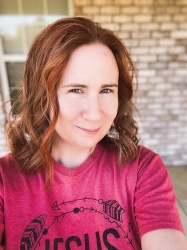 Latest posts by FranJessca
(see all)