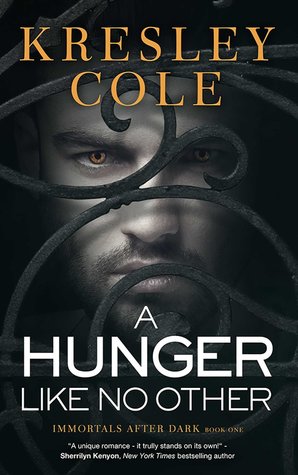 A Hunger Like No Other
by Kresley Cole
Series: Immortals After Dark #2
Published by Pocket Star on April 1st 2006
Genres: Paranormal Romance
Pages: 356
Format: AudioBook
Source: Purchased
Amazon | B&N
Goodreads


In New York Times and USA TODAY bestselling author Kresley Cole's sizzling series, a fierce werewolf and a bewitching vampire become unlikely soul mates whose passion will test the boundaries of life and death.
After enduring years of torture from the vampire horde, Lachlain MacRieve, leader of the Lykae Clan, is enraged to find the predestined mate he's waited millennia for is a vampire. Or partly one. Emmaline Troy is a small, ethereal half Valkyrie/half vampire, who somehow begins to soothe the fury burning within him.
Sheltered Emmaline finally sets out to uncover the truth about her deceased parents—until a powerful Lykae claims her as his mate and forces her back to his ancestral Scottish castle. There, her fear of the Lykae—and their notorious dark desires—ebbs as he begins a slow, wicked seduction to sate her own dark cravings.
Yet when an ancient evil from her past resurfaces, will their desire deepen into a love that can bring a proud warrior to his knees and turn a gentle beauty into the fighter she was born to be?
My Review Continue reading →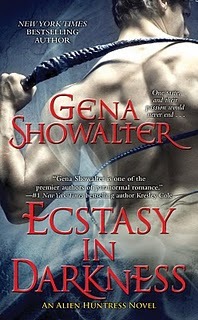 Ecstasy in Darkness
by Gena Showalter
Series: Alien Huntress #5
Published by Pocket Star on October 26th 2010
Genres: Paranormal Romance
Pages: 502
Format: Paperback
Source: Purchased
Amazon | B&N
Goodreads


Growing up poor on New Chicago's meanest streets, Ava Sans had two options: be the predator or be the prey. No contest. Now, working for Alien Investigation and Removal, she's been ordered to capture the biggest, baddest warrior of all—a vampire too beautiful to be real, with the ability to manipulate time. Once the leader of the entire vampire army, McKell has been deemed savage and unstable, spurned even by his own kind.
To McKell, humans should be nothing more than sustenance. Yet the petite, golden-skinned Ava is a fascinating contradiction—vicious yet witty, strong yet vulnerable, lethal but fiercely loyal. Against his better judgment, McKell craves that loyalty, and much more. When the chase leads to seduction, McKell and Ava will race to discover the truth about his past. But the answers will come at a price, even for a woman who thought she had nothing left to lose. . . .
My Review