Re-Post Review: 'Dark Needs at Night's Edge' by Kresley Cole
March 7, 2019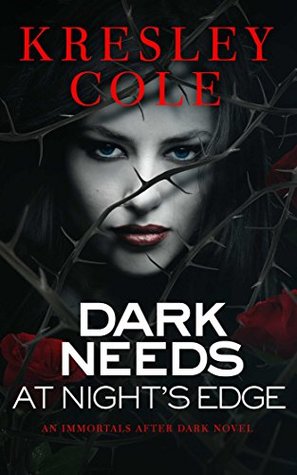 Dark Needs at Night's Edge
by
Kresley Cole
Series:
Immortals After Dark #5
Published by
Pocket Books
on April 29, 2008
Genres:
Paranormal Romance
Format:
Paperback
,
AudioBook
Source:
Purchased
Goodreads
Purchase at
Amazon
|
Apple
|
Google Play
|
Kobo

Bestselling author Kresley Cole continues her seductive Immortals After Dark series with this tale of a vampire shunned even by his own kind and a beautiful phantom, bound together by a passion they cannot resist.
A RAVEN-HAIRED TEMPTRESS OF THE DARK...
Naomi Laress, a famous ballerina from a past century, became a phantom the night she was murdered. Imbued with otherworldly powers but invisible to the living, she haunts her beloved home, scaring away trespassers -- until she encounters a ruthless
A VAMPIRE WARRIOR CONSUMED BY MADNESS...
To prevent him from harming others, Conrad Wroth's brothers imprison him in an abandoned manor. But there, a female only he can see seems determined to drive him further into madness. The exquisite creature torments him with desire, leaving his body racked with lust and his soul torn as he finds himself coveting her for his own.
HOW FAR WILL HE GO TO CLAIM HER?
Yet even if Conrad can win Naomi, evil still surrounds her. Once he returns to the brutality of his past to protect her, will he succumb to the dark needs seething inside him?
First Read: March 2010
Second Read: August 2014
Third Read (Listened): March 2019
I'm slowing but surely going back to re-read the IAD series from Kresley Cole, but this time I'm listening to them. It's all thanks to the Fated Mates Podcast. I love listening to the podcast after I've listened to the books because they reveal so much of why I picked up this series back in 2009/2010 when I was in the Navy. I love this series and I friggin' love the characters. I'm anxiously waiting for Nix's book. She's my all-time favorite character of the series because she's so quirky and funny. She's ever-knowing too.
I'm also loving the fact that I'm listening to the books instead of reading them. I'm enjoying every bit of the narrator Robert Petkoff's way of bringing my favorite characters to life through his voice. I swear Robert is a genius at getting the characters accents and tones perfectly for Kresley Cole's IAD series. The man is impressive, and I can't say it enough that I highly recommend listening to this series on audio. Robert has become one of my favorite narrators to listen to, and I only wish I could have him as the voice of my GPS instead of that annoying lady I have to listen to in my car. He would make it more enjoyable to get through roads I've never driven on before. I wouldn't even mind if he got the directions wrong to where I was going. =)
If there is one thing I love about re-reading (or in this case listening), a book is that I get to enjoy going back into a story I loved. Dark Needs at a Night's Edge was one of my favorites when I read it first in 2010/2014. I couldn't wait to dive into learning more about Conrad Wrath and which female character would win him over. He is a Wroth, but he's not like his brothers. He's too consumed into his bloodlust and hating his brothers for what they did to him in the past.
Unfortunately, he never thought a sweet female would change his mind about his current situation his brothers put him in. His brothers have imprisoned him in an old home in Louisiana to get him better hopefully, but he's not going to make it easy for them. He has a phantom bugging him always in the residence he is now confined to live in at the moment. No one else can see her but him, and he's intrigued by her. Naomi was once a famous ballerina, but she was murdered one night, and she haunts her home to keep away trespassers, but the minute she meets Conrad, she realizes there are scarier creatures out there that she didn't know about in her life.
She's intrigued by Conrad and the rest of the other world creatures though and is also happy that someone else can finally see her. The handsome vampire also attracts her.Kresley Cole did a beautiful job on making such a ruthless character show a different side. Conrad never wanted to become what he was, and he had it rough from the beginning of accepting the change. I felt sympathetic for him since the moment he was mentioned in previous books. He was the long-lost Wroth brother, and I was ready to learn more about the ruthless brother. It takes a beautiful ballerina phantom to show Conrad what he is capable of being a sweet guy.
I love how Conrad and Naomi's relationship grew in the book. It wasn't easy, but it was well worth it. They were perfect together. Naomi's murder is a somber story, so be prepared for some emotional moments. The poor girl needed some closure for what happened to her. I won't go into the story anymore because I don't want to give anything away. If you read the previous book, you'll recognize the other characters that appear in this book that make an appearance. They play a significant role in this book with the main characters. I loved Conrad and Naomi's love story because of how difficult it was to get these two together, due to how different they were personally and physically wise. I'm diving into the next book in the IAD series now, while I type up this review. I'm having a hard time stopping my re-read/re-listen of this series. I'm catching up on the podcasts of the Fated Mates podcasts. 🙂
---
Story Rating: 5 stars
Steaminess Rating: 4 stars
Standalone or part of series: Part of the Immortals After Dark series and I highly recommend reading in order.
Do I recommend this book? Yes, most definitely. I highly recommend this series to PNR readers out there.
Will I read other books from the author? Yes. She's one of my auto-buy favorite authors.
Tropes/Elements: Fated Mates.
Hero: Vampire; Alpha; Virgin
Heroine: Ballet Dancer who was killed in the Twenties by a Scorned Lover; Ghost

This post contains affiliate links you can use to purchase the book. If you buy the book using that link, I will receive a small commission from the sale. It will help sponsor future giveaways but costs you nothing extra. You can read the full disclosure underneath the Privacy Policy.
---
---

Latest posts by FranJessca
(see all)