Review: 'Dark Desires After Dusk' by Kresley Cole
December 11, 2021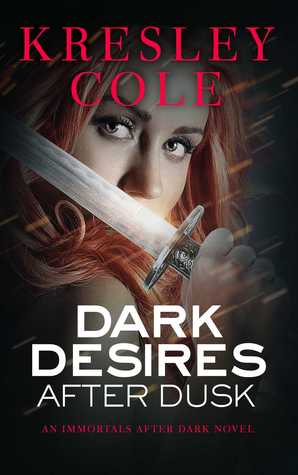 Dark Desires After Dusk
by
Kresley Cole
Series:
Immortals After Dark #5
Published by
Simon & Schuster
on May 20, 2008
Genres:
Paranormal Romance
Format:
AudioBook
,
Paperback
Source:
Purchased
Goodreads
Purchase at
Amazon
|
Barnes & Noble

RITA Award-winning author Kresley Cole continues her bestselling Immortals After Dark series with this electrifying tale of a ruthless demon mercenary and the lovely young halfling who enchants him.
A seductive beauty he can never have, yet can't resist...Cadeon Woede will stop at nothing to atone for the one wrong that will haunt him forever. But once he secures the key to his redemption, the halfling Holly Ashwin, Cade finds that the woman he thought he could use for his own ends and then forget haunts him as much as his past.
A tormented warrior she should fear, but can't deny... Raised as a human, Holly never knew that some frightening legends are real until she encounters a brutal demon who inexplicably guards her like a treasure. Thrust into a sensual new world of myth and power, with him as her protector, she begins to crave the demon's wicked touch.
Surrender to dark desires...Yet just when he earns Holly's trust, will Cade be forced to betray the only woman who can sate his wildest needs -- and claim his heart?
---
First Read: April 2010
Second Read: December 2014
Third Read (Listened): March 2019
Fourth Read: December 3 – 20, 2021
I've managed to read Dark Desires After Dusk four times now. Each time I read this series, I fall harder for all the characters and the world Kresley Cole has created. I was excited to dive back again into Cadeon and Holly's book. This was one of the books I enjoyed reading/listening to because I connected well with the female heroine's personality traits. I also liked Cadeon because he's the demon prince trying everything to redeem himself after losing his brother his crown.
Storyline/My Thoughts: If you've read the previous books, you would've been introduced to Cadeon and Rydstrom, who are the Woede 'Rage Demon' brothers. They both appeared in Mariketa and Bowen's and Conrad and Neomi's books.
Each brother is different when it comes to personality. I couldn't wait to see who they both ended up with within their books. Cadeon seems to be the cocky one of the bunch on a mission to get his brother's crown back that he lost nine hundred years ago. (Yes, he has a lot to make up for when it comes to getting back into his brother's good graces.)Rydstrom, on the other hand, seems to be the well-behaved demon of the two. (Although after I read his book, which is after Cadeon's, I changed my mind on how I perceived him.)
In Dark Desires After Dusk, Cadeon is about to find out his fated mate, Holly Ashwin, who he thought was utterly human for a long time, is not human. She ends up getting kidnapped, and she's about to change into one of the Lore creatures. Holly has no idea about Lore, so she's thrown into a crazy world, and that's not all she's going to have to deal with after Cadeon comes into her life to save her.
Cadeon, though, may have to betray his fated mate by handing her over to a sorcerer to receive something he needs for his brother to win back his crown finally.
I enjoyed Cadeon's and Holly's book because of the constant banter when they traveled together. One of the best scenes between the two was when Cadeon was confused with Holly's programming code talk, but he googled to find some information to understand her. I found it sweet. It reminded me of my husband and my IT talk with him since he always gave me a deer in the headlights look when I talked about my job. 🤣
I had a hard time putting down this book because it surprised me with some parts, especially what happened to Rydstrom. Kresley Cole does a fantastic job of having storylines connect. I knew she would go deeper into what happened to Rydstrom in his book, and she had me on the edge of my seat waiting to find out about it. It was remarkable how everything connected. (I can't say it enough, but Kresley is an incredible friggin' writer.) The big kicker was when Cadeon ended up confronting his brother at the end, and then Rydstrom was not the same. Cadeon was so confused. Here it was; Cadeon had gone through so much with getting Holly to the destination and him almost losing her. He got what was needed for his brother, and Cadeon ends up shocked by his brother's reaction. It's crazy, and I loved it.
At the ending of the book, though, let's say that Holly was the kick-butt character of this story, which is why she's the winner in my eyes. I adored her every minute in this book. I'm so glad she also decided to change her decision from the story's beginning. (Nope, not telling.)
Once you finish this story, I highly recommend reading the next book because Kresley gives readers more Cadeon and Holly too in Rydstrom's story. Be prepared for a different Rydstrom in his story. I know I was expecting a sweet Rydstrom. Well, he's not the same Demon King. You'll understand why once you meet his fated mate. =)
I give this book 4.5 stars and can't wait for my re-read of Rydstrom's book. I can't get enough of the Immortals After Dark series.
Standalone or Part of Series: It's part of the Immortals After Dark series and I highly recommend reading in order.
Steaminess: ⭐️ ⭐️ ⭐️ 💫
Trope(s): Fated Mates; Opposite's Attract
Would I recommend this book? Yes, most definitely.

This post contains affiliate links you can use to purchase the book. If you buy the book using that link, I will receive a small commission from the sale. It will help sponsor future giveaways but costs you nothing extra. You can read the full disclosure underneath the Privacy Policy.
---
---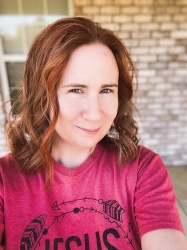 Latest posts by FranJessca
(see all)