Review: 'Demon from the Dark' by Kresley Cole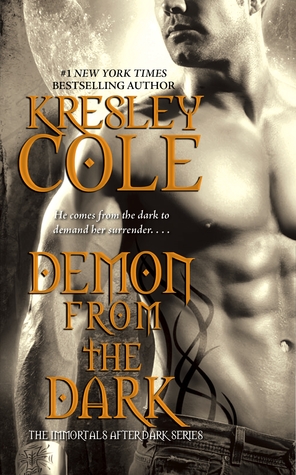 Demon from the Dark
by Kresley Cole
Series: Immortals After Dark #10
Published by Pocket Books on August 24th 2010
Genres: Paranormal Romance
Pages: 430
Format: Paperback
Source: Purchased
Amazon Kindle | Amazon Paperback
Goodreads


From New York Times bestselling author Kresley Cole comes this scorching tale of a demon outcast poisoned with vampire blood and the vulnerable young witch he vows to protect, even from himself.
A DANGEROUS DEMON SHE CAN'T RESIST . . .
Malkom Slaine: tormented by his sordid past and racked by vampiric hungers, he's pushed to the brink by the green-eyed beauty under his guard.
A MADDENING WITCH HE ACHES TO CLAIM . . .
Carrow Graie: hiding her own sorrows, she lives only for the next party or prank. Until she meets a tortured warrior worth saving.
TRAPPED TOGETHER IN A SAVAGE PRISON . . .
In order for Malkom and Carrow to survive, he must unleash both the demon and vampire inside him. When Malkom becomes the nightmare his own people feared, will he lose the woman he craves body and soul?
My Review
(Originally Reviewed on Mrs. Papillion aka "The Book Worm")
My thoughts about Malkom and Carrow: All I can say is that they are in love and they are PERFECT for each other. From the moment Carrow and Malkom meet each other, it's a match made in HEAVEN. And yes I said, Heaven. Malkom is the tough-loving guy who will protect you to the very end, even though he's been through a lot. Carrow loves her loved ones and will do anything for them since she has been kidnapped and so has her adopted daughter. She is forced to bring Malkom back to her world because he is a VENOM and believe me; he's different from any VENOM. He has never been caught, and he denied everything until he meets the Witch who strolls him away from everything he's ever known. Now they both need to face it and realize they are in LOVE with each other. I have to say Malkom has become one of my FAVE male characters in the Immortals After Dark Series. He sounds very Yummy, is strong and very loving to whoever he cares about in his life.
Thanks to Kresley Cole for letting me have a fix of Immortals After Dark. I have to give the book 5 stars and two thumbs up because I couldn't put it down. It took me a while to read, but that's because I was super busy the last couple of months. When I finally finished it was upset. I loved this book, and I recommend it to anyone to read. Can't wait for the next book in the series which will be about one of my other FAVE female characters. I can't wait!!!


I guess I should type a bio here. I'm FranJessca or Fran for short. I'm the owner of Book Lovin' Mamas and main Reviewer. I've been reviewing books since I got out of the Navy in 2011. Now 8 years later, I'm still reviewing, but this time with my youngest sidekick.
When I'm not reading and reviewing, you can find me at my day job during the week and on the weekend taking care of our little farm.

Latest posts by FranJessca (see all)