Review: 'Demon from the Dark' by Kresley Cole
January 3, 2022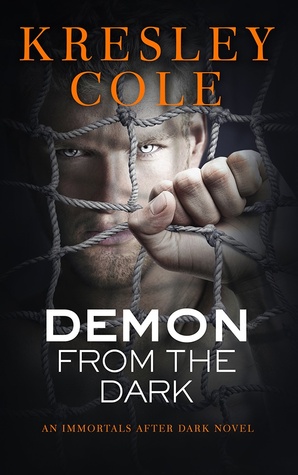 Demon from the Dark
by
Kresley Cole
Series:
Immortals After Dark #9
Published by
Pocket Books
on August 24th 2010
Genres:
Paranormal Romance
Format:
AudioBook
,
Paperback
Source:
Purchased
Goodreads
Purchase at
Amazon
|
Barnes & Noble

From New York Times bestselling author Kresley Cole comes this scorching tale of a demon outcast poisoned with vampire blood and the vulnerable young witch he vows to protect, even from himself.
A DANGEROUS DEMON SHE CAN'T RESIST . . .
Malkom Slaine: tormented by his sordid past and racked by vampiric hungers, he's pushed to the brink by the green-eyed beauty under his guard.
A MADDENING WITCH HE ACHES TO CLAIM . . .
Carrow Graie: hiding her own sorrows, she lives only for the next party or prank. Until she meets a tortured warrior worth saving.
TRAPPED TOGETHER IN A SAVAGE PRISON . . .
In order for Malkom and Carrow to survive, he must unleash both the demon and vampire inside him. When Malkom becomes the nightmare his own people feared, will he lose the woman he craves body and soul?
---
(I originally read/reviewed Demon from the Dark on my previous blog, 'Mrs. Papillion, aka "The Book Worm," back in 2010. I'm revising my review again after reading the book for the third time in 2022.)
Storyline/My Thoughts: The first time I read Demon from the Dark, I fell for Malkom Slaine immediately since his story touched my heart and soul. Here he was a male protagonist who had gone through a lot as a blood/sex slave and being betrayed by his mother and then his own best friend. He has to be one of my favorite male protagonists of the series, and I can understand his trust issues after reading/listening to his book.
Then there's the female protagonist in the story who happens to be his mate, Carrow Graie, who some evil humans have kidnapped. She's with other lore characters on 'Torture Island,' but instead of torturing her, they have tasked her to bring back someone to the island, which happens to be Malkom. If she doesn't, they will harm someone she cares about dearly, and when she meets Malkom, she never expects he's her destined mate in the story.
My thoughts about Malkom and Carrow: All I can say is that they are PERFECT for each other. Both have had different issues in their lives, especially regarding their parents. Malkom never met his father, and his mother sold him to his master, who used and abused him. He never really knew love. Carrow had parents that didn't want anything to do with her, so she never felt love from her parents, either. Her only love had come from the other witches in her life.
From the moment Carrow and Malkom meet, there are trust issues for different reasons. Carrow keeps a big secret from Malkom when she first meets him and gains his trust, and I wish she would've been upfront with him.
I loved these two characters because they may not see it at first, but they are meant for each other in every way. Carrow is the mischievous witch that everyone knows about, and Malkom is the one everyone fears for what he is, but he's not a scary lore creature at all. I don't think he is at all.
Be prepared to have some reunion of characters from previous books in this book. It becomes a big search party since every lore creature has a loved one on 'Tortured Island.' I love how Kresley wrote this book and led up to other characters' books in the series. This is one of many reasons why Kresley Cole is the Queen of Paranormal Romance to me because every book in this series links to others. It's fantastic.
This book focuses a lot on 'Torture Island' and bad guys being humans torturing the lore, and there is so much more going on that I don't want to give away any spoilers.
This is one of my favorite books in the series, so I'm giving it five stars. This is the one book I'll be glad to read over and over again because I loved Malkom and Carrow.
Standalone or Part of Series: It's part of the Immortals After Dark series, and I highly recommend reading in order.
Steaminess: ⭐️ ⭐️ ⭐️ ⭐️
Trope(s): Fated Mates; Enemies to Lovers
HEA: Yes.
Would I recommend this book? Yes, most definitely. It's one of my favorites in the series, so I'm going to gush about it. I recommend this whole series to Paranormal Romance readers and fans of Kresley Cole.

This post contains affiliate links you can use to purchase the book. If you buy the book using that link, I will receive a small commission from the sale. It will help sponsor future giveaways but costs you nothing extra. You can read the full disclosure underneath the Privacy Policy.
---
---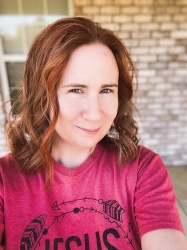 Latest posts by FranJessca
(see all)