Review: 'Wicked Deeds on a Winter's Night' by Kresley Cole
November 29, 2021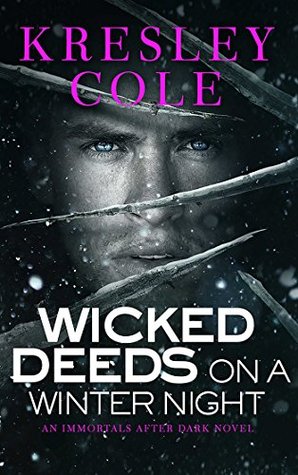 Wicked Deeds on a Winter's Night
by
Kresley Cole
Series:
Immortals After Dark #3
Published by
Simon & Schuster Ltd
on September 24, 2007
Genres:
Paranormal Romance
Format:
AudioBook
,
Paperback
Source:
Purchased
Goodreads
Purchase at
Amazon
|
Barnes & Noble

Bowen MacRieve of the Lykae clan was nearly destroyed when he lost the one woman meant for him. The ruthless warrior grew even colder, never taking another to his bed—until a smoldering encounter with his enemy, Mariketa the Awaited, reawakens his darkest desires. When sinister forces unite against her, the Highlander finds himself using all his strength and skill to keep her alive.

Temporarily stripped of her powers, Mari is forced to take refuge with her sworn adversary. It's rumored that no one can tempt Bowen's hardened heart, but soon passion burns between them. Though a future together is impossible, she fears he has no intention of letting her go.

If they defeat the evil that surrounds them, can Mari deny Bowen when he demands her body and soul—or will she risk everything for her fierce protector?
---
First Read: March 2010
Second Read: June 2014
Third Read (Listened): February 2019
Fourth Read: November 22 – 27, 2021
I read this book back in 2010 for the first time. I re-read it in 2014 and then listened to it in February 2019 (Thanks to the Fated Mates Podcast). Now, for the fourth time, I re-read it in November 2021 to prepare for the next book, which will be released in 2022. I was into binge reading back into 2010 and finally reviewed it in 2014. I'm going through my reviews again to ensure I didn't miss anything that I enjoyed about the IAD books.
Storyline/My Thoughts: In 2010, I didn't enjoy this book like the others because of the male character Bowen. Oh, how I was not too fond of his character. I had my reasons because of the way he treated Mariketa at first. If you read the previous book, you would know why I didn't like him. Although, after finally listening to this book in 2019, I finally understood and liked Bowen better. (I highly recommend listening to this book thanks to the narrator)
Kresley Cole managed to tell certain parts of the previous book in this book. I will always be amazed at how her books continue the story with different characters and different perspectives of specific situations that have already happened. She is a master of telling a story with her characters and world-building like crazy. That is just a couple of reasons why Kresley will always be one of my favorite paranormal romance authors.
In Wicked Deeds of a Winter's Night, the story picks up where Bowen has to save Mariketa from the cave; he had put her in. Yup, he has to save the witch that cursed him. He believes she put one curse on him and another one that enchanted him to desire her. (Bowen is going to meet his match, and Kresley Cole did a fantastic job on giving him a character that put him through the wringer) Mariketa is making friends in that cave who are protecting her. She's not fully immortal yet, so the demons in the caves with her are determined to keep her safe. She is the witch that supposedly is going to be more powerful than others. When Bowen goes to rescue her, Mari doesn't make it easy for him. Bowen lost his mate a long time ago, and he was hoping to get back from winning the prize from the competition they were in together. If you read the previous book, you'll understand why Bowen is depressed in this book. He's only depressed for a little while, though, because he's starting to gain feelings for the problematic witch. I could go on and on about this book. I don't want to ruin it for anyone who hasn't read this book/series yet.
The banter between the two main characters is what makes the book enjoyable. I love these two together. Mari was not the timid female witch in this book, and I adored her in every turn of the book because of how she handled Bowen. The very ending of this book is what was a shocker, and the narrator told it better than me having to read it. I love Robert Petkoff. He's become one of my many favorite narrators. He gets into character for each character in the books. I love his accents for the demon characters that even played a role in this book and can't wait to re-listen to their books. If you haven't read/listened to these books and are a fan of paranormal romance, I highly recommend Kresley Cole's Immortal After Dark series. I'm so glad I'm making time to do another re-read before Munro releases beginning of 2022. 2022 is going to be the best year yet for the most-anticipated books, thanks to Kresley Cole. I've missed my favorite PNR author.
Standalone or Part of Series: Its part of the Immortals After Dark series, and I recommend reading in order.
Steaminess: ⭐️ ⭐️ ⭐️ 💫
Tropes: Fated Mates; Enemies-to-Lovers; Forced Proximity
Do I recommend this book? Yes. I give this book 4.5 stars and highly recommend it to PNR readers.
Will I read other books from this author? Yes. She's one of my auto-buy favorite authors.

This post contains affiliate links you can use to purchase the book. If you buy the book using that link, I will receive a small commission from the sale. It will help sponsor future giveaways but costs you nothing extra. You can read the full disclosure underneath the Privacy Policy.
---
---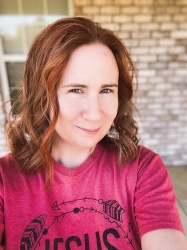 Latest posts by FranJessca
(see all)