Review: 'Wicked Deeds on a Winter's Night' by Kresley Cole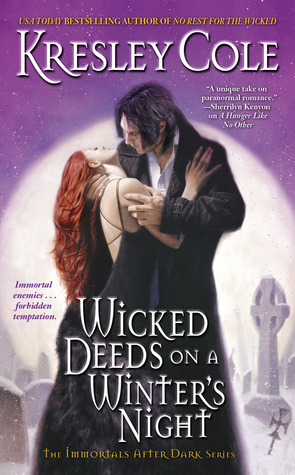 Wicked Deeds on a Winter's Night
by Kresley Cole
Series: Immortals After Dark #4
Published by Simon & Schuster Ltd on November 1st 2007
Genres: Paranormal Romance
Pages: 384
Format: Paperback, AudioBook
Source: Purchased
Amazon Kindle | Amazon Paperback
Goodreads


USA Today bestselling author Kresley Cole delivers a tale about a jaded werewolf and a captivating young witch, adversaries with a vendetta between them.
My Review
First Read: April 2010
Second Read: June 2014
I read this book back in 2010 and finally got a chance to re-read this year (2014).  I never reviewed it back in 2010, so now here's my chance too.  I was into binge reading back into 2010 and not reviewing, but I'm correcting it now by doing re-reads.
In 2010, I didn't enjoy this book like the others because of the male character Bowen.  Oh, how I hated his character. I had my reasons because the way he treated Mariketa at first.  If you read the previous book, you would know why I didn't like him.  Although, after listening to this book I finally was able to understand and like Bowen better.  (I highly recommend listening to this book thanks to the narrator)
Kresley Cole managed to tell certain parts of the previous book in this book.  I will always be amazed at how she has her books continue the story with different characters and different perspectives of certain situations that have already happened.  She is a master of telling a story with her characters and world-building like crazy.  This is just a couple of reasons why Kresley will always be one of my favorite paranormal romance authors.
In Wicked Deeds of a Winter's Night, the story picks up where Bowen has to save Mariketa from the cave; he had put her in.  Yup…he has to save the witch that cursed him.  He believes she not only put one curse on him but another one that enchanted him to desire her.  (Bowen is going to meet his match, and Kresley Cole did a fantastic job on giving him a character that put him through the wringer) Mariketa is making friends in that cave who are protecting her.  She's not full immortal yet, so the demons in the caves with her are determined to keep her safe.  She is the witch that supposedly that is going to be more powerful than others.  When Bowen goes to rescue her, Mari doesn't make it easy for him.  (I adored her in every turn of the book because how she handled Bowen.)
Bowen lost his mate a long time ago, and he was hoping to get back from winning the prize from the competition they were in together.  If you read the previous book, you'll understand why Bowen is depressed in this book.  He's only depressed for a little while though because he's starting to gain feelings for the problematic witch.
I could go on and on about this book, but for anyone who hasn't read this series yet…I'll quit now.  =)  I initially gave this book 3.75 moons back in 2010.  It didn't grasp my attention as the others did and because of Bowen, but the second read of it did it justice.  Maybe because I did not binge read this time. I know I will end up reading this book and the others all over again, but the IAD series will always be a favorite of mine.
I give this book 4.5 moons now and will continue listening to the series in audio because it gets me through them faster, especially when I have things to do around the house.


I guess I should type a bio here. I'm FranJessca or Fran for short. I'm the owner of Book Lovin' Mamas and main Reviewer. I've been reviewing books since I got out of the Navy in 2011. Now 8 years later, I'm still reviewing, but this time with my youngest sidekick.
When I'm not reading and reviewing, you can find me at my day job during the week and on the weekend taking care of our little farm.

Latest posts by FranJessca (see all)