Library Book Review: 'The Hating Game' by Sally Thorne
November 30, 2021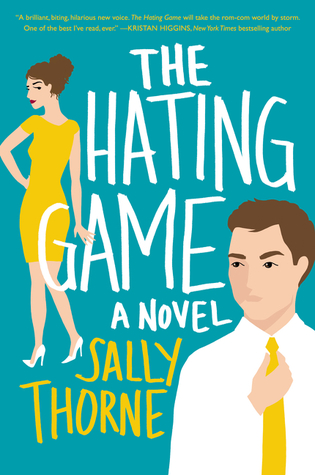 The Hating Game
by
Sally Thorne
Published by
William Morrow Paperbacks
on May 16, 2019
Genres:
Contemporary Romance
Format:
Paperback
Source:
Library
Goodreads
Purchase at
Amazon
|
Barnes & Noble
|
Kobo

Debut author Sally Thorne bursts on the scene with a hilarious and sexy workplace comedy all about that thin, fine line between hate and love.

Nemesis (n.) 1) An opponent or rival whom a person cannot best or overcome;2) A person's undoing;3) Joshua Templeman.

Lucy Hutton and Joshua Templeman hate each other. Not dislike. Not begrudgingly tolerate. Hate. And they have no problem displaying their feelings through a series of ritualistic passive aggressive maneuvers as they sit across from each other, executive assistants to co-CEOs of a publishing company. Lucy can't understand Joshua's joyless, uptight, meticulous approach to his job. Joshua is clearly baffled by Lucy's overly bright clothes, quirkiness, and Pollyanna attitude.
Now up for the same promotion, their battle of wills has come to a head and Lucy refuses to back down when their latest game could cost her her dream job…But the tension between Lucy and Joshua has also reached its boiling point, and Lucy is discovering that maybe she doesn't hate Joshua. And maybe, he doesn't hate her either. Or maybe this is just another game.
---
I found out on Instagram that The Hating Game has been made into a movie and will be released in December 2021. I thought it was finally time to read the book after having it on my TBR for a while now. I always try to read the book before seeing the movie/tv show that the book has adapted. (Sometimes that doesn't work out, but in this case, it did.) Thanks to my local library for having a copy for me to borrow to tackle reading The Hating Game finally. 
Storyline/My Thoughts: Firstly, The Hating Game is the first book I've read by author Sally Thorne. I'm going to admit right away I almost DNF'd this book because I wouldn't say I liked how it was told from only one point of view, and Lucy was driving me crazy. Her details on certain situations were confusing at times if that makes sense. I wish I could've gotten Josh's point of view, but I know it probably would've taken away with where Sally Thorne was having the story go as far as Lucy and Josh's relationship together. 
What did I enjoy about this book that prevented me from DNFing?
The Enemies to Lovers Trope is what kept me reading. Lucy and Josh work together at a publishing company. Neither of them likes each other and makes it challenging to work together. The HR department doesn't even like these two working together. I actually liked these two characters interacting with each other. (I did wish I could've been inside of Josh's head to see his reaction to Lucy.) They both were fighting over a new managerial position that their bosses had created in their company—the constant banter on who was going to get the position kept the book interesting.
The minute Josh and Lucy are due to get together, Josh is very respectful of boundaries. He doesn't want to take it too far and doesn't want Lucy to forget about him. Lucy was the one who couldn't handle waiting when it came to Josh. She was confused the whole time.
I liked getting to know both characters and their backgrounds. Josh is from a family of doctors, and Lucy is from a small-town farm living and now lives in the big city.
Here's a couple of things that bothered me, though, with the book:
The ending. It felt incomplete, and I really wish there would've been an epilogue. I felt that there was no actual conclusion and happily ever after with the characters.
There was an issue with Lucy at first since the book was only told from her point of view. She drove me crazy at times with how she handled certain situations, and she described everything. Some of it didn't make sense. (I've stated above in my review.)
Other than those two things, I did like the book. I give it four stars and hope to read more from Sally Thorne soon.
Standalone or Part of Series: It's a standalone book.
Steaminess: ⭐️ ⭐️
Trope: Enemies to Lovers; Office Romance; One-Bed; Forced Proximity
HEA: Yes. (somewhat) I wish there had been a epilogue to this book.
Would I recommend this book? Yes. If you enjoy Contemporary Romance, that involves the tropes above that I listed.

This post contains affiliate links you can use to purchase the book. If you buy the book using that link, I will receive a small commission from the sale. It will help sponsor future giveaways but costs you nothing extra. You can read the full disclosure underneath the Privacy Policy.
---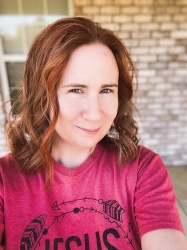 Latest posts by FranJessca
(see all)