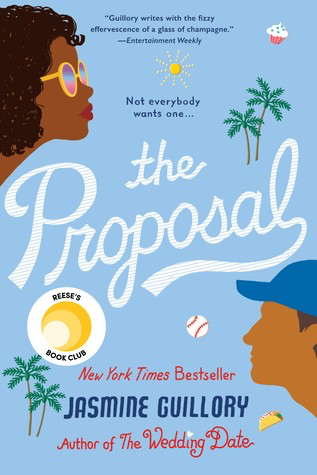 The Proposal
by Jasmine Guillory
Series: The Wedding Date #2
Published by Berkley Books on October 30, 2018
Genres: Contemporary Romance
Pages: 325
Format: Paperback
Source: Library
Amazon Kindle | Amazon Paperback | Audible | Barnes & Noble | Kobo
Goodreads


The author of The Wedding Date serves up a novel about what happens when a public proposal doesn't turn into a happy ending, thanks to a woman who knows exactly how to make one on her own...
When someone asks you to spend your life with him, it shouldn't come as a surprise--or happen in front of 45,000 people.
When freelance writer Nikole Paterson goes to a Dodgers game with her actor boyfriend, his man bun, and his bros, the last thing she expects is a scoreboard proposal. Saying no isn't the hard part--they've only been dating for five months, and he can't even spell her name correctly. The hard part is having to face a stadium full of disappointed fans...
At the game with his sister, Carlos Ibarra comes to Nik's rescue and rushes her away from a camera crew. He's even there for her when the video goes viral and Nik's social media blows up--in a bad way. Nik knows that in the wilds of LA, a handsome doctor like Carlos can't be looking for anything serious, so she embarks on an epic rebound with him, filled with food, fun, and fantastic sex. But when their glorified hookups start breaking the rules, one of them has to be smart enough to put on the brakes...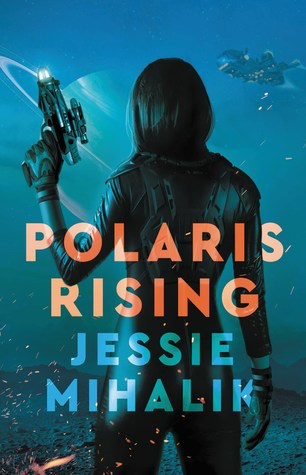 Polaris Rising
by Jessie Mihalik
Series: Consortium Rebellion #1
Published by Harper Voyager on February 5, 2019
Pages: 448
Format: Paperback
Source: Library
Amazon Kindle | Amazon Paperback | Audible | Barnes & Noble | Google Play | Kobo
Goodreads


A space princess on the run and a notorious outlaw soldier become unlikely allies in this imaginative, sexy space opera adventure—the first in an exciting science fiction trilogy.
In the far distant future, the universe is officially ruled by the Royal Consortium, but the High Councillors, the heads of the three High Houses, wield the true power. As the fifth of six children, Ada von Hasenberg has no authority; her only value to her High House is as a pawn in a political marriage. When her father arranges for her to wed a noble from House Rockhurst, a man she neither wants nor loves, Ada seizes control of her own destiny. The spirited princess flees before the betrothal ceremony and disappears among the stars.
Ada eluded her father's forces for two years, but now her luck has run out. To ensure she cannot escape again, the fiery princess is thrown into a prison cell with Marcus Loch. Known as the Devil of Fornax Zero, Loch is rumored to have killed his entire chain of command during the Fornax Rebellion, and the Consortium wants his head.
When the ship returning them to Earth is attacked by a battle cruiser from rival House Rockhurst, Ada realizes that if her jilted fiancé captures her, she'll become a political prisoner and a liability to her House. Her only hope is to strike a deal with the dangerous fugitive: a fortune if he helps her escape.
But when you make a deal with an irresistibly attractive Devil, you may lose more than you bargained for . . .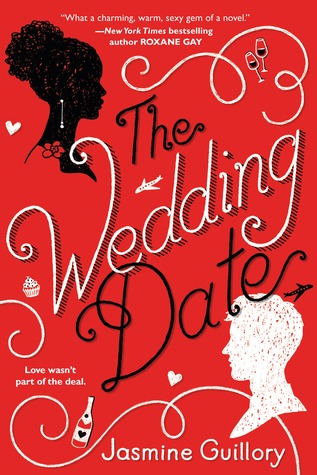 The Wedding Date
by Jasmine Guillory
Series: The Wedding Date #1
Published by Berkley Books on January 30, 2018
Genres: Contemporary Romance, Romantic Comedy
Pages: 320
Format: Paperback
Source: Library
Amazon Kindle | Amazon Paperback | Audible | Barnes & Noble | Kobo
Goodreads


A groomsman and his last-minute guest are about to discover if a fake date can go the distance in a fun and flirty debut novel.
Agreeing to go to a wedding with a guy she gets stuck with in an elevator is something Alexa Monroe wouldn't normally do. But there's something about Drew Nichols that's too hard to resist.
On the eve of his ex's wedding festivities, Drew is minus a plus one. Until a power outage strands him with the perfect candidate for a fake girlfriend...
After Alexa and Drew have more fun than they ever thought possible, Drew has to fly back to Los Angeles and his job as a pediatric surgeon, and Alexa heads home to Berkeley, where she's the mayor's chief of staff. Too bad they can't stop thinking about the other...
They're just two high-powered professionals on a collision course toward the long distance dating disaster of the century--or closing the gap between what they think they need and what they truly want...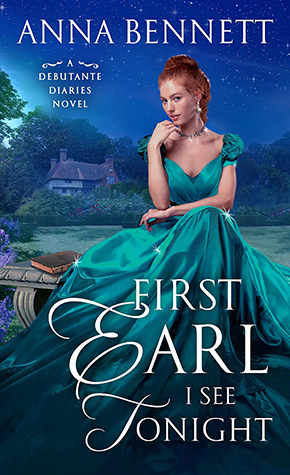 First Earl I See Tonight
by Anna Bennett
Series: Debutante Diaries #1
Published by St. Martin's Press on October 30, 2018
Genres: Historical Romance
Pages: 338
Format: Paperback
Source: Library
Amazon Kindle | Amazon Paperback | Audible | Barnes & Noble | Kobo
Goodreads



An heiress with a daring proposal. An earl who's determined to resist her. And a love that just might be written in the stars…

Recently jilted by his fiancée, David Gray, Earl of Ravenport is not in the market for a wife. Even if Gray didn't have his hands full renovating his crumbling country house, it would take more than a bold marriage proposal from a headstrong young beauty to thaw his frozen heart. Gray is confident that spending a week at his ramshackle estate will change her mind about marriage, but every passionate moment he spends with her tempts him to change his…
A talented artist, Miss Fiona Hartley desperately needs her dowry money to pay off a blackmailer set on ruining her sister. The handsome earl seems a sensible choice for a husband…if only she can convince him that romance will play no part. But marrying in name only may prove difficult for Fiona. Gray can't help but be dazzled by her genuine warmth. Yet as their feelings deepen, Fiona's deadline looms. Will her secrets destroy them, or is true love their final destiny?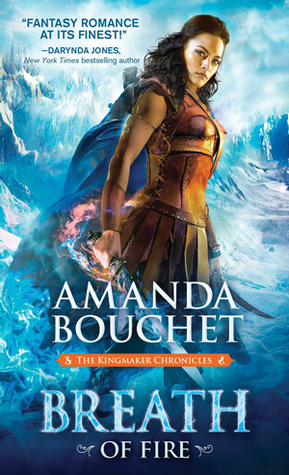 Breath of Fire
by Amanda Bouchet
Series: Kingmaker Chronicles #2
Published by Sourcebooks Casablanca on January 3, 2017
Genres: Fantasy Romance
Pages: 432
Format: Paperback
Source: Library
Amazon Kindle | Amazon Paperback | Audible | Barnes & Noble | Kobo
Goodreads


SHE'S DESTINED TO DESTROY THE WORLD... "Cat" Catalia Fisa has been running from her destiny since she could crawl. But now, her newfound loved ones are caught between the shadow of Cat's tortured past and the threat of her world-shattering future. So what's a girl to do when she knows it's her fate to be the harbinger of doom? Everything in her power.
BUT NOT IF SHE CAN HELP ITGriffin knows Cat is destined to change the world-for the better. As the realms are descending into all-out war, Cat and Griffin must embrace their fate together. Gods willing, they will emerge side-by-side in the heart of their future kingdom...or not at all.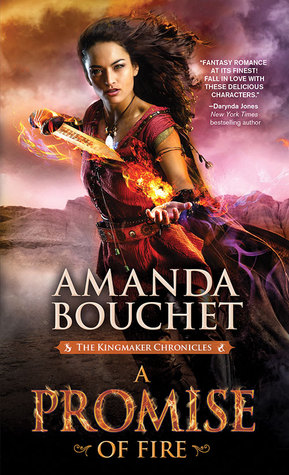 A Promise of Fire
by Amanda Bouchet
Series: Kingmaker Chronicles #1
Published by Sourcebooks Casablanca on August 2, 2016
Genres: Fantasy Romance
Pages: 441
Format: Paperback, AudioBook
Source: Library
Amazon Kindle | Amazon Paperback | Audible | Barnes & Noble | Kobo
Goodreads


KINGDOMS WILL RISE AND FALL FOR HER...BUT NOT IF SHE CAN HELP IT
Catalia "Cat" Fisa lives disguised as a soothsayer in a traveling circus. She is perfectly content avoiding the danger and destiny the Gods-and her homicidal mother-have saddled her with. That is, until Griffin, an ambitious warlord from the magic-deprived south, fixes her with his steely gaze and upsets her illusion of safety forever.
Griffin knows Cat is the Kingmaker, the woman who divines the truth through lies. He wants her as a powerful weapon for his newly conquered realm-until he realizes he wants her for much more than her magic. Cat fights him at every turn, but Griffin's fairness, loyalty, and smoldering advances make him increasingly hard to resist and leave her wondering if life really does have to be short, and lived alone.
My Review Continue reading →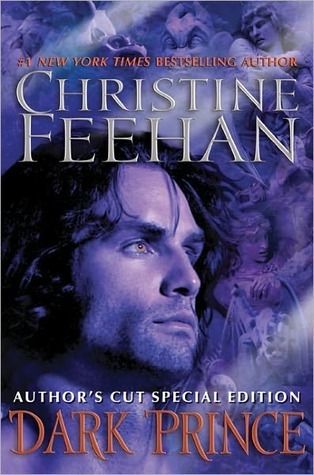 Dark Prince
by Christine Feehan
Series: Dark #1
Published by Leisure Books on April 5, 2005
Genres: Paranormal Romance
Pages: 447
Format: Hardcover
Source: Library
Amazon Kindle | Amazon Paperback | Audible | Kobo
Goodreads


Carpathians are an immortal race of beings with animal instincts. Every Carpathian male is drawn to his life mate: a Carpathian or human female able to provide the light to his darkness. Without her, the beast within slowly consumes the man until turning vampire is the only option.
Raven Whitney is a psychic who has used her gift to help the police track down a serial killer. Now she is determined to escape the glare of recent publicity for the peace and quiet of the Carpathian Mountains.
Prince Mikhail Dubrinsky is the leader of his people but, as his ancient Carpathian race grows ever closer to extinction, he is close to giving in to the heavy weight of loneliness and despair.
From the moment their minds touch, Raven and Mikhail form a connection. But there are those who incorrectly view all Carpathians as vampires, and are determined to give their extinction a helping hand.
There is an extended edition with an additional 100 pages: Dark Prince: Author's Cut Special Edition.
My Review
Continue reading →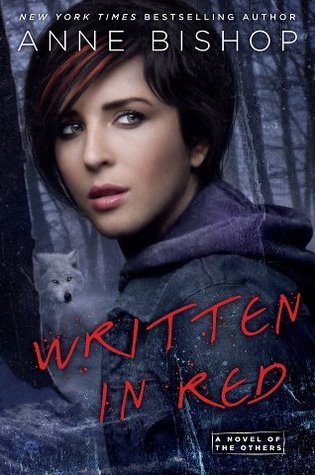 Written in Red
by Anne Bishop
Series: The Others #1
Published by Roc on March 5, 2013
Genres: Urban Fantasy
Pages: 433
Format: Hardcover
Amazon Kindle | Amazon Paperback
Goodreads


As a cassandra sangue, or blood prophet, Meg Corbyn can see the future when her skin is cut—a gift that feels more like a curse. Meg's Controller keeps her enslaved so he can have full access to her visions. But when she escapes, the only safe place Meg can hide is at the Lakeside Courtyard—a business district operated by the Others.
Shape-shifter Simon Wolfgard is reluctant to hire the stranger who inquires about the Human Liaison job. First, he senses she's keeping a secret, and second, she doesn't smell like human prey. Yet a stronger instinct propels him to give Meg the job. And when he learns the truth about Meg and that she's wanted by the government, he'll have to decide if she's worth the fight between humans and the Others that will surely follow.
My Review Continue reading →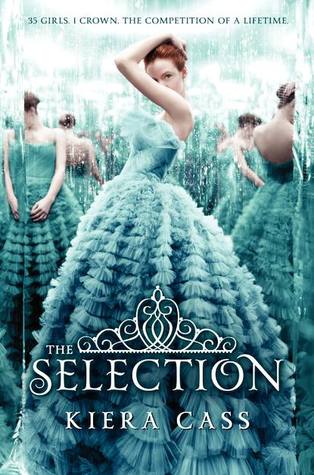 The Selection
by Kiera Cass
Series: The Selection #1
Published by HarperTeen on April 24th 2012
Genres: Dystopian, Young Adult
Pages: 336
Source: Library
Amazon Kindle | Amazon Paperback
Goodreads


For thirty-five girls, the Selection is the chance of a lifetime. The opportunity to escape the life laid out for them since birth. To be swept up in a world of glittering gowns and priceless jewels. To live in a palace and compete for the heart of gorgeous Prince Maxon.
But for America Singer, being Selected is a nightmare. It means turning her back on her secret love with Aspen, who is a caste below her. Leaving her home to enter a fierce competition for a crown she doesn't want. Living in a palace that is constantly threatened by violent rebel attacks.
Then America meets Prince Maxon. Gradually, she starts to question all the plans she's made for herself—and realizes that the life she's always dreamed of may not compare to a future she never imagined.
My Review Continue reading →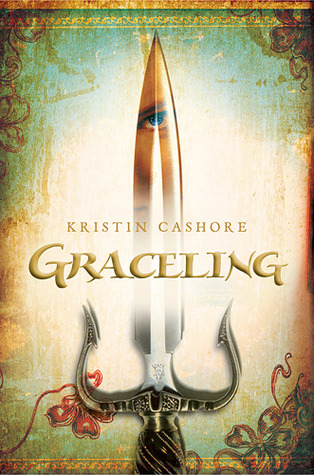 Graceling (Graceling Realm, #1)
by Kristin Cashore
Published by Harcourt on October 1st 2008
Genres: Action & Adventure, Adolescence, Fantasy, Fantasy & Magic, General, Girls & Women, Social Issues, Social Themes, Young Adult, Young Adult Fiction
Pages: 471
Source: Library
Goodreads


Katsa has been able to kill a man with her bare hands since she was eight - she's a Graceling, one of the rare people in her land born with an extreme skill. As niece of the king, she should be able to live a life of privilege, but Graced as she is with killing, she is forced to work as the king's thug.
When she first meets Prince Po, Graced with combat skills, Katsa has no hint of how her life is about to change.
She never expects to become Po's friend.
She never expects to learn a new truth about her own Grace - or about a terrible secret that lies hidden far away...
My Review Continue reading →