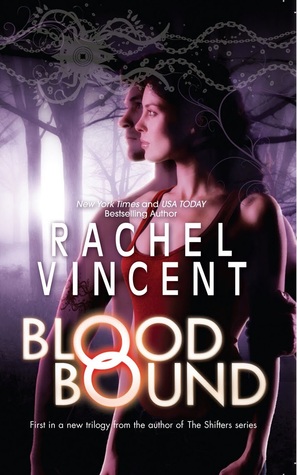 Blood Bound
by Rachel Vincent
Series: Unbound #1
Published by Mira on September 1st 2011
Genres: Paranormal Romance
Pages: 463
Format: Paperback
Source: Library
Amazon Kindle | Amazon Paperback
Goodreads


Bound by blood, condemned by fate
As a bloodtracker, Liv is extremely powerful. And in a world where power is a commodity that can get you killed, Liv's learnt to survive by her own rules.
Rule number one? Trust no one.
But when a friend's daughter goes missing, Liv is bound by a potent magical oath. She can't rest until the child is safe.And that means trusting her dangerous ex, Cam.
A sinister prophecy tells that she and Cam will be the death of each other, yet Liv's tired of being a slave to destiny. She's ready to play the forces controlling her world at their own game.

No matter what the cost.

My Review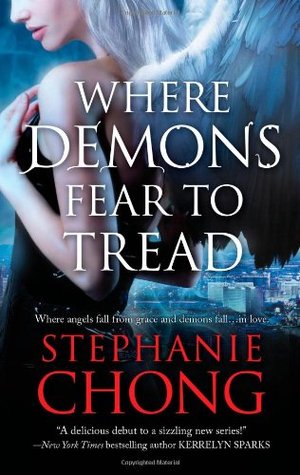 Where Demons Fear to Tread
by Stephanie Chong
Series: The Company of Angels #1
Published by Mira on August 23rd 2011
Genres: Paranormal Romance
Pages: 358
Format: Paperback
Source: Library
Amazon Kindle | Amazon Paperback
Goodreads


Fledging guardian angel and yoga teacher Serena St. Clair dares to enter Devil's Paradise nightclub on a mission—to retrieve the wayward Hollywood "It Boy" she's assigned to protect. But she's ambushed by the club's owner, arch demon Julian Ascher. The most powerful demonic entity in Los Angeles, Julian is handsome as sin, a master of temptation who loves nothing more than corrupting pleasure-seeking humans. He won't release the lost soul Serena is supposed to guard. Unless she accepts his dangerous wager…....
After the disastrous way his human life ended, Julian vowed that no woman would get the better of him again. Yet this sexy-sweet angel, smelling of fresh ocean air and happiness, triggers centuries-old feelings. Now, their high-stakes game of seduction, where angels fall from grace and where demons fear to tread, will lead them either to an eternity in hell… or a deliciously hot heaven.
My Review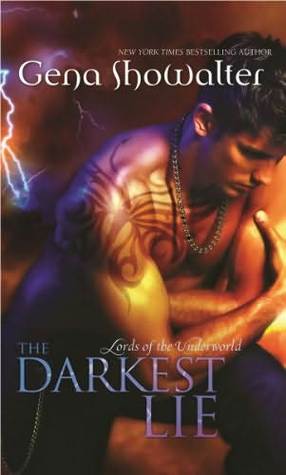 The Darkest Lie
by Gena Showalter
Series: Lords of the Underworld #6
Published by Mira on July 2nd 2010
Genres: Paranormal Romance
Pages: 442
Format: Paperback
Source: Purchased
Amazon Kindle
Goodreads


Forced to his knees in agony whenever he speaks the truth, Gideon can recognize any lie—until he captures Scarlet, a demon-possessed immortal who claims to be his long-lost wife. He doesn't remember the beautiful female, much less wedding — or bedding — her. But he wants to . . . almost as much as he wants her.

But Scarlet is keeper of Nightmares, too dangerous to roam free, and a future with her could mean ultimate ruin. Especially as Gideon's enemies draw closer . . . and the truth threatens to destroy all he's come to love . . .
My Review: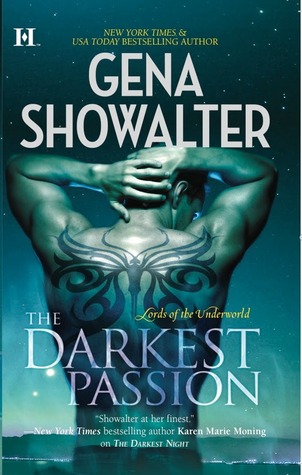 The Darkest Passion
by Gena Showalter
Series: Lords of the Underworld #5
Published by Mira on May 21st 2010
Genres: Paranormal Romance
Pages: 438
Format: Paperback
Source: Purchased
Amazon Kindle | Amazon Paperback
Goodreads


For weeks, the immortal warrior Aeron has sensed an invisible female presence. An angel-demon-assassin has been sent to kill him. Or has she? Olivia claims she fell from the heavens, giving up immortality because she couldn't bear to harm him. But trusting - and falling for - Olivia will endanger them all. So how has this mortal with the huge blue eyes already unleashed Aeron's darkest passion?
With an enemy hot on his trail and his faithful demon companion determined to remove Olivia from his life, Aeron is trapped between duty and consuming desire. Worse still, a new executioner has been sent to do the job Olivia wouldn't...
 My Review: