Review: 'Where Demons Fear to Tread' by Stephanie Chong
October 22, 2011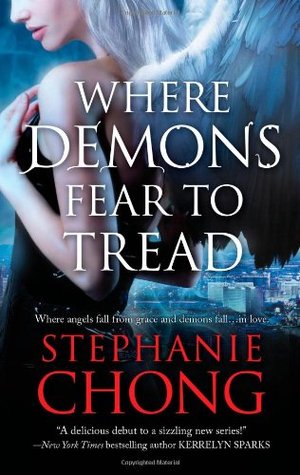 Where Demons Fear to Tread
by
Stephanie Chong
Series:
The Company of Angels #1
Published by
Mira
on August 23rd 2011
Genres:
Paranormal Romance
Format:
Paperback
Source:
Library
Goodreads
Purchase at
Amazon
|
Apple

Fledging guardian angel and yoga teacher Serena St. Clair dares to enter Devil's Paradise nightclub on a mission—to retrieve the wayward Hollywood "It Boy" she's assigned to protect. But she's ambushed by the club's owner, arch demon Julian Ascher. The most powerful demonic entity in Los Angeles, Julian is handsome as sin, a master of temptation who loves nothing more than corrupting pleasure-seeking humans. He won't release the lost soul Serena is supposed to guard. Unless she accepts his dangerous wager…....
After the disastrous way his human life ended, Julian vowed that no woman would get the better of him again. Yet this sexy-sweet angel, smelling of fresh ocean air and happiness, triggers centuries-old feelings. Now, their high-stakes game of seduction, where angels fall from grace and where demons fear to tread, will lead them either to an eternity in hell… or a deliciously hot heaven.
My Review
(Originally Reviewed on Mrs. Papillion aka "The Book Worm")
This review is a little different I'm not going to go over the story, but what I loved about the book the most.
Everyone has their own opinion on angels and demons. Some people didn't like this novel due to how Stephanie Chong betrayed the world of Angels and Demons. Me, personally from the first page to the last page of this novel….I was BEYOND interested. I had a hard time putting down this book. I finished this book at one is in the morning. I was determined to find out what happened next and what would happen to the characters. I wanted a happy ending already.
First and foremost I have to say this…this book has become my FAVE of 2011. It may have surpassed "The Mummy" by Anne Rice which is my ALL time favorite book I've ever read. I will say this…the series will probably become my FAVE once the 2nd book comes out.
Stephanie Chong has a LIFETIME Fan now. I love her writing style. I loved the characters in this book. I especially think that Julian may have become my #1 Sexy Male Character who I wouldn't mind knowing in REAL Life. I will say this he can compare to my hubby when it comes to certain things. I will give you a hint…I loved how Julian made sure to take care of Serena's needs before his own…Now that reminds me of my Hubby. =)
I loved the trials that characters went through in this book too. Serena had no idea what she was in for when she met Julian the first time in his club. Julian had no idea an Angel would change his world after 200 years wreaking havoc.
My favorite part in this book though would have to be the sex scenes. Yummy, sexy, heated sex scenes between a Demon and Angel. What more could you ask for in a book? Throw in how much they love each other…and you got yourself a Good vs. Evil that ends up being a TRUE LOVE story that no one can stop from happening, not even the characters can stop from loving each other.
I recommend this book to anyone who loves Paranormal Romance and loves Angels and Demons as much as I do. I look forward to the next book in the series.
I hope the Villains in this book get a book too. I would love for Corbin to change into something GOOD also. I know he has a soft heart somewhere in there.
**I will be buying this book eventually and adding to my collection at home." =)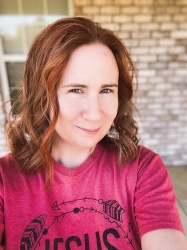 Latest posts by FranJessca
(see all)