Review: 'The Darkest Passion' by Gena Showalter
June 18, 2010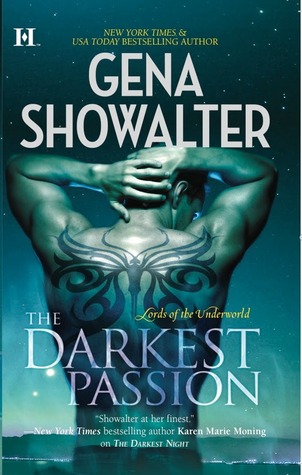 The Darkest Passion
by
Gena Showalter
Series:
Lords of the Underworld #5
Published by
Mira
on May 21st 2010
Genres:
Paranormal Romance
Format:
Paperback
Source:
Purchased
Goodreads
Purchase at
Amazon
|
Barnes & Noble

For weeks, the immortal warrior Aeron has sensed an invisible female presence. An angel-demon-assassin has been sent to kill him. Or has she? Olivia claims she fell from the heavens, giving up immortality because she couldn't bear to harm him. But trusting - and falling for - Olivia will endanger them all. So how has this mortal with the huge blue eyes already unleashed Aeron's darkest passion?
With an enemy hot on his trail and his faithful demon companion determined to remove Olivia from his life, Aeron is trapped between duty and consuming desire. Worse still, a new executioner has been sent to do the job Olivia wouldn't...
---
(Originally Reviewed on Mrs. Papillion aka "The Book Worm")
I finished reading back in June of 2010, "The Darkest Passion" by Gena Showalter, one of my fave authors who I've been reading since last 2009. A friend got me hooked into her books and believe me; I'm HOOKED for good. I'm reading not only her Lords of the Underworld series, but I love her Alien Huntress Series too.
This book was one that had me BAWLING.It was about Aeron, his Demon, Wrath, and a Fallen Angel, Olivia. Olivia is now my 2nd favorite female in the series. Anya will always be my first favorite.
Aeron is the Keeper of Wrath, and all he wants to do is help his friend Paris at the beginning of the book. Olivia has been watching Aeron for a while now, and Aeron knows someone has been watching him. Olivia was assigned to kill Aeron, but she's not able to, so instead she chooses a different destiny for herself. She wants to know Aeron up close and personal. She doesn't know yet, but she has strong feelings for him. Aeron does everything to ignore her. He wants to live his life, help his friends, and destroy Galen and the Hunters. This book also steps into Gideon's life a bit and also Strider's. It's preparing us for the next books. Yes!!! Thank you, Gena, for doing that. =) I also learned about Legion more in this book and how much I despise the little girl demon. Well, I thought she was a girl demon, but it seems the book takes a twist. I also didn't expect something in this book that shocked me, but I think I know where Gena is going with it. =)
I give this book 5 stars and two thumbs up. =) I love Gena's writing style. I love how she prepares for her next books in the series. I also love how she works up to the ending of each book. The characters are amazing. Again, my fave female character so far in the series will be Anya, and my fave male is now Aeron, and Lucien is second. =)
Thank you again, Gena Showalter, for keeping me on the edge of my seat with this book. I love the LOTU SERIES!!!

This post contains affiliate links you can use to purchase the book. If you buy the book using that link, I will receive a small commission from the sale. It will help sponsor future giveaways but costs you nothing extra. You can read the full disclosure underneath the Privacy Policy.
---
---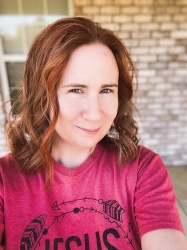 Latest posts by FranJessca
(see all)