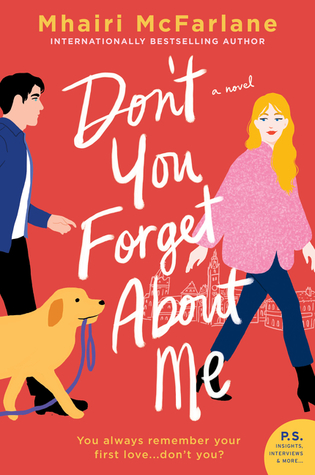 Don't You Forget About Me
by
Mhairi McFarlane
Published by
William Morrow Paperbacks
on September 10, 2019
Genres:
Women's Fiction
Pages:
432
Format:
Paperback
Source:
Purchased
Amazon Kindle
|
Amazon Paperback
|
Audible
|
Barnes & Noble
|
Kobo
Goodreads

Internationally bestselling author Mhairi McFarlane delivers a funny, romantic, heartfelt novel perfect for fans of Josie Silver or Sally Thorne, and anyone who loves Bridget Jones!
You always remember your first love... don't you?
If there's anything worse than being fired from the lousiest restaurant in town, it's coming home early to find your boyfriend in bed with someone else. Reeling from the humiliation of a double dumping in one day, Georgina takes the next job that comes her way—bartender in a newly opened pub. There's only one problem: it's run by the guy she fell in love with years ago. And—make that two problems—he doesn't remember her. At all. But she has fabulous friends and her signature hot pink fur coat... what more could a girl really need?
Lucas McCarthy has not only grown into a broodingly handsome man, but he's also turned into an actual grown-up, with a thriving business and a dog along the way. Crossing paths with him again throws Georgina's rocky present into sharp relief—and brings a secret from her past bubbling to the surface. Only she knows what happened twelve years ago, and why she's allowed the memories to chase her ever since. But maybe it's not too late for the truth... or a second chance with the one that got away?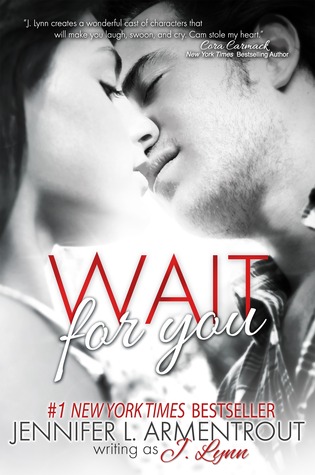 Wait for You
by
J. Lynn
Series:
Wait for You #1
Published by
William Morrow Paperbacks
on September 3rd 2013
Genres:
New Adult
Pages:
360
Format:
eBook
Source:
Purchased
Amazon Kindle
|
Amazon Paperback
Goodreads

Some things are worth waiting for.
Traveling thousands of miles from home to enter college is the only way nineteen-year-old Avery Morgansten can escape what happened at the Halloween party five years ago--an event that forever changed her life. All she needs to do is make it to her classes on time, make sure the bracelet on her left wrist stays in place, not draw any attention to herself, and maybe--please God--make a few friends, because surely that would be a nice change of pace. The one thing she didn't need and never planned on was capturing the attention of the one guy who could shatter the precarious future she's building for herself.
Some things are worth experiencing.
Cameron Hamilton is six feet and three inches of swoon-worthy hotness, complete with a pair of striking blue eyes and a remarkable ability to make her want things she believed were irrevocably stolen from her. She knows she needs to stay away from him, but Cam is freaking everywhere, with his charm, his witty banter, and that damn dimple that's just so... so lickable. Getting involved with him is dangerous, but when ignoring the simmering tension that sparks whenever they are around each other becomes impossible, he brings out a side of her she never knew existed.
Some things should never be kept quiet.
But when Avery starts receiving threatening emails and phone calls forcing her to face a past she wants silenced, she's has no other choice but to acknowledge that someone is refusing to allow her to let go of that night when everything changed. When the devastating truth comes out, will she resurface this time with one less scar? And can Cam be there to help her or will he be dragged down with her?
And some things are worth fighting for.
My Review Continue reading →
I received a complimentary copy of the book from the in exchange for an honest review. This does not affect my opinion of the book or the content of my review.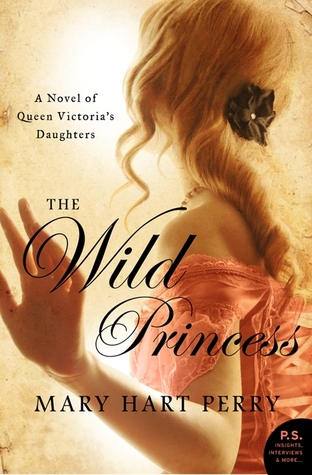 The Wild Princess: A Novel of Queen Victoria's Defiant Daughter
by
Mary Hart Perry
Series:
Queen Victoria's Daughters #1
Published by
William Morrow Paperbacks
on July 31st 2012
Genres:
Historical Fiction
Pages:
414
Format:
ARC
Amazon Kindle
|
Amazon Paperback
Goodreads

The Wild Princess transports us back to Victorian England and plunges us into the intrigues of the royal court, where the impetuous Louise brazenly followed no one's rules but her own—even marrying a commoner, which no one of royal blood had done in the previous three centuries.
My Review
Continue reading →