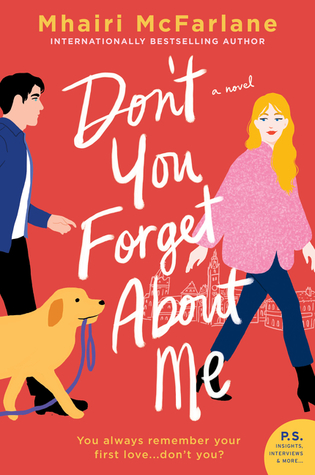 Don't You Forget About Me
by
Mhairi McFarlane
Published by
William Morrow Paperbacks
on September 10, 2019
Genres:
Women's Fiction
Pages:
432
Format:
Paperback
Source:
Purchased
Amazon Kindle
|
Amazon Paperback
|
Audible
|
Barnes & Noble
|
Kobo
Goodreads

Internationally bestselling author Mhairi McFarlane delivers a funny, romantic, heartfelt novel perfect for fans of Josie Silver or Sally Thorne, and anyone who loves Bridget Jones!
You always remember your first love... don't you?
If there's anything worse than being fired from the lousiest restaurant in town, it's coming home early to find your boyfriend in bed with someone else. Reeling from the humiliation of a double dumping in one day, Georgina takes the next job that comes her way—bartender in a newly opened pub. There's only one problem: it's run by the guy she fell in love with years ago. And—make that two problems—he doesn't remember her. At all. But she has fabulous friends and her signature hot pink fur coat... what more could a girl really need?
Lucas McCarthy has not only grown into a broodingly handsome man, but he's also turned into an actual grown-up, with a thriving business and a dog along the way. Crossing paths with him again throws Georgina's rocky present into sharp relief—and brings a secret from her past bubbling to the surface. Only she knows what happened twelve years ago, and why she's allowed the memories to chase her ever since. But maybe it's not too late for the truth... or a second chance with the one that got away?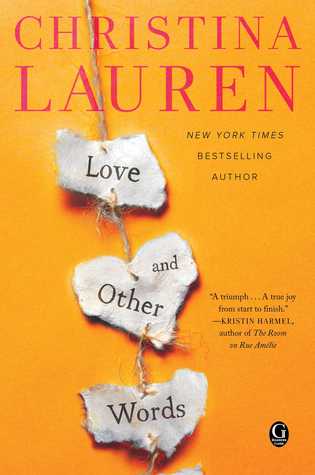 Love and Other Words
by
Christina Lauren
Published by
Gallery Books
on April 10, 2018
Genres:
Women's Fiction
,
Chick Lit
Pages:
432
Format:
eBook
Source:
Purchased
Amazon Kindle
|
Audible
|
Barnes & Noble
|
Kobo
Goodreads

Love, loss, friendship, and the betrayals of the past all collide in this first fiction novel from New York Times and #1 international bestselling author Christina Lauren (Autoboyography, Dating You / Hating You).
The story of the heart can never be unwritten.
Macy Sorensen is settling into an ambitious if emotionally tepid routine: work hard as a new pediatrics resident, plan her wedding to an older, financially secure man, keep her head down and heart tucked away.
But when she runs into Elliot Petropoulos—the first and only love of her life—the careful bubble she's constructed begins to dissolve. Once upon a time, Elliot was Macy's entire world—growing from her gangly bookish friend into the man who coaxed her heart open again after the loss of her mother...only to break it on the very night he declared his love for her.
Told in alternating timelines between Then and Now, teenage Elliot and Macy grow from friends to much more—spending weekends and lazy summers together in a house outside of San Francisco devouring books, sharing favorite words, and talking through their growing pains and triumphs. As adults, they have become strangers to one another until their chance reunion. Although their memories are obscured by the agony of what happened that night so many years ago, Elliot will come to understand the truth behind Macy's decade-long silence, and will have to overcome the past and himself to revive her faith in the possibility of an all-consuming love.

Continue reading →